Who is a Photonics Engineer?
The conclusion is inescapable that non-luminous matter exists beyond the optical galaxy ~ Vera Rubin
A photonics engineer is someone who produces fibre optics in the blink of an eye to transport vast volumes of data around the world. By creating advanced lasers for rock concerts and art installations, he or she also dazzles and attracts the crowds. A photonics engineer may also create optical materials that make an energy-efficient factory. He or she decides how energy-efficient the television displays are by analysing crystals. Lasers are used in navigation in the military and to provide information on the range of targets for guns and missiles.
Lasers are used in numerous diagnostic and treatment procedures in the medical field, and to execute delicate surgical procedures on the eye and other parts of the body. Keep reading the article to know complete information on how to become a Photonics Engineer in India and Photonics Engineer eligibility.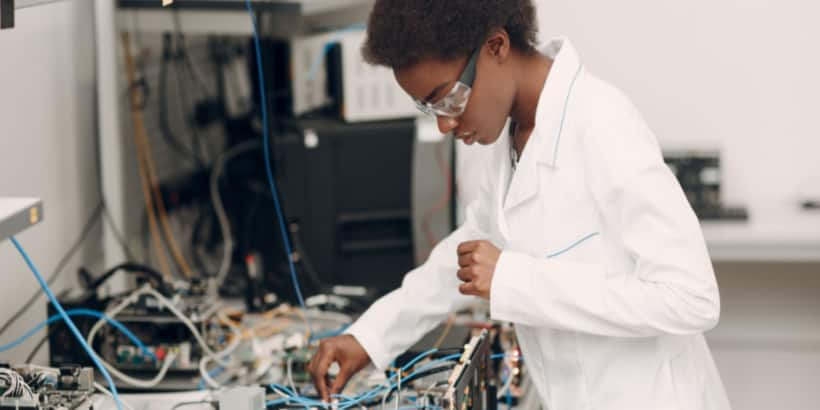 Photonics Engineer in a Nutshell
Do you ever wonder who is a photonic engineer and what they do? continue reading as we look at the larger picture and give you more information on a career as a photonics engineer, why you should pursue photonics engineering, what to expect from such a degree and what your job opportunities will be after graduation. Photonics is the science of using light for energy generation, information detection, or information transfer.
The main purpose of photonics engineer jobs is to develop new and innovative medicine, telecommunications, manufacturing and construction products. Photonics engineer is responsible for significant scientific discoveries, from light that can cut plastic to ultra-precise lasers used in delicate eye surgeries. From creating new and exciting photonics inventions to writing research proposals and reports, a photonics engineer spends his or her work hours immersed in science and technology that will change the face of the world as it is today.
Quick Facts for Photonics Engineer
Industry

Technology

Suitable for

Male, Female, Others

The career as a photonics engineers is not gender-specific. Males, women, and others can choose a career as photonics engineers. In India, a male and female photonics engineer enjoys equal benefits because gender is insignificant in this career.

Any special needs

Yes

Everyone, including those with physical disabilities, is appropriate for a career as a photonics engineer. Many photonics engineers work on desks in office settings. The career of a photonics engineer is well suited to everyone, even those with special needs. He or she must have the desire to show the world that in all conditions, he or she can accomplish his or her goals.
What is the role of Photonics Engineer?
Do you know what does a photonics engineer do? In this section, we will take you through all the roles and responsibilities of Photonics Engineer. If we talk about the career of a photonics engineer then we must say that a photonics engineer creates and improves photonics-using systems and products, such as lasers, optics, fibre optics, and imagery. By testing, they check for efficiency to see if the system is working properly.
A photonics engineer creates modern technology by designing revolutionary products which will eventually be optimised for everyday use, including new electronics and producing solar-powered cells. He or she builds prototypes to determine if his or her ideas are plausible, or not. A photonics engineer creates products which can be used every day, and prototypes can produce an exact idea of how useful his or her work is.
There is a great deal of time spent studying new technologies within their fast-growing sector. Staying up to date with other engineer's observations and research is important photonics engineering scope is rapidly increasing. Often photonics engineers attend conferences with other engineers to learn about developments in the photonics environment. When seeking government funding or other support for their research ventures, the photonics engineer composes proposals that illustrate deductive reasoning, indicating a higher likelihood of success than failure.
Designing
The photonics engineer job description includes designing and developing equipment like photonics-using systems and products, such as lasers, optics, fibre optics and imagery. A Photonics engineer creates modern technology by designing revolutionary products which will eventually be optimised for everyday use, including new electronics and producing solar-powered cells. He or she builds prototypes to determine if his or her ideas are plausible, or not.
Prepare reports
The photonics engineer roles and responsibilities include providing reports, and useful information that can be used to generate forward-looking predictions and enhance decision-making. Technical reports are essential written materials for the engineers' work. Often, he or she reports information and assumptions about designs, experiments and other projects. A career as a photonics engineer needs to submit a report on successful projects. This particular work attribute is also essential in other engineering disciplines, such as software engineering, and electrical engineering.
Examining
The photonics engineer roles and responsibilities are to investigate incidents and collect data that can be used to design preventive measures. He or she is also expected to track various operations to detect any design, construction or operating practices that violate safety regulations and laws or that threaten operational safety. A career as a photonics engineer needs to keep track of advances and improvements by reading technical papers, and independent research and review.
Types of a Photonics Engineer
Fibre Optics Technician: Fiber optics technicians or photonics technicians are employed in the telecommunications sector. Installing and repairing fibre optic cables is the primary responsibility of fibre optics technicians. The cables are useful in carrying television, telephone and internet connections, and because of their efficiency, they have become prominent in the telecommunication industry. As compared to metal cables, these cables have the potential to hold more data.
Energy Engineer: Energy engineers play a very important role in maintaining an organisation's energy efficiency. Their key function within the company is to produce new energy from renewable resources and provide minimal environmental harm to safe and productive energy supply. Energy engineers work throughout the entire energy lifecycle, including extraction, production, conversion, transmission, and distribution, and play an integral role in energy processing from a variety of sources, including solar, wind and geothermal, nuclear, water, oil, gas, and biofuels.
Materials Engineer: Materials engineer jobs are to create methods for the production of materials that are used in a range of goods. Depending on product requirements they deal with products such as plastics and metals. Material engineers usually have a master's degree. Usually, materials engineers are trained in metals, plastics, or ceramics. In order to discover new applications for their mechanical, electrical or chemical properties, they can create composite materials or research the atomic structure of materials.
What is the workplace/work environment of Photonics Engineer like?
Photonics engineers work in an office setting. They work with various organisations, companies that develop new and creative products for firms in pharmacy, telecommunications, manufacturing, and construction. Most photonics engineer jobs are to operate for major telecommunications companies, fibre optics manufacturers, and manufacturing facilities. They usually work in modern, clean buildings.
Does Photonics Engineer require travelling?
Not Likely
A career as photonics engineers does not require much travelling. At least not during career initial phases. This happens when photonics engineers plan to visit the client's workplace. Photonics engineers travel quite frequently both domestically and abroad to provide instruction and supervision to other engineers and technicians.
Employment Shifts
Full Time, Part Time
A career as photonics engineers need to work both full-time and part-time as well. Many photonics engineers work full-time, but schedules can vary depending on the tasks and tasks and length. Photonics engineers normally work 40 hours a week, with increasingly complex tasks requiring additional shifts in general. Photonics engineers involved in important projects will spend over 40 hours a week.
Employment Nature
Contractual, Permanent
A career as photonics engineers is both permanent and contractual in nature. Photonics engineers have to work as part of a team within the organisation. Photonics engineer job description includes consultation with the supervisors about assignments and connecting with clients across the globe. Photonics engineers would need to be able to travel to serve customers and requirements for jobs will differ based on the geographic position of the business. They can also be working for a certain period of time, but typically the photonics engineers work as permanent employees.
Work Place
Laboratory
Photonics engineers generally carry out activities in a laboratory. The job does not require too much physical labour, but intelligence and mental strength are needed.
Presence in Geographical Area
Semi-urban, Urban
Photonics engineering in India has fewer chances in rural areas than the urban or semi-urban settings. Photonics engineers mainly work in urban environments, since many multinationals are based in metropolitan cities.
Time Pressure
Likely
Photonics engineer job description includes performing tasks for a business or person within a given time-span. It takes a lot of time and mental strength to do this job, and we know that without hard work and commitment nothing positive can be accomplished.
Overtime Details
A career as photonics engineers often work independently with multinational firms and they usually work nine hours a day. They have to work about fifteen hours a day, however, while working on big projects. Some tasks need more focus, in order to achieve this in time, photonics engineers need to increase the duration of their shifts.
Weekly Hours of Work
Min 45 Hours
Photonics engineers work nearly nine hours a day, about 45 hours a week. Photonics engineers' job falls under some transitions, although they may work longer hours in various types of projects to solve the problem. Photonics engineers work nine to ten hours a day in major ventures to fix the mistakes.
How to become a Photonics Engineer?
Steps to become a Photonics Engineer
If you are someone who is interested in researching, designing, developing, and testing systems and products with photonics technology then a career as a Photonics Engineer is the best option for you. If you want to make a career in developing new and innovative products for medicine, telecommunications, manufacturing, and construction and looking for details on how to become a Photonics Engineer in India then below we have provided step-by-step details.
What are the skills and qualities required to become a/an Photonics Engineer?
In this section, we have discussed some of the Photonics Engineer skills that you are required to have to function effectively in this field.
Communication Skills: Career a photonics engineer must have considerable communication skills which is also important in many other careers from different industries such as account manager, and food inspector. Workplace communication is important to companies, as it allows organisations to be successful and to operate properly. If he or she works in an organisation, an employee will experience an increase in morale, success and engagement. This can include communicating ideas effectively to others, actively engaging in debates, offering constructive feedback and making public appearances.
Critical Thinking: A photonics engineer needs to have the ability to use logic and reasoning to define the benefits and disadvantages of possible solutions, assumptions or problem approaches. Critical thinking is important for a career as a photonics engineer. It helps team members to evaluate problems more easily and to consider possible solutions. Critical thinking is the ability to think objectively and rationally about what to do, and how to conclude which is also essential in several other careers like medical lab technician, and aerospace engineer. In independent and reflective thought it produces a plan.
Mathematical Skills: Photonics can not be pursued unless one has the relevant mathematical and statistical knowledge. As a photonics engineer, the theory behind the technology needs to be thoroughly understood. Proper research methods and guidelines can be applied to solve the problem and emerge to be more impactful. A photonics engineer frequently uses complex equations and formulas; he or she also needs a strong understanding of mathematics, including calculus and statistics.
Decision-Making Skills: The willingness to make a decision and to stick to it is the basis for good leadership skills. Decision-making is a process which helps a photonics engineer to run a business properly. Decision-making is an important skill and applicable to a career as a photonics engineers. It is important in both personal and professional life. Having critical thinking skills helps a photonics engineer to analyse problems and develop solutions that benefit both the staff and the company.
Popular Online Engineering Courses and Certifications
Which certifications and internships can be helpful in becoming Photonics Engineer?
Internship Availability
Yes
Internships are a great way to learn how to become a photonics engineer. An internship is an opportunity that a firm offers students to work for a short period of time. Usually, interns are graduate students and most training opportunities last range from one to six months. Often, interns are paired with other engineers who function as their mentor or guide. Interns become part of a technical team that researches the future of photonics.
The importance of internships is that they will learn how real-life projects are progressing, how an original concept becomes a reality, and help create creative goods that make the world differ. A career as a photonics engineer requires various facets of a job that enable project planning and presentation skills to be built alongside engineering skills.
What is the job outlook for Photonics Engineer?
Photonics has become a key technology in telecommunications, computing, defence and many other applications worldwide due to its advantage of operating more reliably and at much greater speeds. The number of practical photonics applications makes this an important area for both research and commercial development. There is a growing market for photonics engineers. The scientist must do photonics research, while the engineers build photonic equipment. Some of the fields they work in are manufacturing, architecture, research, development, systems, and applications. Photonics engineering scope is now rapidly growing in comparison to other industries.
The U.S. Bureau of Labor Statistics (BLS) provides industrial data which includes the details of the job growth of photonics engineers. According to the BLS, photonics engineers will see an employment growth rate of four per cent in their sector from 2018 to 2028. Photonics engineer job outlook grew, with 55,790 new jobs filled in by 2018. This reflects a five per cent average rise for the next five years. The global economy has been highly competitive for photonics engineers. The COVID-19 pandemic has adversely impacted industries across all sectors and photonics engineering is no exception.
Student Also Liked:
Frequently Asked Questions for Photonics Engineer
Que. What are photonics used for?
Ans.
Photonics is the study of light. It is the technology by which light waves and photons are produced, controlled and detected, which are particles of light. The waves and photon properties can be used to discover the world, cure illnesses, and even solve crimes.
Que. What is the most widely used photonics tool?
Ans.
FIMMPROP is perhaps the most commonly used propagation tool for silicon photonics modelling. It is robust, entirely vectorial, provides wide-angle functionality and very high versatility in design.
Que. What is silicon photonics?
Ans.
Silicon photonics is an emerging technology in which data is transmitted by optical rays among computer chips. Optical rays can hold much more data in less time than the electrical conductors. The technology uses lasers to transfer information into light pulses.
Que. How do photonic crystals work?
Ans.
Photonic crystals are periodic dielectric structures designed to form the photon energy band structure which either allows or prohibits the propagation of certain frequency ranges of electromagnetic waves, making them suitable for light-harvesting applications.
Que. What are laser and photonics?
Ans.
Laser and photonics technology is a high-tech programme which focuses on understanding the application of the principles of electronics, fibre optics, photonics, and laser. In a variety of fields lasers and photonic technologies are used. Graduates can find work in fields that range from healthcare to manufacturing.
Que. Is photonics a good career?
Ans.
Yes, there is a growing market for photonics engineers and the demand is expected to go up. The demand for photonics technology in various fields like aerospace technology, healthcare, environmental technology and others is projected to propel the significant growth of the India Photonics Market.
Que. Are photonics engineers in demand?
Ans.
Photonics Engineers are in much demand at present and in the future. Photonics Engineers work in various fields such as manufacturing, architecture, research, development, systems, and applications. The photonics will help in various healthcare and environmental monitoring challenges where Photonics Engineers will come into the picture.
You might also be interested in
The question have been saved in answer later, you can access it from your profile anytime.
Access now
Report Question
Select your reason of reporting