Who is a Medical Lab Technician?
Never say oops in the operation theatre ~ Anonymous
We have all visited a doctor in our lives. But, have you noticed that when a doctor suggests a test it is a medical lab technician who conducts them and prepares a report. The job of a medical lab technician is equally important to that of a doctor. He or she plays a major role in the diagnosis as well as the prevention of some serious diseases like cancer, diabetes, an increase in cholesterol, and several such diseases. If you wish to work in the field of healthcare and help people recover from their illness then being a medical lab technician is a possible career choice. With the spread of pandemic like Covid-19, the job opportunities for a medical lab technician is going to increase in the future.
A medical laboratory technician, also traditionally referred to as a clinical laboratory scientist (CLS), is a healthcare professional who performs chemical, hematological, immunologic, histopathological, cytopathological, microscopic, and bacteriological diagnostic analyses on body fluids such as blood, urine, sputum, stool, cerebrospinal fluid (CSF), peritoneal fluid, pericardial fluid, and synovial fluid, as well as other specimens.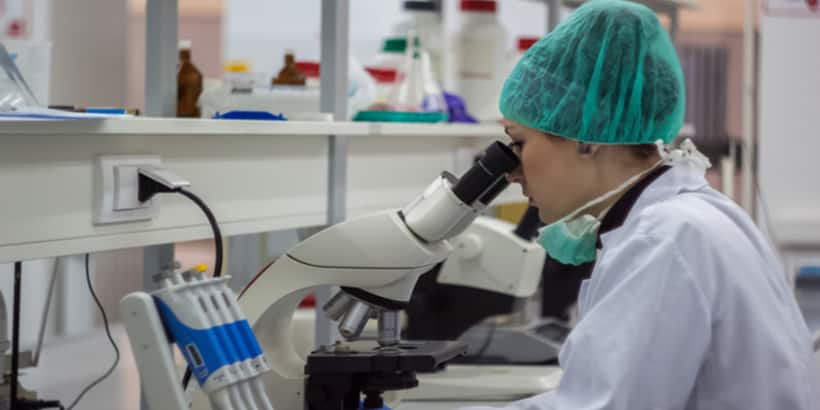 Medical Lab Technician in a Nutshell
A career as a Medical laboratory technician offers an individual the opportunity to have a significant impact on patient care, without actually interacting with patients. If one wants to make it to the field of medicine then being a doctor is not the only option. There are several other fields which can be chosen. With required skill, one can find themselves employed in a hospital, minor emergency centers, private laboratory, blood donor centers, doctor's office, or clinics. Aspiring students can aim to become a technologist in due time and work experience. Medical lab technicians can also find jobs in research facilities, crime laboratories, universities, pharmaceutical companies and the military.
Quick Facts for Medical Lab Technician
Industry

Healthcare

Suitable for

Male, Female, Others

An individual from any section or gender can become a medical lab technician. It does not matter which gender he/she belongs to when it comes to becoming a medical lab technician. Being a medical lab technician is one of the important professions in medicine and it is a profession where an individual's gender is insignificant.
What is the role of Medical Lab Technician?
Medical lab technician job description can include working under technologists or supervisors and doing routine laboratory testing manually. Medical lab technicians prepare specimens and operate machines that automatically analyze samples. They also prepare standard solutions which involve measuring and mixing the correct amount of various chemicals for use in the lab. Medical laboratory technicians have a major role to play in disease detection and cure, like cancer, diabetes and many other chronic diseases. Medical laboratory technicians function under the supervision of a doctor, laboratory administrator, or medical technicians and evaluate substances in the clinic or laboratory. It's predicted that technicians can operate advanced laboratory instruments, like electron microscopy and automated spectrum analyzers. These systems are being used to scan for microbes, parasites , bacteria and many others. Medical laboratory technicians perform less complicated operations and experiments than do technologists in microbiology laboratories.
Organising
The job of a medical lab technician is to keep all the related documents in an organised matter. Medical lab technicians organise work by matching computer orders with specimen labeling, sorting specimens, checking labeling, logging specimens,arranging reports for delivery, keeping work surfaces clean and orderly. All the related specimens are required to be kept in an arranged manner to avoid any kind of mixing and misleading of results. It is a job that requires the person to be careful while doing his or her job.
Maintenance of equipment
A medical lab technician is surrounded by several kinds of machinery which help in conducting different kinds of tests. They maintain quality results by running standards and controls, verifying equipment function through routine equipment maintenance and advanced troubleshooting; calibrating equipment utilizing approved testing procedures; monitoring quality control measures and protocols. It is important to take care and maintain the equipment on a regular basis for their proper functioning.
Communicate
The job function of a medical lab technician is to keep communicating about the patients health with the concerned doctor. It is the job of a medical lab technician to identify any kind of abnormal patient conditions by alerting supervisory personnel, the pathologist, the patient physician, or nurse. They also do the reporting of mandated information to the public health department or other designated officials. It is a very critical job and the medical lab technician needs to be alert all the time while doing his or her job.
Handling chemical equipment
The job of a medical lab technician includes conducting several kinds of tests as suggested by the doctor on the patient. The medical lab technician provides the test results for patient diagnosis and treatment by operating on different kinds of chemistry equipment and performing hand chemistries. They need to be aware of the proper functioning and handling of the equipment. They are also responsible for taking care of the equipment on a regular basis.
Conducting tests
There are various kinds of tests that a medical lab technician is responsible to conduct in order to enable the process of the patient's diagnosis. A medical lab technician provides test results for patient diagnosis and treatment by operating hematology, urinalysis, and coagulation equipment; performing manual methods of differentials. They must have knowledge of different processes used to conduct tests on different kinds of human fluids.
Ensuring safety
Providing safety to the people who visit the hospital is one of the most important tasks for a medical lab technician. A medical lab technician contributes to a safe and secure environment for patients, visitors, physicians and co-workers who visit the hospital. This is made possible by following the established standards and procedures of the hospital or clinic as well as complying with legal regulations imposed by the authorities.
Types of a Medical Lab Technician
Animal Health Technologist: Animal Health Technologists are also known as veterinary technologists or technicians, assisting veterinarians in providing medical care to animals. Veterinary technology programmes are designed to prepare students for immediate employment in veterinary offices, animal hospitals, research facilities or animal shelters.
Assayers: An assayer is a person who tests ores and minerals and analyzes them to determine their composition and value. They may use spectrographic analysis, chemical solutions, and chemical or laboratory equipment, such as furnaces, beakers, graduates, pipettes, and crucibles.
Biotechnology Laboratory Worker: Biotechnology lab workers perform bench work and laboratory procedures under the supervision of laboratory techs, laboratory researchers, research scientists and other senior staff in the industry of biotechnology.
Biological Technologist: Biological technologists provide technical support and services to scientists, engineers and other professionals working in fields such as agriculture, resource management, environmental protection, plant and animal biology, microbiology, cell and molecular biology and health sciences.
Chemical Technician: Chemical technicians monitor and adjust processing equipment at manufacturing facilities. Chemical technicians use laboratory instruments and techniques to help chemists and chemical engineers research, develop, produce, and test chemical products and processes.
What is the workplace/work environment of Medical Lab Technician like?
Most medical lab technicians can be found working in hospitals, diagnostic laboratories or physicians' offices. Other employment options for medical lab technicians are available with blood and organ banks, medical equipment sales companies, research facilities, clinics, and public health organizations, as well as pharmaceutical and reference laboratories. Their workplaces are clean, sanitized and well lit. They must wear protective clothing including lab coats, masks, goggles, and gloves when handling equipment or specimens.
Does Medical Lab Technician require travelling?
Not Likely
The job of a medical lab technician does not involve travelling as such. But, in some cases they may have to travel. For example, If there is an immediate requirement of blood in one of the branches of a hospital they are working in, they may have to go and supply the blood from one hospital building to the other.
Employment Shifts
Full Time
A medical lab technician is supposed to be present at the location of work. Their job cannot be done over calls or from home. The nature of the job is full-time.
Employment Nature
Permanent
The nature of employment of a medical lab technician is permanent.
Work Place
hospitals
Most of the medical lab technicians work full time, about 40 hours per week. May work nights, weekends, or holidays. Hospitals need tests run at all hours of the day.
Presence in Geographical Area
Rural, Semi-urban, Urban
A medical lab technician may have to work in all kinds of geographical locations. They work in Urban, Semi-urban as well as rural locations.
Time Pressure
Not Likely
The work pressure for Medical lab technicians is considered moderate. Medical lab technicians usually work indoors in labs conducting their research and preparing solutions for a particular project field. They are usually required to work at least 40 hours per week. They may sometimes work irregular hours to monitor experiments that can't be completed during regular working hours.
Overtime Details
They are usually required to work at least 40 hours per week. Sometimes, when the work pressure is more and they are required to accomplish a project in less time, their working hours may extend to 45-50 hours per week. They may also be required to work in a day, evening, or night shifts if working in production.
Weekly Hours of Work
Min 45 Hours
They can work odd shifts throughout the day and be on call in case of an emergency. It generally varies from place to place. Different recruiters have different work schedules for a medical lab technician. For example, a medical lab technician working in a university has to work from 9 to 5 on weekdays (Monday to Friday) only. On the other hand, the medical lab technician who works in a hospital may work for night shifts or he/she can be called on their holiday in case of an emergency.
How to become a Medical Lab Technician?
What are the skills and qualities required to become a/an Medical Lab Technician?
Listening: Listening skills help one to understand and make perfect sense of what the other is saying. Listening skills start making it much more efficient for the employees. The willingness to hear properly means allowing the employees to better understand their tasks. They get to recognize what their organisation expects from them. They need to pay full attention to what other people are saying, to take time to consider the points that are being made, to ask questions as necessary, and not to interrupt improperly.
Reading skills: Reading is associated with enhanced vocabulary, general knowledge and understanding and ability to think critically. Research shows that reading a book could also decrease stress, increase intellectual ability and enhance communication skills. Reading is a difficult and complicated process that involves perception and also reasoning. Reading is composed of two linked processes such as word recognition and interpretation. Understanding written sentences and paragraphs in work-related documents.
Critical Thinking: In an organization, critical thinking should be developed. Critical thinking is important in ensuring that you also have the best answer to the questions, with both the maximum buy-in from across all concerned parties – an end result that will undoubtedly save time, money as well as pressure. Use logic and common sense to define the benefits and disadvantages of potential solutions, assumptions or ways to solve problems.
Speaking: Speaking up in the workplace is meaningful action. Positive communication environments seem to want workers to speak to one another about suggestions or problems, and also support a climate where employees feel relaxed. Workplace speaking up is a treatment and support. Positive information and communication environments should want employees to communicate with each other about recommendations or difficulties, and also to assist an environment wherein the employees feel relaxed. Talking to others to convey information effectively.
Scientific knowledge: Scientific information enables us to create new technologies, solve problems, and make educated, personal and social judgments. Although the services are really valuable, the innovation process is updated with a great scientific understanding of certain technologies that can lead to new technologies. Using scientific rules and methods to solve problems.
Supervisory skill: Having strong leadership and supervisory skills over employees of an organization is one of the key elements of business expansion. And so it is useful to be able to communicate with each other and make the correct decision to keep improving their supervisory skills and improve leadership. Monitoring / assessing yourself, other persons, or organizations performance to continue improving or take the appropriate action.
Problem-solving ability: Problem-solving is beneficial to individuals and institutions as it helps us to exercise control of the environment. Problem-solving provides one with a process to detect such problems, find out that they've been damaged and identify a line of action to solve them. Recognize complex issues and identify relevant information to enhance and assess options and come up with solutions.
Which certifications and internships can be helpful in becoming Medical Lab Technician?
Internship Availability
Yes
When it comes to medical professions internships are very important since they give a hands-on experience to a medical lab technician. It is important for a medical lab technician to have a real world experience before he or she joins the field practically. They need to acquire the ability to apply their theoretical knowledge into practice. Not only that, but an internship also helps an individual to improve his or her knowledge about the field. Internships are considered the best possible ways of making contacts in the field of work. Therefore, one could find an internship either with the help of several online portals or they could also contact a place of his or her choice directly.
Career Path Progression for Medical Lab Technician
Medical lab technologists: Medical technologists work in areas of the laboratory like clinical chemistry (chemical analysis of body fluids), blood banking, immunology (study of immune system), hematology (blood related), and microbiology (study of bacteria and other disease organisms). Other areas include cytotechnology (study of human tissue), phlebotomy, urinalysis, coagulation, parasitology and serology. Phlebotomists draw and test blood whereas blood bank technologists determine correct blood types for transfusions. Histology technicians cut and stain tissue samples.
Medical Lab technicians: On the other hand, medical lab technicians work under technologists or supervisors and do routine laboratory testing manually. Technicians prepare specimens and operate machines that automatically analyze samples. They also prepare standard solutions which involve measuring and mixing the correct amount of various chemicals for use in the lab.
What is the job outlook for Medical Lab Technician?
Depending upon one's training and qualification, a medical lab technician may work as technologists or technicians at medical laboratories. At the beginning of the career, a candidate starts by working at the post of a medical lab technician of the junior category either in a hospital or a clinic. After gaining some work experience, one may rise through the posts and become a senior medical lab technician. Depending on the knowledge, skills as well as the hard work of the candidate he or she can even rise through several posts and become a lab manager. This can require the experience of several years but the job growth in this field is quite significant.
With the outbreak of the recent Covid-19 pandemic the job market scenario has narrowed for almost all sectors except for medical and healthcare. In fact, experts suggest that the country is going to invest even more in the healthcare sector to avoid losses of life in the future. This will in turn open several job opportunities for the people aiming to work in the healthcare sector including a medical lab technician. Medical labs are where medical lab technicians can be seen in action. Government hospitals, private hospitals, clinics and nursing homes having medical labs are known to recruit medical technicians. Independent commercial medical labs and pathological labs are also known to recruit medical lab technicians.
Frequently Asked Questions for Medical Lab Technician
Que. What are the major subjects in Medical technology?
Ans.
The subjects included in BS MedTech are:
Inorganic and Organic Chemistry
Analytical Chemistry
Biochemistry for Med Lab Science
Human Anatomy and Physiology with Pathophysiology
Principles and Strategies of Teaching in Med Lab Science
Biostatistics and Epidemiology
Health Information System for Med Lab Science
Que. Is a medical lab technician a doctor?
Ans.
Medical lab technicians are healthcare professionals who work with physicians, but they are not doctors. A medical technologist can become a doctor by enrolling in medical school and completing their education in their chosen field.
Que. What are tests that can be run by a medical technologist?
Ans.
Medical lab technicians work in all areas of the clinical laboratory including blood banking, chemistry, hematology, immunology, and microbiology. They perform a full range of laboratory tests from simple premarital blood tests, to more complex tests to uncover diseases such as HIV/AIDS, diabetes, and cancer.
Que. Is medical technology a good career?
Ans.
Choosing to work in the field of medical technology is an excellent career decision. Many areas within the health care sector can expect significant job growth over the next ten years, including medical technologists and technicians.
Que. How to get a job in a lab?
Ans.
The minimum qualification for laboratory technicians is the degree of an associate which might also take two years to complete at technical colleges. Medical practitioners who have at least one undergrad degree in their industry, like nurses, can gain the requisite skills by a one-year certificate course. After receiving such degrees and appropriate knowledge one can get a job in a laboratory.
Que. Who is a lab technician?
Ans.
Laboratory technicians are trained professionals who deal with difficult equipment or conduct mechanical or diagnostic tests in medical laboratories of extensive professional nature. Lab technicians could gather specimens, examine and check body fluids, teeth, chemical substances, tissue samples, or other research disciplines.
You might also be interested in
Questions related to Medical Lab Technician
Showing 5 out of 5 Questions
The question have been saved in answer later, you can access it from your profile anytime.
Access now
Report Question
Select your reason of reporting