Indian Institute of Technology, Patna aims to help its students get employment opportunities. IIT Patna placement drive involves the participation of students and various organisations for the recruitment of students. The training and placement cell at IIT Patna consists of student representatives and organises the campus recruitment drive for all the graduating students in their final year pertaining to different departments. Various training programmes are organised for the students so that they can be successfully placed in the IIT Patna placement drive. Various companies from a variety of sectors take part in the IIT Patna placement drive.
The IIT Patna placement cell is responsible for sending invitations to various organisations along with relevant information and documents. Companies from several industries offer employment opportunities to students during the IIT Patna placement process. Furthermore, students pursuing B.Tech and M.Tech courses are offered internships that provide them with the necessary practical skills and industry exposure. As per the IIT Patna placement policy, students of the B.Tech programme are required to undergo a two-month training and the M.Tech course have to mandatorily complete an internship of a minimum of six months.
IIT Patna Placement Process
1. The training and placement cell at IIT Patna sends invitations to the top companies to participate in the recruitment drive.
2. The companies are provided with a job announcement form (JAF) which they fill up and send to the college.
3. The placement cell finalises the date for the pre-placement upon mutual discussion with the companies.
4. Students are asked to register for the IIT Patna placement drive by showing interest in the companies of their choice and sharing their resumes.
5. Pre-placement talks are conducted by the companies' officials, and a placement schedule is finalised.
6. Selection process begins where the recruiters evaluate the students on multiple levels and shortlist those who qualify.
7. IIT Patna placement process ends with the selected students receiving offer letters from various companies.
Also See:


IIT Patna Placement Highlights 2021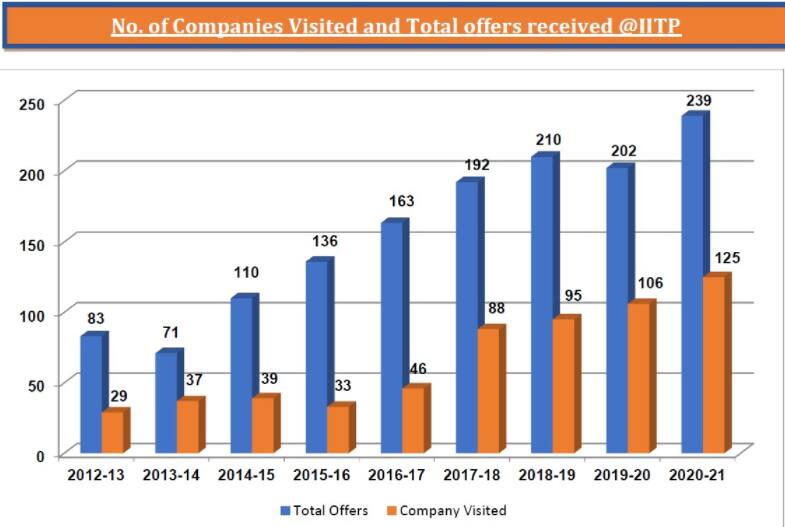 IIT Patna Course-Wise Salary Statistics 2021
| | |
| --- | --- |
| Cours | Average Salary |
| B.Tech | Rs. 17.13 Lakhs |
| M.Tech | Rs. 12.22 Lakhs |
| M.Sc | Rs. 6.97 Lakhs |


IIT Patna Placement Highlights for B.Tech Programme (Batch 2017-2021)
| | |
| --- | --- |
| Placement Details | Statistics |
| Number of students placed | 140 |
| Total students registered | 150 |
| Number of offers made | 183 |
IIT Patna Placement Highlights for M.Tech Programme (Batch 2018-2021)
| | |
| --- | --- |
| Placement Details | Statistics |
| Number of students placed | 36 |
| Total students registered | 51 |
| Number of offers made | 40 |
IIT Patna Sector-Wise Placement Statistics 2021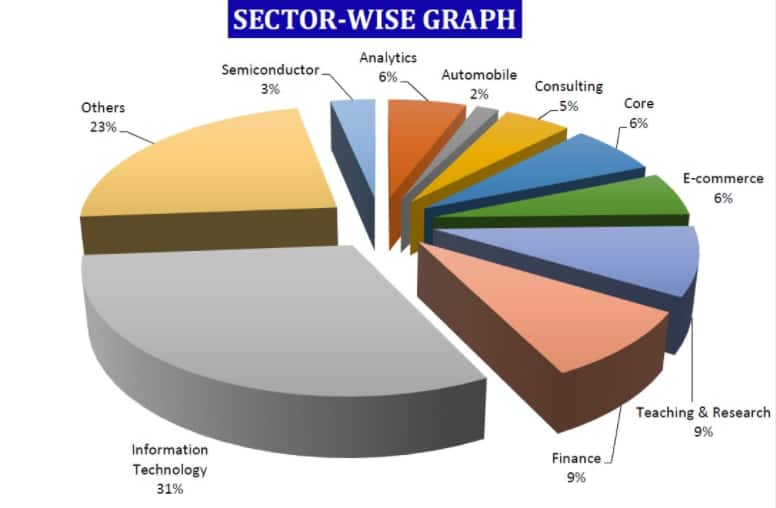 IIT Patna Top Recruiters
| | |
| --- | --- |
| Amazon India | Codenation |
| American Express | Google |
| Aptean | HPCL |
| HPCL | Husk Power Systems |
| HSBC Technology India | iClass Gyansetu |
| Intel | Intel |
| IOCL | IOCL |
| Jubliant | RAAM Group |
| Bosch | SBI |
| BSNL | Sigmoid |
| Cadence | Strand Life |
| CapitalVia | Science Pvt. Ltd. |
| CISCO | Suzuki Motorcycles |
| Tata Iron & Steel | L&T Construction |
| TCS | Logicfruit |
| Arista Network | LTI Cyber security |
| Avalara | Mathworks India Pvt Ltd |
| Axella Advisory Services | Mediatek |
| Bakliwal Tutorials Pvt. Ltd. | Meerut Institute of Engg & Technology (MIET) |