Who is a Footwear designer?
Give a girl the right shoes, and she can conquer the world ~ Marilyn Monroe
Have you ever thought of wearing a pair of formals with flip-flops on your feet or wearing high heels on a sports ground? No, right. As a specific outfit goes with a specific occasion similarly, specific footwear goes with a specific outfit. A career as a footwear designer is as dynamic as fashion designing. New trends are set every second day and if you have the passion of creating something trendsetting then becoming a footwear designer is a possible career choice for you. You can start by working for some shoe brand and in the future, you can establish your own luxury labels like 'Jimmy Choo'.
Whether it is a pair of sneakers or a pair of pumps, shoes can make everyone smile and can upraise any outfit to the next level. Footwear designers are people who design footwear. A footwear designer who comes up with creative ideas that are trendy. They put patterns, designs, creativity, colors, and a lot more to bring the style in the walk. Their experiments create footwear, hit among the consumers, and has a high demand in the market. Footwear designers have a special fascination towards shoes and the ability to specialize by different consumer, style, or shoe function makes it a particularly dynamic field of fashion design. In certain countries, footwear designers are also known as shoe engineers.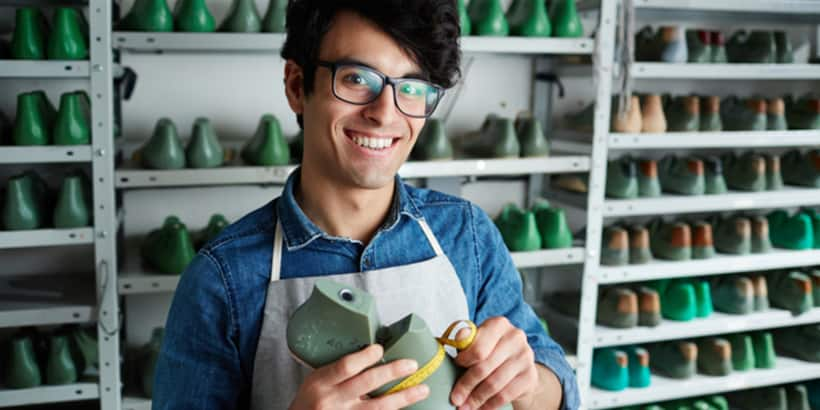 Footwear designer in a Nutshell
A career as a footwear designer involves artistic inputs with excellent drawing skills. A footwear designer needs to be creative and understand the paradigms of designing. Footwear designers often work in an office and visit the market occasionally to purchase the material. They require studying the past and present styles to predict future trends of footwear. Footwear designers come up with creative and unique designs for shoes and other footwear.
Quick Facts for Footwear designer
Industry

Fashion

Suitable for

Male, Female

A career as a footwear designer is not gender-specific. Anyone can be a fashion designer. As long as there is the will to excel in the trade, which gender a person belongs to, does not matter.

Any special needs

Yes

If the disability is not impeding the efficiency of the task then a career as footwear designer could be an apt career choice for the people with special needs as it does not involve physical activities that require strength or stamina. In most of the scenarios, footwear designers work from a static location.
What is the role of Footwear designer?
A career as a footwear designer includes coordinating with high-end fashion designers to interpret catwalk styles and trends. He/she must possess expertise in drawing rough sketches by hand or CAD software. They need to present design ideas and their key features by creating a model of footwear. They have to perform continuous experiments with colors and fabrics to make effective footwear that becomes a style statement. Footwear design offers a focused approach to fashion design; create and showcase shoe designs for various markets. Footwear designers specialize in designing shoes for the various professions and for people of different age groups such as senior citizens, women, men, and also for infants. They also understand the shoe design process because of which they are able to create a design. SO, how to become a footwear designer?
Designing
Footwear planners ought to be masters in bringing the innovative thoughts of their brain on a bit of paper or on the screen. They need to sketch the design to have a visual presentation of their own designing ideas. Footwear designers design and deliver innovative design solutions with efficiency to meet the basic standard of all products.
Use of computer
Footwear designers sketch their plans by hand on paper however these days they sketch their thoughts carefully with the help of computer-aided design (CAD) software. Designers can see their work on virtual models because of the CAD software. Designers can try different colours, designs, and shapes while making modifications more effectively than working with materials on genuine individuals.
Measurement skills
Footwear designers must have strong measurement skills, a slight distinction in centimeters may ruin the shoe. Footwear designers try various fabrics and produce a sample of that, often with less expensive material than the final product. Designers are able to create footwear in proper shape and size as per the customers' need.
Types of a Footwear designer
Retail store managers (Shoes): They have to monitor the workflow and schedules of the employees. They keep track of the products sold. They need to stay updated with the upcoming deals and advancements. Retail store managers need to keep an eye on day-to-day operations. Every employee of the store reports to the store manager and reports to the general manager.
Footwear product developers: They collaborate between material suppliers, agents, and factories. They develop collection plans according to price targets, seasonal needs, and previous sales data. They work closely with manufacturers and designers to launch and develop footwear designs. Footwear Developers manage and execute the footwear development process. They work with cross-functional product creation teams from the collection of insights to deliver products that exceed the expectations of the consumers. They have the knowledge of the footwear construction process including drawing, pattern engineering, material construction and properties, and also costing. They are also responsible for other critical duties, which include understanding manufacturing capabilities, problem-solving, and timely resolution.
Footwear technician: Footwear technicians are responsible for the technical development of shoes. They are responsible for ensuring that samples fit the required standard through internal and external fit sessions. They carry out analysis of the returned shoes and implement any changes which would affect production.
Footwear development manager: Footwear development managers look after the specification process and develop products that meet or exceed the predetermined gross margin targets. Their duties include communicating the specifications and product details to the sourcing organization and suppliers. Footwear development managers manage product lines through all the stages of the footwear development process.
Footwear merchandisers: Footwear merchandisers assist in determining the life cycle of footwear products for both retail as well as online stores. Footwear merchandisers are responsible for planning, controlling, and monitoring the purchasing, intake, and stock of footwear in order to maximize sales and profit.
Fashion Designer: Fashion designers make rough sketches on paper. They also design using computer-aided design (CAD) or computer-aided design and drafting (CADD) software. They design and create clothing items and accessories, such as jewelry and handbags. A career as fashion designers needs to study the trends of the past and present to come up with effective ideas and predict the future.
Jewelry Designer: Jewellery designers are professionals who work with precious metals such as diamonds, beads, and gemstones to create accessories that complement the dress.
Also read - Career as a fashion designer
What is the workplace/work environment of Footwear designer like?
A career as a footwear designer involves working with design consultancy firms, footwear production and trading companies, retail and wholesale companies, import or export industry, merchandising companies, and product manufacturing companies, and corporate businesses. Footwear designers work regular nine to five jobs. Sometimes they have to work for longer hours when they are working for buyers or a show. Self-employed designers may work at home or in smaller, more cost-effective surroundings until they can afford a more spacious workplace. A career as a footwear designer involves working with the clients, making alteration, organising fittings for them to match their requirements. Some of the footwear designers specialize in certain types of footwear for age groups, types of professions and commercial industries. They work in an office environment that is ideally spacious and clean to allow for spreading out materials and cutting patterns.
Footwear designers work for fashion houses, footwear brands supplying catalogue companies, high street stores and specialist manufacturers of leisure and sportswear. Some footwear designers create their own collections, although this takes considerable talent, luck and patience.
Does Footwear designer require travelling?
Likely
A career as footwear designer requires traveling occasionally. Footwear designers are required to visit the market to purchase material for designing shoes such as leather, other raw materials, accessories. Designers also visit fashion shows and other events. Footwear designers need to attend fashion shows to have a better knowledge of the work of other designers and brands. They also need to visit prediction fairs to predict future trends, exhibitions, and also clients. They sometimes need to visit other countries to know the footwear market of that place. They might visit Agra, the largest footwear manufacturing hub in India. Though they can buy raw material by online portals, they need to visit the places to get better knowledge.
Employment Shifts
Full Time, Part Time, Hourly Basis, Work From Home
A career as a footwear designer comes up with opportunities for work from home and part-time work. Footwear designers normally work Monday to Friday, from 9 am to 5 pm. At the time of preparing samples for buyers or fashion show collections, designers work for longer hours than usual. Self-employed footwear designers may work part time. Designers may travel regularly to visit national and international suppliers or attend fashion shows.
Footwear designers work for the usual nine to five daily. There working hours might extend forty hours a week. Sometimes they have to work for longer hours when they are working for a fashion show or event. They also have to ensure that clients' order gets completed in the meantime. Footwear designers generally nine to five in an office environment.
Employment Nature
Contractual, Permanent
A career as a footwear designer is a huge part of the fashion industry. They may work for fashion houses, footwear brands supplying high street stores, catalog companies, and specialist manufacturers of leisure and sportswear. Sometimes a footwear designer might be required to visit the events or show for which they work. Their responsibility may also include visiting the market for purchasing the material for footwear. This job requires working overtime whenever needed. It is important to complete the buyer's order in a specific given time. While working for shows or events, it requires to spend more hours at work to ensure that everything gets done effectively at the time.
Presence in Geographical Area
Rural, Semi-urban, Urban
In a career as a footwear designer, there are less or nil opportunities in rural areas for footwear designers. Specifics related to geographical areas (What all places are job hubs and try and give the reason as well - need this in detail) Try and write about the things such as the lifestyle of the place/s if it adds value to the context.
There are negligible opportunities in rural areas. Fashion houses are located in cities with higher densities of the population. Agra has been the hub of footwear manufacturers in India since the Mughal era. But that does not mean that other cities like Delhi, Kolkata, Gujrat are staying behind. These places have similar importance in the footwear designing industries.
Time Pressure
Not Likely
A career as a footwear designer is more of a creative profession. Footwear designers working on a permanent basis hardly face any time pressure. However, one who works as a freelancer for big design organisations is more likely to face time pressure. Also, in situations such as reaching deadlines or project completion, footwear designers might be required to handle time pressure and work for long hours in order to manage their work.
Overtime Details
A career as footwear designer requires a lot of creativity which sometimes works as a hindrance in accomplishing the projects. Working overtime is quite normal in the profession. Footwear designers are generally required to work more than their scheduled time.
How to become a Footwear designer?
What are the skills and qualities required to become a/an Footwear designer?
Creativity: Creative thinking encourages workers to co-operate. The creative process promotes teamwork, and this is the most significant advantage of having a workplace where creativity and innovation can actually happen. Combat effectiveness also enhances the overall organizational performance. Footwear designers should have an eye for creativity to succeed in the industry. Inclinations for a wide range of creative fine arts is the fundamental ability to become footwear designers. Artistry and imagination provide the urge to convert the material into a wonderful bit of craftsmanship.
Patterns and colour knowledge: A strong understanding of how the colour will impact the average customer is essential in design. Colour is a powerful tool in the design of footwear. It can be used to draw more attention, to arrange material, to highlight elements, to evoke passion and to support an esthetically pleasing design look. Having a style statement is necessary, the impressive patterns, colour contrast makes the design more appealing. Every pattern has to be unique from others. Designers should know that not every colour goes with every pattern or style. They should possess a quality of uniqueness.
Time management: A career as footwear designer is clearly no different from others, as this discipline's practitioners also possess this expertise. This skill will also allow professionals to perform better at the moment of occupational stress. The footwear structuring requires performing various tasks to fulfil the interest of the customers, in a particular time limit. Designers need to do additional time to finish the assignments in a certain timespan.
Measurement skills: The capacity to use measurement devices, rulers, scales, and calculate with these instruments are essential skills which allow us to estimate the materials and products used in the design process. It is important to ensure that the measurement is correct. A little error can spoil the whole design. While designing for an event, it requires being more careful as it will be of no use, if the model's feet do not fit into it. Measurement is one of the key skills for footwear designers.
Attention to detail: Footwear designers need not only to be talented artists but to have a keen eye for details as well. Footwear designers should have been in a position to take care of the minute and detailed shoe specifications. The best designers of footwear have a beautiful taste and a keen eye for all the subtle nuances. Footwear designers don't just need to be good artists but also need to have a good eye for details. Footwear designers must have a keen eye for detail, a knowledge of fashion trends and the technical skills to make their designs a reality.
Budget management: They also should understand how well an industry makes a profit and fulfils its priorities and expectations. Nevertheless, business skills are not just a single attribute, but a set of skills that help build a designer as successful as their company. They should have knowledge of key business areas like finance, sales, and market. These components are essential to become a successful designer in the fashion industry. While purchasing material it is important to ensure that everything comes under the budget. Footwear designers need to have a good understanding of the market and business. They need to use low-cost materials in the time of making the sample products.
Visualization: For career as footwear design, it is important to maintain a proper visualization ability. Thus the more expert you become when you have a better visualization skill in turning your concepts alive on a paper. Footwear designers must possess strong visualization skills as they need to work for lots of clients along with other fellow colleagues. With strong visualisation skills, these designers are proficient to bring the best out of their ideas.
Sketching ability: Aspiring candidates involved in shoe design are expected to have this expertise. In this professional life, applicants with considerable interest in the machine and making stuff digitally without drawing, will not succeed. A proposal and a model creation are perhaps the first stages of designing a layout. Drawing skills are necessary for Footwear designers to give life to their own imagination. Fashion designers convert a piece of raw material in various styles of footwear. Without the ability of drawing, these designers cannot convey their creativity to the clients.
Computer skills: Computer knowledge is recognized to be a very essential qualification to have. Organizations want their designers to have strong computer skills, as their industry will become progressively dependent on technology. Many organizations are striving for this skill as it helps them manage their business cheaper and more efficient. Footwear designers these days sketch their thoughts with the help of computer-aided design (CAD) software. Designers can see their work on virtual models because of the CAD software. Designers can try various colours, patterns, and shapes while making alterations more effectively than working with materials on individuals.
Which certifications and internships can be helpful in becoming Footwear designer?
Internship Availability
Yes
Internships are a good way to understand the career and job functions of how to become a footwear designer. They give the candidate experience as well as practical knowledge when it comes to having a career as a footwear designer. An internship gives the candidate hands-on experience in the field and helps in realising his or her strong as well as weak points as a professional. There are several internship opportunities in the field. One could find an internship either through his or her college sources or contact various footwear design companies directly. There are many online portals through which one can find an internship. Internships are available in manufacturing industries, fashion houses, and retail houses. Big brands such as Nike hire interns globally to work in their headquarters in the U.S.
The intern would require to assist seniors in projects and present work to cross-functional stakeholders. Not only that but an intern would also experience working on CAD software. In Retail, the intern would need to assist in the creation and maintenance of quarterly visual sales and merchandising tools for product presentations and other tasks. If the candidate puts in enough hard work and works sincerely during the time of internship companies can also provide him or her with job opportunities. Internships are a great way to make contacts in the area of work.
Career Path Progression for Footwear designer
Designer: Designer's day to day work responsibilities include creating rough sketches of footwear by hands or designing them using CAD software. They often do the running around for materials and other raw materials. They often work on the first sketches for the product as well.
Senior Designer: As a senior designer, one is expected to fine-tune everything that the junior designer has done. He or she also has to supervise the team of junior designers and make sure that they are following proper procedures and guidelines while creating the product. They oversee seasonal conceptualization and creation of design concepts for shoes. They are responsible for delivering a product that meets both sales volume and gross margin goals.
Design Director: They are the brains behind an exceptional designed footwear. They oversea and supervise the entire production of a footwear. They are also known as a chief designer or a creative director. Design directors oversee design and branding projects for clients, manage design teams, and develop and supervise design projects.
What is the job outlook for Footwear designer?
A career as footwear designer has been developing at a consistent pace since the previous few years. Studies reveal that different sorts of footwear including athletic and non-athletic shoes are used by people of all age groups and genders. The rising interest for fancy, popular yet comfortable footwear among all age groups is a key factor that is driving the footwear industry worldwide. The global footwear market is categorized by sort of footwear, end clients of footwear, different stages available to be purchased of footwear, the material utilized, and their deals across different geographical areas. Asian nations, for example, China and India are significant exporters of leather footwear across the developed nations. Over the previous decade, a career as a footwear designer has seen a consistent development and is anticipated to proceed at a similar pace in the years to come. Leather footwear is high-quality items occupying a noteworthy place in the worldwide market for footwear. Moreover, rising health concerns are affecting people to perform indoor and outdoor physical exercises, which has produced a popularity for athletic shoes, thus expanding the interest in footwear. The estimation of the worldwide market depends on revenue generated by the sale of footwear across various geographic regions.
Market players are concentrating on extending their business channels through various web portals across different regions. Online platforms for buying footwear are increasing consistent popularity among teenagers and young people, in this way occupying a noteworthy share among all channels. Nowadays, manufacturers are concentrating on creating and improving new products, to keep up their market positions. Organizations are liable for structuring, assembling, and manufacturing footwear with every single vital requirement. To improve and conceptualize new structures, footwear manufacturers monitor changing consumer preferences to keep pace with their choices. Attractive designs are one of the basic standards that consumers look for. Distributors of footwear supply sandals, shoes, and boots to different entities, such as retail stores, brand outlets, discount stores, online stores. With the retail stages, producers comprehend the general market request and have opened their own outlets across different potential markets. Online stores are a rising channel of distribution and are a convenient medium for clients to buy footwear products.
Frequently Asked Questions for Footwear designer
Que. What is a footwear designer?
Ans.
A career as a footwear designer involves fashion designers who create original footwear. They sketch designs, select materials, and patterns, and give instructions on how to make the products they design.
Que. What are the requirements to be footwear designers?
Ans.
Aspiring shoe designers can complete two-year or four-year programs in fashion design, although according to the U.S. Bureau of Labor Statistics, most earn a bachelor's degree. By enrolling in fashion design degree programs, aspiring shoe designers develop and hone their craft while building design portfolios.
Que. Does Tinker Hatfield still work for Nike?
Ans.
Tinker Hatfield is one of the world's most legendary sneaker designers, and currently Nike's Vice President for Design and Special Projects. Tinker Hatfield joins Nike after graduating from the University of Oregon School of Architecture.
Que. What program do shoe designers use?
Ans.
A career as a footwear designer now uses illustration and graphic software: the most common are Adobe Illustrator and Adobe Photoshop. Illustrator allows turning the design into a vector file, which can then be easily modified.
You might also be interested in
The question have been saved in answer later, you can access it from your profile anytime.
Access now
Report Question
Select your reason of reporting