Who is a Prosthodontist?
Teeth are always in fashion~Dental Saying
We have all been to a dentist for some or the other teeth related problem or sometimes maybe for a regular check-up. But, do you know a prosthodontist is different from a dentist? Yes, prosthodontics is a specialization in the field of dentistry. A prosthodontist deals with complex-teeth conditions where the problem is diagnosed as well as treated along with maintaining the appearance and the beautiful smile of the patient. People today are very particular about how their teeth look once the treatment is done and a prosthodontist is responsible for the maintenance of one's desired look as well along with following the clinical treatment process. This is one of the major reasons why people prefer going to a prosthodontist than going to the dentist. Therefore, if you wish to work at maintaining people's oral aesthetics along with helping them in getting rid of the pain being a prosthodontist is the right career choice for you.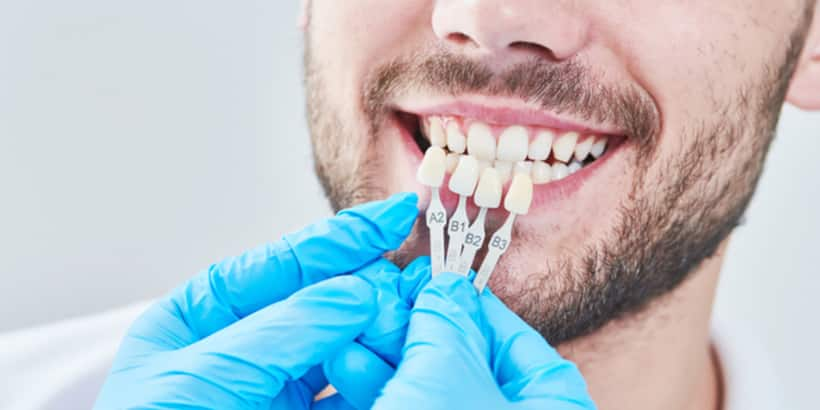 Prosthodontist in a Nutshell
If a person enjoys being in a healthcare setting then the career as a prosthodontist can be filled with excitement. A prosthodontist undergoes a long study cycle to reach his or her position therefore, after acquiring so much knowledge and practice the career opportunities are immense. One can be hired in both government as well as private organisations, along with military and research-based institutions. Not only that an individual also has an option of taking experience of a couple of years in the organisation of his or her choice and then set up a private practice of his or her own.
Quick Facts for Prosthodontist
Industry

Healthcare

Average Salary in India

₹40500

Suitable for

Male, Female, Others

There is no specific gender requirement in order to become a prosthodontist. An individual from any section or gender can do so. Being a prosthodontist in India is one of the most respectable professions where an individual's gender is insignificant. According to a research the number of women has increased at a significant rate in the field from the past 9-10 years.
Table of Contents for Prosthodontist
What is the role of Prosthodontist?
Prosthodontics is one of only nine dental specializations available in the dental profession. It is a field where specialized training and practice in restoration along with the required replacement of teeth plays a major role. A prosthodontist aims at building the function and esthetics needed to have a healthy mouth and a good smile. A prosthodontist is a dental hygienist who helps keep teeth healthy while giving people a beautiful smile and fixing complex dental issues. The prosthodontist deals with the restoration and restoration of damaged or missing teeth using implant tools and techniques such as dentures, implants, bridges, crowns and veneers.
Diagnosis
The first thing a prosthodontist is required to do once he or she has a patient is to carry out the process of diagnosis. In order to do the treatment correctly and efficiently, the first thing is to find out the problem. A prosthodontist examines the oral health of the patient and tries to know the problematic areas and then make the treatment plan accordingly.
Tooth Reconstruction
When a patient has damaged teeth as a result of trauma, decay, or other factors, a prosthodontist works to restore the appearance as well as the function of those teeth. In cases where a patient has had a root canal and needed a crown, the prosthodontist puts the crown in the patient's teeth. Not just that, several celebrities who are supposed to pay attention to how they look visit a prosthodontist for those ceramic cosmetic little teeth. A prosthodontist also uses bonding agents to change the shape of teeth. One can get this procedure to close the small gap between his or her teeth, or rebuild a muscle-formed tooth, or even change the look of one's smile in another way.
Bridges and Implants
If a patient has lost one or more teeth, a prosthodontist may choose the bridge as the best replacement for the lost tooth. One or more bridges of the crown that are connected to form one unit. A prosthodontist makes the appearance of the teeth straight and healthy on both sides of the gap. The implantation process has replaced bridges as a popular way to deal with missing teeth. A prosthodontist will design a dental implant for the patient containing titanium and a false tooth. The titanium posts are inserted into the jawbone, making a false and life-like false tooth difficult to distinguish from other teeth.
Dentures
When a person has lost all or a large portion of his or her teeth, it is likely that the prosthodontist may be pulling the teeth. False teeth can fit the mouth in a variety of ways, including cutting the implant or the existing teeth. A prosthodontist finds a solution that fits his or her patient the best. The best teeth are designed to appear realistic and perfectly fit. Some patients find it difficult to wear dentures, many people adapt well to their teeth and wear them daily.
Types of a Prosthodontist
Oral Pathologist: An oral pathologist is a person who examines the teeth of the patient and finds out the diseases or problems that are present. After diagnosis he or she is responsible for carrying out the treatment process. An oral pathologist takes care of the overall oral health of the patient including the jaws, gums, teeth. One needs to have enough practice in order to reach this position.
Dental Surgeon: The job of a dental surgeon is to carry out several responsibilities for example, diagnosing the patient, planning the treatment process, and providing preventative as well as restorative care for problems that affect a patient's mouth and teeth. A dental surgeon educates patients regarding best oral health habits.
Dental Assistant: A dental assistant performs a variety of patient care, office, as well as laboratory duties, and often works under the guidance of a prosthodontist while he or she examines and treats patients. A student who has just completed his or her education has to complete a mandatory internship period and during this time one learns about the profession in the real world.
What is the workplace/work environment of Prosthodontist like?
The working conditions of a prosthodontist innately involve extensive patient interaction, so he or she wears masks, gloves, and safety glasses to protect him or her and the patients from infectious diseases. One also follows safety protocols when handling x-ray equipment that is essential for diagnosing dental disorders. Many jobs come with administrative duties. The job of a prosthodontist is no different. Initially, a prosthodontist has to do a variety of administrative tasks on a daily basis. Administrative tasks could include fixing appointments, office management tasks or working with suppliers.
Does Prosthodontist require travelling?
Not Likely
A prosthodontist's job does not require travelling. One may have to go and see a patient in an emergency but that is also a very occasional thing as the patients come to the prosthodontists themselves.
Employment Shifts
Full Time
The employment shift of a prosthodontist is full time in nature. One generally works nine hours a day but it can stretch according to the workload. If a prosthodontist has his or her own clinic then the work hours can stretch according to the individual's choice and client's demands.
Employment Nature
Permanent
The nature of employment of a prosthodontist is permanent in nature. He or she can be employed by a public or private organisation and the job is permanent in nature. However, if one has his or her own clinic, in that case the job becomes contractual in nature.
Presence in Geographical Area
Semi-urban, Urban
A prosthodontist generally works in urban and semi-urban locations, where there is a heavy demand for good porsthodontist.
Time Pressure
Likely
Time pressure is considered moderate in the profession. One generally works nine hours a day but it can stretch according to the workload. If a prosthodontist has his or her clinic then the work hours can stretch according to the individual's choice and client's demands.
Overtime Details
The work hours for a prosthodontist are nine hours on a regular day but it may stretch depending on the work and requirement.
Weekly Hours of Work
Min 45 Hours
The work hours for a prosthodontist is nine hours on a regular day but it may stretch depending on the work and requirement.
How to become a Prosthodontist?
What are the skills and qualities required to become a/an Prosthodontist?
Decision making skills: It is essential that a prosthodontist is decisive in nature. There are several instances where a prosthodontist is supposed to make decisions about the treatment process to be followed for a patient. He or she needs to be calculative as well as decisive about the decisions made as well as calculate the effects the particular decision would have on the patient. It is a field where no risks can be taken with a patient's health therefore everything needs to be done with precision.
Attention to Detail: A prosthodontist is expected to have extremely high attention to detail. It is important in his or her job position that he or she does not miss out anything while diagnosing or treating the patient. A prosthodontist must thoroughly check for the patient's oral healthcare.
Communication Skills: A prosthodontist must have a good command over his or her language. It is important for his or her job position to be able to explain the message to the patient or other healthcare workers clearly and precisely. Being able to communicate well eliminates the probability of errors being caused due to any sort of miscommunication. It is essential to be a good listener in order to communicate well.
Dexterity: A prosthodontist should be good at working with his or her hands. One works in a very limited area with different kinds of tools. If a prosthodontist doesn't have stable hands then he or she won't be able to use the dental tools well. Stable hands enable an individual in dental practice to be able to use the smallest of tools properly in order to examine the patients.
Leadership: There are several prosthodontists who practice on their own. In those cases, they need to have leadership skills in order to be able to manage the staff. In a dental clinic there are several tasks that are to be taken care of like making a patient's appointment list, maintaining the equipment, cleaning and several other organisational works. Prosthodontists should be able to lead their staff in order to complete the task in hand.
Which certifications and internships can be helpful in becoming Prosthodontist?
Internship Availability
Yes
In the field of medical science, internships are mandatory in nature. Once an individual has completed his or her master's in prosthodontics, the practice period of two years is minimum in nature. Internships are considered as the best possible way for gaining experience in an individual's career choice. Internships are essential in order to know the difference between theory and practical. The best possible way to learn about a field before being eligible to join it professionally is to do an internship. Internships in the field of prosthodontics are generally provided to the student by his or her college. However, if one wants then there are several online portals that assist the students for internships.
Career Path Progression for Prosthodontist
Dental Assistant: Once an individual has completed his or her education, one has to complete the compulsory internship period of two years. During this time the candidate learns the various aspects of prosthodontics through a professional as well as gets the opportunity to apply his or her theoretical knowledge in practice. The candidate is supposed to assist the prosthodontist under whom he or she is working.
Prosthodontist: After an individual has completed his or her education as well as completed the internship period, one is eligible to practice prosthodontics. As a prosthodontist, an individual is supposed to diagnose a patient and carry out an effective treatment process. A prosthodontist can either work for an organisation or one could also set up his or her own clinic.
Prosthodontics Educator: Several colleges and universities hire professionals in the field of prosthodontics in order to educate aspiring students. One could do it as a part-time basis by giving guest lectures or if the person has a passion for teaching then he or she can also be a full-time professor in college or university of his or her choice.
Dental Researcher: A prosthodontist is an individual who has already completed his or her master's degree, therefore, one is eligible to be a part of a research-based company or organisation. A researcher is supposed to study and research new possibilities of treatment, medication and several such things.
Prosthodontist Jobs and Salaries
What is the job outlook for Prosthodontist?
Candidates who wish to become prosthodontists experience quite significant job growth. As it is, the student has already pursued his or her master's therefore one has specialized knowledge of the field. Private sectors are considered the best places if one wants to experience quick job growth. Having said that, there's a lot of competition along with work pressure as well. If one wants to have a comparatively less stressful job and is okay with a slow job growth then government sectors are a better option.
Nowadays, several hospitals are hiring specialized oral health experts for different kinds of oral problems instead of hiring one dentist. Not only that prosthodontists are in heavy demand in the army, research institutes as well as college and universities. There is scope for dental practitioners in companies which manufacture oral healthcare products as well. However, a prosthodontist is expected to earn the maximum amount of money by practicing on his own. On an average a well-established prosthodontist can earn Rs. 1,00,000 per month easily. According to research demand for a prosthodontist is most likely to increase by 7 per cent by the end of 2026, which is comparatively higher than several job professions.
Frequently Asked Questions for Prosthodontist
Que. Is being a prosthodontist stressful as a job?
Ans.
Prosthodontics is a very high-stress and high-risk profession. It requires a working knowledge of medicine, physics, materials, and artistry all with great attention to detail. This is stressful. If you own a practice, then you are also a business owner with the associated risks and responsibilities.
Que. How long does it take to be a prosthodontist?
Ans.
First one needs to complete the BDS degree which is five years long, followed by MDS which is three years long. Once the education is complete a minimum practice of two years is required. Therefore, for an individual to become a prosthodontist who can independently practice it requires 10 years.
Que. Are prosthodontists paid well?
Ans.
Prosthodontists are the highest paid professionals in the field of dentistry. Their salary can go as high as Rs. 1.5 crores on a monthly basis.
Que. Are prosthodontists in demand?
Ans.
People these days are very particular about their health as well as how they look therefore, demand for healthcare professionals are increasing more than that of any other field.
You might also be interested in
The question have been saved in answer later, you can access it from your profile anytime.
Access now
Report Question
Select your reason of reporting