Who is a Bioinformatics Scientist?
If you want to compete in bioinformatics, first you need to compete for really smart people. You need really smart people who understand how to manipulate nano molecules ~Juan Enriquez
Biology is a vast pool of information. There is plenty of biological information still to be taken care of and researched about. With the advancement in the field of technology and computer sciences the research in the field of biology has become more efficient. It is the amalgamation of the field of computer science and technology with biology. If you wish to be a part of answering the complex questions in the field of biology using several scientific technologies then you can begin your career in the field of bioinformatics scientist.
A scientist whose job involves combining technology and computer science to find the answers to complex questions of biology is known as a bioinformatics scientist. The inscrutable field of biology has enormous information about natural sustenance. A bioinformatics scientist researches and generates such information. He/she develops computational means or computer applications to transform the information or store it for study and advance the knowledge.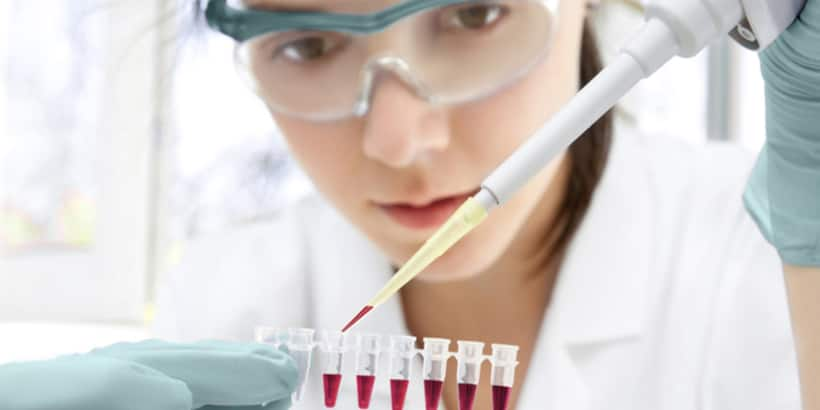 Bioinformatics Scientist in a Nutshell
The human beings who are filled with too much curiosity and want to know about each and everything about nature and its belongings choose to become bioinformatics scientists. They study and spend their time alone to solve the complex questions of the areas of biology. They use the help of other scientists of the related fields to decipher the collected information. They have the passion to solve the riddles of biology with the use of technology and computer applications, The individuals with investigative minds, having a great intellectual, inquisitive and introspective personalities serve in the industry. They bear the characteristics of being rational, methodical, analytical and logical.
Quick Facts for Bioinformatics Scientist
Industry

Technology

Suitable for

Male, Female, Others

The career is suitable for any individual who is passionate to research in the areas of biology using both computer science and technology. The career is skill-oriented. It suits everyone with curious, intellectual and investigative personalities regardless of gender.

Any special needs

No

The candidate should be able to work with computer systems and use microscopes and other laboratory equipment. Healthy eyesight is required for effective performance. A bioinformatics scientist should be physically fit for handling multiple tasks in time.
What is the role of Bioinformatics Scientist?
Bioinformatics scientists are involved in the study of biology. They dissect datasets to the molecular level to study proteomics, genomic sequence data, and raw microarray. Bioinformatics scientists are also responsible for manipulating publically or commercially accessible databases having genomic and post-genomic data. A bioinformatics scientist in no less than a web techie as he/she designs and updates web-based informatics tools. They also put updates and change the pre-existing software applications as per the requirement of their new project. There's a lot more about their job, these scientists can create a new software application as per the need.
Bioinformatics scientists work with microbiologists, plant scientists, biologists, and computer research scientists to decipher the collected information and develop new biological databases. They look for the opportunities existing in the future for product development. Bioinformatics scientists play a crucial role in the field of healthcare as their work adds to the development of the health and pharmaceutical industries. They also work with laboratory scientists and consult them to design bioinformatics.
Analysis
Data analysis is essential to acknowledge the issues an organization faces, and to explore data more effectively. Data are basic facts and figures in itself. Data analysis assembles, perceives, constructs and transforms the data into meaningful information which supports the data context. A bioinformatics scientist has to analyze data and identify the facts of information, underlying principles and reasons by deciphering the information or data.
Monitoring
Monitoring is critical to maintaining that you have a focus on how every single piece of machinery operates, but that data doesn't really do anything by itself. The information detected through monitoring the requirements to also be translated into actionable strategies, major decisions, and maintenance costs. A bioinformatics scientist has to monitor and review the collected information from materials, environment, events to identify the problems.
Organising
Organizing is the process of identifying and organizing the research to be completed, specifying and delegating responsibilities and ownership, and build a relationship with a view to encouraging people to collaborate effectively in achieving goals. A bioinformatics scientist has to plan and prioritize work. He/she has to decide to develop specific goals to achieve.
Communication
A bioinformatics scientist requires communicating effectively with other team members to ensure the successful completion of a project. He/she has to inform supervisors, colleagues and other related persons by telephone, in person or through Email.
Scheduling
A bioinformatics scientist has to schedule events, programs, and other activities. A bioinformatics scientist in a senior role may also schedule the work for others. Scheduling is the skill of preparing the operations so that you will be capable of achieving your objectives and aspirations within the time allotted. When it is done successfully, it makes you realize what you can achieve with the resources in practical terms.
Inspection
An inspection involves examining everything in the workplace and assessing it. Also, they must try to ensure that whatever individuals inspect is protected. Inspection in the business world is the critical analysis of components, products, or technologies that involve examining, testing, and assessing. A bioinformatics scientist has to inspect the equipment, materials, and structures to identify and eliminate the errors.
Documentation
Documentation assists in guaranteeing agreement and preferences. It helps tell the version of history when making decisions, and how you or the customer responded to various environments. It is important to record information that can help sustain the appropriate course of treatment and the reasoning for these kinds of services. A bioinformatics scientist has to record information and store in written, electronic or magnetic form.
Plan strategies
A strategic plan sets the direction your business must take, it will help strengthen its vision to get there. Therefore, strategic planning is essential for your institution to develop the necessary objectives and outcomes, and help everyone pay attention to their attempts to accomplish them. A bioinformatics scientist has to make decisions, establish objectives and develop strategies to achieve the objectives.
Types of a Bioinformatics Scientist
Bioinformatics analyst: Bioinformatics specialists are technology and information specialists working within the biotechnology as well as other areas of biomedical studies. They collect, store, manage and analyze complex biological information which may include data about DNA and genome, protein sequencing, and processes. It is an entry-level position. A bioinformatics scientist is responsible for performing statistical and custom bioinformatics analysis. A master's in bioinformatics is the basic requirement for this role.
Bioinformatics programmer: Developing and preserving the algorithm equipment needed to support the analysis of the sequencing database, and assessing the sequencing data for its implementation into genetic code browsers. Monitoring the research of junior researchers, supporting them in coding sequences in various programming languages and designing unique computer software for genomic data storage. A bioinformatics programmer knows various computer programming languages such as C, C+, C++, Perl, python, and statistics. He/she applies that knowledge to develop tools that are required to find solutions to numerous health ailments.
Professor: The Professor's duties usually involve, and are therefore not restricted to, teaching graduate courses, contributing to the development of course content, monitoring postgraduate students, publishing academic journals on a consistent basis, representing in boards, making presentations, writing development plans. The bioinformatics professionals holding a master's level or doctorate in the related field are also employed in colleges and universities as professors.
Researcher: Understanding specifications for the research and designing a project proposal that meets requirements. Implementing computer research and gathering information utilizing books, journal articles, newspaper source materials, questionnaires, surveys, polls and press conferences. Trends and patterns analyzed and discussed. A doctoral degree or PhD. in the related specialization is required to establish a career as a bioinformatics scientist. Researchers get stipends from many prestigious universities.
What is the workplace/work environment of Bioinformatics Scientist like?
The scientist uses the technology and computer application to work effectively in the area of biology. The bioinformatics scientists typically work in industrial laboratories. They are also employed in an academic field where they serve as professors or work in college classrooms. The bioinformatics scientist requires attention to detail while working. Therefore, they work in a quiet, air-conditioned and well-lit environment. Bioinformatics scientists are either employed in the government sector or the private sector.
Bioinformatics scientist's work hours are mostly spent in a laboratory while working with computer systems or microscopes. A bioinformatics scientist may have to work with hazardous chemicals or infectious organisms that may turn it into a dangerous experiment. A bioinformatics scientist is required to wear protective clothing while working in a laboratory. Bioinformatics scientists work individually as well as in groups. The projects determine if it requires an individual bioinformatics scientist or group of bioinformatics scientists.
Does Bioinformatics Scientist require travelling?
Likely
A bioinformatics scientist may occasionally require traveling. The purpose of traveling might be to present their findings to stakeholders or to communicate about the new development to the management or related persons.
Employment Shifts
Full Time
A bioinformatics scientist usually works from afternoons till late evenings or midnights. A bioinformatics scientist does not work from home or on an hourly basis. The career requires a firm commitment to work responsibilities. A bioinformatics scientist has to work on regular hours and that is 8 to 9 hours a day.
Employment Nature
Contractual, Permanent
A bioinformatics scientist works permanently with government agencies and NGOs. They might work on a contractual basis with the private entities. The contractual terms completely depend on the requirements of the company. The career comes up with both types of employment opportunities contractual and permanent.
Work Place
Laboratory, Office
Bioinformatics scientists either work in offices or laboratories where they carry out experiments or study certain aspects of a bio-organism. In offices, they usually work on the reports about their experiments that have been conducted by them.
Presence in Geographical Area
Urban
The urban cities like Bengaluru, New Delhi, Chennai, Pune, and Hyderabad are the job hubs for the bioinformatics career.
Time Pressure
Not Likely
The work pressure for bioinformatics scientists is considered moderate. Bioinformatics scientists usually work indoors in labs conducting their research and preparing samples for a particular project field. They are usually required to work at least 40 hours per week. They may sometimes work irregular hours to monitor experiments that can't be completed during regular working hours.
Overtime Details
They are usually required to work at least 40 hours per week. Sometimes, when the work pressure is more and they are required to accomplish a project in less time, their working hours may extend to 45-50 hours per week. They may also be required to work in a day, evening, or night shifts if working in production.
Weekly Hours of Work
Min 40 Hours
Bioinformatics scientists usually work regular hours and about five days a week. They work Monday to Friday in a week. They work 40 hours a week. Work hours sometimes may stretch due to deadlines or work pressure.
How to become a Bioinformatics Scientist?
What are the skills and qualities required to become a/an Bioinformatics Scientist?
Interpersonal management: A bioinformatics scientist must have effective communication skills. He/she should be able to build work relationships with the team members. Interpersonal communication skills in a workplace allow us to share a special bond with our colleagues in such a way that loyalty and positive feelings are preserved towards one another. Interpersonal working-place relationship skills encourage greater trust among employees and much more effective collaboration.
Problem Solving Ability: A bioinformatics scientist has to identify a problem and resolve it with the best possible solution. Problem-solving skills defined as the ability to manage challenging or unpredictable workplace situations, and also complicated financial issues. Institutions benefit from people who would assess all situations and identify solutions in a mature manner.
Creativity: A bioinformatics scientist needs to be creative in terms of developing, designing and creating new computer applications. He/she needs to be more artistic to generate ideas. Creativity is the desire to challenge conventional concepts, laws, trends, connections and to generate significant fresh concepts, structures, processes, definitions. Creativity means being experimental, introducing innovative ideas, and discovering a potential solution to a situation.
Computer skills: Computer skills form an essential part of a bioinformatics scientist's job. The capacity to use computers is quite necessary for a professional as he or she might have to go through volumes of data. Basic computer skills usually require word processing, computer file management, and presentation formation. Professional programming skills involve handling the databases and conducting spreadsheet calculations. A bioinformatics scientist must know using computer systems for both hardware and software.
Processing information: A bioinformatics scientist has to compile, tabulate, code, categorize, and audit the information or data. Information processing is a concept that explains the different steps that take place when we come into contact with the daily activities and take various types of information from all this. Those stages entail attendance, encryption, storage, retrieval.
Which certifications and internships can be helpful in becoming Bioinformatics Scientist?
Internship Availability
Yes
The candidates get the opportunity to learn programming languages during the internship period. They are required to effectively coordinate among the team members and follow the instructions. Internships are the best possible ways of having real-world experience in a field where one gets to apply his or her learnings practically. Not only that one gets to enhance the skills and knowledge which can make him or her a better fit for the profession. One can find internship opportunities on various recruitment websites such as indeed.com, Glassdoor, naukri.com, Internshala, and various other online platforms. The candidates are required to assist the seniors. One could also contact a company or an organisation of his or her choice directly or by taking the help of the college that one is studying in. Internships are a great way to make contacts in the field of one's choice which can enable the student to find a permanent job in the future easily.
Career Path Progression for Bioinformatics Scientist
Bioinformatics Analyst:A bioinformatics analyst works within a team as a team member under the supervision of senior professionals He/she has to coordinate among other team members or other groups and follow scientific practices. A bioinformatics analyst is responsible for maintaining records and effective documentation of research activities and assessments.
Junior Bioinformatician: A junior bioinformatician's work responsibilities include analyzing and sequencing data through open-source tools. He/she has to develop analysis pipelines for sequencing data. A junior bioinformatician is responsible for developing tools required for data processing and data visualization.
Software Engineer Trainee: A software trainee works under the supervision of lead programmer or software developer. A software trainee may require to perform as many tasks as per the requirement of the company.
Solution Architect: A solution architect plays a crucial role in IT firms. A solution architect is responsible for researching the business issues to solve it in the best possible ways. He/she specifies the functional requirements of the solution and the essential stages required for its implementation. A software architect is responsible for the final delivery of the solution by setting its boundary parameters.
Bioinformatics 'C' Programmer: A bioinformatics 'C' programmer is responsible for making models or prototypes designed in such a way that it can perceive its activities before and after being stalled in real-life applications. A 'C' programmer develops applications through 'C' computer language. The knowledge of computational programming is essential in the field of bioinformatics to develop tools that will play a great role in finding remedies to various health ailments.
Web Designer: A bioinformatics web developer or web designer is responsible for developing tools and methods to improve data integration. A web designer has to effectively collaborate with teams through all phases of the development cycle.He/she provides support to the team in data processing and in defining data architecture. A web designer understands application design and PHP. He/she learns computer programming language as per the requirements.
Bioinformatics Research Analyst: A bioinformatics research analyst is responsible for designing and implementing bioinformatics analysis strategies. A bioinformatics research analyst helps to put innovation in computational biology. He/she designs data analysis project plans and estimates the duration of completion. A bioinformatics scientist analyzes the data, develops software tools and analytical pipelines. He/she evaluates, develops and supports new bioinformatics methods.
Bioinformatics Specialist: A bioinformatics specialist is a professional who processes datasets to auto-enter into databases. They oversee the analysis outputs and check its quality to ensure adequate algorithms and methods are used.
Molecular Biologist: A molecular biologist is responsible for performing experiments on molecules and cells to find out how these tiny components function, organize and communicate. Molecular biologists research in the area of molecular biology, they conduct experiments to RNA functioning, DNA sequencing, cloning, and other cellular behavior.
Senior Bioinformatics Analyst: The senior bioinformatics analyst is responsible for preparing documentation for informatics solutions. He/she studies systems flow, institutional policies, and work processes. He/she works effectively with subject matter experts, managers and technical leads to ensure translation of business requirements to technical specifications. A senior bioinformatics analyst is responsible for designing database schemas. He/she write PL/SQL procedures and queries in database systems such as Oracle, SQL Server, and other systems.
What is the job outlook for Bioinformatics Scientist?
There is an expected 11 percent job growth in the upcoming years. The career has become more demanding due to the COVID-19 pandemic. There will be enormous job opportunities with lucrative salary packages. Science and technology go hand in hand due to the evolution in the field. Therefore, due to more demand for professionals who have knowledge of science and technology is growing. Not only that but in the case of a bioinformatics scientist, job growth is also quite significant. As the professional gains experience in the field he or she can climb up the career ladder from being an assistant scientist to have a team of people working under him. The job growth in the private sector is comparatively faster than that in the public sector but in both these sectors, the job growth of a candidate is assured if he or she puts in enough hard work.
According to the World Economic Forum around 85 per cent, surveying companies would rely on adopting big data analytics. As per a report, it is to be believed that the industrial revolution will create around 13,500,000 or 135 million jobs. And yes, you guessed it, many of the new jobs will be in the areas of data science and bioinformatics. The data analysts and scientists are more likely to be benefitted by the alluring career opportunities. Machine learning and artificial intelligence specialists will become an essential part of the industry. All the other related professions such as data specialists, digital transformation specialists, software and application developers and analysts will get huge opportunities as the industry is flourishing in the market.
Frequently Asked Questions for Bioinformatics Scientist
Que. What are the entry-level job roles for the bioinformaticians?
Ans.
Bioinformatics analyst, junior bioinformatician, junior laboratory assistant, software engineer trainee are the entry-level roles for bioinformaticians.
Que. What is the level of education required for entry-level positions?
Ans.
For entry-level positions, a bachelor of science or BSc is required in the specialization of either of the subjects: biology, biochemistry, physics, maths, computer science, or statistics.
Que. What is the average salary of a bioinformatics scientist?
Ans.
A bioinformatics scientist earns an average salary of Rs.8,00,000-Rs.9,00,000 per annum.
You might also be interested in
The question have been saved in answer later, you can access it from your profile anytime.
Access now
Report Question
Select your reason of reporting