Who is a Fashion Blogger?
Fashion is part of the daily air and it changes all the time, with all the events. You can even see the approaching of a revolution in clothes. You can see and feel everything in clothes ~ Diana Vreeland
Having a great sense of fashion is not limited to clothing and makeup. It has now become a way of life. Irrespective of your colour, size, and race, fashion lets you create your individual identity. And to keep this spirit alive among people, we have fashion bloggers. A career as a fashion blogger lets them explore the world and motivate people to have a better sense of style. A fashion blogger uses multiple social media platforms to express fashion ideas and bring awareness related to fashion.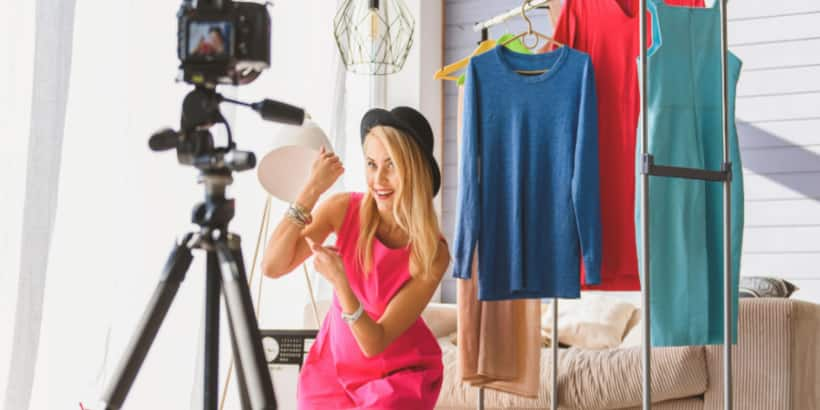 Fashion Blogger in a Nutshell
Fashion bloggers use multiple social media platforms to recommend or share ideas related to fashion. A fashion blogger is a person who writes about fashion, publishes pictures of outfits, jewellery, accessories. Fashion blogger works as a model, journalist, and a stylist in the fashion industry. In current fashion times, these bloggers have crossed into becoming a star in fashion magazines, commercials, or campaigns.
Quick Facts for Fashion Blogger
Industry

Fashion, Entertainment

Suitable for

Male, Female, Others

There are no restrictions for any gender to pursue a career as fashion blogger. Men, women, and others can also choose to become a fashion blogger.

Any special needs

Yes

A career as a fashion blogger suits people with special needs. Fashion Bloggers are not required to travel to remote locations. They may occasionally be required to visit events and schedule meetings with clients. They also travel to trade.
What is the role of Fashion Blogger?
Fashion blogging is a diverse job and requires various skills. As a fashion blogger, one is required to upload regular content in the form of photos, videos, or articles on their social media handle. A fashion blogger decides the frequency of posting and what kind of content has to be posted. If working independently, fashion bloggers can be termed as a chief editor of their own blogging platform.Fashion bloggers mix-match and innovate new clothing items and accessories, such as jewellery and handbags.
Writing
As a fashion blogger, it is important to develop a natural flair for writing and presenting your views in a flawless manner. Writing is an integral part of fashion bloggers' day to day job.
Editing
As a beginner blogger, there are high chances of mistakes such as punctuation, grammatical errors, etc that are needed to be overcome. Hence, editing or proofreading is another important duty of a fashion blogger.
Modelling
Currently, instagram and youtube are the two most popular fashion blogging platforms. As a fashion blogger, it is important that one must know modelling and styling skills. It isn't necessary to be perfect from the start, but bloggers must try to improve with time.
Photography
Fashion bloggers need to invest in a fantastic camera as the photos need to be high quality. Learning to use the camera as well as learning how to utilize lighting and angles is key. The more creative and expertly done the photos are, the better the blog will look.
Collaboration
Collaboration is a popular event in the fashion industry. Fashion bloggers are often invited by big brands into various events and are asked to cover the event and write about it. Also, two or more fashion bloggers collaborate sometimes and organise a discussion panel or Q&A sessions.
Advertising Campaign
All the big fashion brands are collaborating with fashion bloggers to endorse their products. The endorsement can be either traditional or in the form of content marketing.
Types of a Fashion Blogger
Apparel fashion Bloggers: Apparel Bloggers are also known as clothing Bloggers. They design different types of outfits such as party, casual, morning and evening wear. Apparel Bloggers design clothes for fashion shows, events and for also individual clients for their personal requirements. Bloggers also make clothes for big brands and for retail stores.
Fashion accessory Blogger: Fashion accessory Bloggers design accessories that complement the entire look. They design jewellery, handbags, belts and other items. Fashion accessory Bloggers also collaborate with the footwear and apparel Bloggers to make a bridge between the whole style statement.
Costume Bloggers: Bloggers make costumes for motion pictures and television productions. They research the styles worn during the period in which the performance is taking place. They work with directors who select and create appropriate attire according to their production requirements.
What is the workplace/work environment of Fashion Blogger like?
As a fashion blogger, one is required to upload regular content in the form of photos, videos, or articles on their social media handle. A fashion blogger decides the frequency of posting and what kind of content has to be posted. If working independently, fashion bloggers can be termed as a chief editor of their own blogging platform.
Does Fashion Blogger require travelling?
Likely
A fashion designing career requires occasional travel. Fashion Bloggers visit fashion shows and other events. Fashion Bloggers need to attend fashion shows to have a better knowledge of the work of other Bloggers and brands. They also need to visit prediction fairs to predict future trends, exhibitions and also clients.
Employment Shifts
Part Time, Work From Home
Fashion Bloggers get the leisure of work from home and part-time work. Fashion Bloggers work eight to nine hours a day. For self-employed Bloggers, part-time work may be possible but for keeping themselves ahead in the competition Bloggers sometimes are required to work for long hours.
Employment Nature
Contractual, Permanent
The fashion Blogger jobs can be both contractual and permanent.
Work Place
Home Office, Studio
Fashion Bloggers typically work in their personal studios. They might require traveling to visit places to meet clients, attend fashion shows, and purchase fabrics. Some fashion Bloggers are self-employed and they have their boutique. Fashion Bloggers work in offices or workshops with plenty of space and racks to place fabrics.
Presence in Geographical Area
Semi-urban, Urban
There are negligible opportunities in rural areas. Fashion houses are located in cities with higher densities of the population such as Delhi and Mumbai. There are also opportunities in other metropolitan cities.
Weekly Hours of Work
Min 40 Hours
Fashion bloggers generally work eight-nine hours pon a daily basis and five days a week. However, they might need to work for a longer duration when they are working for an event or need to complete the client's order.
How to become a Fashion Blogger?
Steps to become a Fashion Blogger
What are the skills and qualities required to become a/an Fashion Blogger?
Creativity: Inclinations for all kinds of creative fine arts, is the basic skill which students should possess to become fashion Bloggers. The inherent sense of creativity is necessary to become fashion Bloggers. Artistry and imagination provide the urge to convert the material into a magnificent piece of art.
Communication skills: Communication is required to give instructions and being familiar with clients is necessary. On a particular project, one Blogger cannot work on his own. The Bloggers need to take the help of others in the field. They require collaboration with other Bloggers as well. While working on a project Blogger must share their ideas to come out with a good piece of work.
Time management: The fashion designing profession requires the ability to multitask to satisfy the demand of the clients, in a specific time limit. Bloggers need to do overtime to complete the tasks in a certain timespan.
Attention to detail: Fashion Bloggers don't just need to be good artists but also need to have a good eye for details. Fashion Bloggers should be able to take care of the minute and elaborate details on garments. The best fashion Bloggers have an amazing taste and a great eye for all the delicate complexities. The ruffles and pleats formed at the end of a skirt, at the waist of a blouse or the sleeves are something that needs to be done meticulously.
Visualisation: Fashion Bloggers must possess strong visualization skills as they need to work for lots of clients along with other fellow colleagues. With strong visualisation skills, fashion Bloggers are proficient to bring the best out of their ideas.
Popular Online Arts And Crafts Courses and Certifications
Which certifications and internships can be helpful in becoming Fashion Blogger?
Internship Availability
Yes
Students can do an internship in big fashion brands and also with fashion houses. They might do internships under the guidance of famous fashion Bloggers as well. After successful completion of the internship, the companies may absorb them as permanent Bloggers of their brand. During the internship, students get a wide knowledge of the industry and also every single detail of trending styles.
What is the job outlook for Fashion Blogger?
In India, the fashion industry is about fashion photography, pattern making, garment construction, accessory designing, textile research and development, fabric weaving, make-up artists, modelling, fashion journalism/editorial, and also manufacturing. Bloggers produce clothing and accessories with the available resources to introduce new designs into the market. Fashion Bloggers may start their own company, or sell their designs or products to other design companies or in retail stores. Few successful Bloggers can get an opportunity to work for high-fashion design houses that offer personalized design services to wealthy clients.
Student Also Liked:
Frequently Asked Questions for Fashion Blogger
Que. Is fashion designing a good career?
Ans.
Fashion blogging is a good choice and it is a profitable career. The Fashion designing is one of the most appealing, glamorous and exciting career options in today's world.
Que. Do fashion Bloggers sew?
Ans.
It is a common misconception that one must know how to sew to be a fashion Blogger. Bloggers spend semesters taking sewing, pattern drafting, draping, and other hands-on courses that don't necessarily translate into the skills required to launch a label or work in the industry
Que. What is fashion designing course fees in India?
Ans.
Fashion designing course fees vary from college to college. It lies between Rs.30,000 to Rs.5,00,000 annually.
Que. How to write a fashion Blogger profile?
Ans.
There is no set method for writing a fashion Blogger profile but some tips would be: keeping it simple, being to the point, don't over do it, add some personal touch and be creative.
You might also be interested in
Questions related to Fashion Blogger
Showing 2 out of 2 Questions
25 Views
where can I sell my handmade portraits ?
Hello candidate,
Nowadays there are plenty of options available for any retailer who wants to sell his products-  both offline as well as online.
Talking about the offline methods, you can contact a wholesaler who deals with handmade art and craft so that it would buy them at reasonable price or you can even sell them at hand craft festivals held in various seasons of the Year.
Over the online mode, there are several shopping sites and apps which are visited by millions of people in various parts of the world and you have a relatively high chances to get your product sold online as compared to offline looking at the current scenario.
Good Luck!!
1176 Views
Can I Do Diploma in FASHION DESIGNING AFTER MY GRADUATION IN (ENGLISH HONOURS)
Hello,
Yes, you can opt for fashion designing as your program for future studies with a background in English literature but some colleges ask for a bachelor in fashion designing to allow the student to go for master in fashion designing. But there are handful of colleges where this criteria is not followed and hence you can easily apply in such colleges to pursue your dream field.
Here's the top colleges for Fashion designing course
1. JD Institute of Fashion Technology, Bangalore, fees- 100000 per annum
2. Pearl Academy, Delhi, fees- 433000 per annum
3. Asian academy of film and television, Noida, fees- 221000
4. Pearl Academy, Jaipur, fees- 399900 per annum approx
5. Netaji Subash open University- Kolkata, fees- 15000-16000 per annum
6- Mahatma Gandhi kashi Vidyapeeth- Varanasi, fees- 16000-17000 per annum
7. Satyam Fashion Institute, Noida, Fees- 149500 per annum
8. Global Institute of Fashion Technology- Kolkata, fees- 280000 per annum.
Its 2 years program and you can get a initial salary from 1.5 lacs to 2.5 lacs per annum after the completion of this course.
The question have been saved in answer later, you can access it from your profile anytime.
Access now
Report Question
Select your reason of reporting