Who is a Beautician?
The best thing is to look natural, but it takes makeup to look natural ~ Calvin Klein
Before going to a party or a get-together, we all want to groom ourselves and look better than our everyday usual look. On special occasions, we seek out grooming professionals to make us feel confident in our skin. Such grooming professionals not only enhance our look but also gives us a marvellous touch with the appropriate use of beauty products. There are several types of beauticians. A theatre beautician, also known as a makeup artist may transform an actor into the appearance of a monster or beast. He or she may make an older talent look like a twenty-year-old college-going youth. While other beauticians employed by salons, spas or beauty parlours possess proficiency in enhancing the look of their clients as per their requirements or recommendations. In order to become a beautician, it is advisable that the interested individual does a beauty and fitness course, in order to have some validation of his or her skills.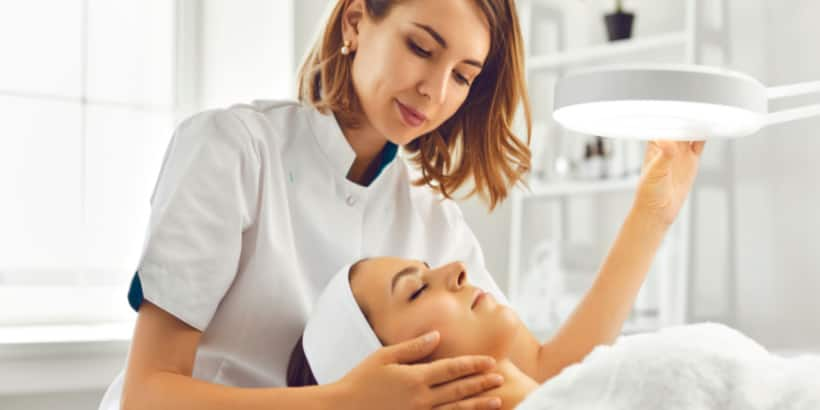 Beautician in a Nutshell
A beautician is a professional who works for production houses, theatre shows, television, or to improve the appearance of any person with the use of cosmetics. A cosmetologist might have obtained a degree in cosmetology or other related programmes. Several make-up artists work for production houses, stage shows, news channels on a permanent basis while several others work as freelance beauticians. Mostly beauticians are employed in salons, beauty spas and parlors, health and wellness clinics on a permanent basis.
Quick Facts for Beautician
Industry

Fashion

Suitable for

Male, Female, Others

The career of a Beautician is suitable for everyone regardless of gender. Whether a person is male, female, or belongs to any other gender can opt for this career. There are both unisexual and bisexual spas and beauty salons that employ Beauticians. A person's gender does not provide a hindrance in his or her career. Communication skills are crucial in the career of a Beautician.

Any special needs

No

The career as beautician is not suitable for candidates with special needs. It requires great stamina. The career demands Beauticians to be fast and manage multiple things at the same time. Cosmetologist career demands interacting with numerous clients on a daily basis. Clients may have various queries and complaints. A Beautician is required to stay calm and polite with his or her clients.
Table of Contents for Beautician
What is the role of Beautician?
A beautician is a professional who enhances the facial appearance of a person with cosmetics. He or she discusses and plans to makeover the session to provide the clients' desired result. A cosmetologist career demands to analyse skin to figure out the skin type, natural curves and shape of the face. In several cases, cosmetologists are required to teach how to apply makeup or applying cosmetics on the skin or face. A beautician prepares the skin for the application of make-up. He or she cleans and moisturises skin to prevent any adverse reactions.
Coordination
A Beautician is required to communicate with specific clients regarding specific requirements and concerns. He or she coordinates with other members of the makeup design team to ensure desired results are achieved.
Research work
A Beautician often requires research on the type of makeup and its after effects on the skin. He or she is required to consult directors to meet characters' needs and provide appropriate makeup to theatre artists or actors.
Making sketches
Beautician often stays involved in sketching design ideas for makeup ideas. He or she considers lighting, backdrops, colors and photographic processes for each assignment.
Maintenance of equipment
A Beautician is required to update and maintain a kit of cosmetics. He or she is required to stay updated about new cosmetic products and their appropriate use. A Beautician is required to stay aware of health, safety and sanitation issues.
Types of a Beautician
There are types of beauticians. We have provided below a list of beauticians with their varying specialisations.
Cosmetologist: A cosmetologist is a professional responsible for providing personal care services. It may include caring for clients' hair, skin and nails. His or her everyday tasks include shampoo, cut, style, color, curl or straighten people's hair. A cosmetologist uses cosmetics to enhance or change actors' or performers' appearance.
Hair Stylist: A hairstylist is a makeover professional responsible for enhancing clients' facial appearance with hair cuts, coloring and styling. He or she stays updated about the new technology involved in enhancing hairstyles and trends in the market. A hairstylist keeps experimenting with new hair cuts and styles to provide their clients with numerous options to select before finalising one.
Manicurist: A manicurist is a professional responsible for shaping and styling a person's nails. He or she possesses proficiency in cleaning nails, adding shine to it and giving them a perfect shape. A manicurist recommends tips and techniques to his or her clients to take care of their nails.
Spa Therapist: A spa therapist is responsible for delivering a variety of spa services. It includes body treatments, massages, facials, waxing, manicure and pedicure. He or she is required to maintain equipment and sample inventory of products. A spa therapist acknowledges and responds to relevant customer queries to fulfil their expectations.
What is the workplace/work environment of Beautician like?
A cosmetologist who works for a single employer may find full-time work in a beauty parlour or salon. He or she may consistently expand clients and specialisations. Thus, it creates numerous opportunities with the advancement in cosmetologist career. A beautician is required to adapt to clients' specific needs.
Does Beautician require travelling?
Likely
Depending on the appointment with the client, they might be required to travel to the client's locations or work from their salon itself. Beauticians working with film and tv production houses are required to travel quite often.
Employment Shifts
Full Time, Part Time
There are various employment shifts offered in the cosmetologist career. Candidates can find full-time, part-time, and hourly-basis employment opportunities in beautician careers. On-call or work from home employment shifts are not provided in this career.
Employment Nature
Contractual, Permanent
A cosmetologist finds employment on both contractual as well as a permanent basis. Beautician career provides varying work opportunities on a freelance basis and hourly basis.
Work Place
client locations, event locations, Studio
A beautician may work in a variety of settings such as salons, beauty parlours, beauty spas or makeup counters. A cosmetologist workplace differs depending on their specialisation. There are several make artists employed on a full-time basis in production houses, news channels, beauty spas, beauty and wellness clinics, salons and beauty parlours. While freelance beauticians work on an assignment basis and charge for each hour they spend doing makeup.
Presence in Geographical Area
Semi-urban, Urban
New Delhi, Bengaluru and Mumbai provide alluring career opportunities for beauticians.
Time Pressure
Likely
On several occasions, it may be required to work under frequent time pressure to complete tasks.
Overtime Details
A cosmetologist work hours often get extended based on their specifications as per the requirement of the client or assignment. On wedding sessions, beauticians get so many assignments that involve grooming bride and bridesmaids.
Weekly Hours of Work
Min 45 Hours
A beautician works a minimum of 45 hours a week. Work hours often get extended on several events such as weddings, fashion shows and photo shoots for magazines and advertisements.
How to become a Beautician?
Steps to become a Beautician
What are the skills and qualities required to become a/an Beautician?
There are several requirements to become cosmetologists. We have mentioned below a list of beautician skills.
Communication skills: A beautician is required to possess strong communication skills. He or she must be able to clearly speak and communicate his or her ideas and recommendations to clients. A Beautician meets numerous people on an everyday basis with their specific requirements. He or she must be able to market ideas and products required in the fashion and cosmetic industry.
Patience: A Beautician meets clients of various personalities on a daily basis. Such clients may come up with numerous queries and complaints. It requires an ability of self-control and patience to explain things to clients. A Beautician must know how to fetch clients' attention and build an effective relationship with them.
Physical strength: A Beautician requires to stand for long hours. He or she serves as the backbone of a cosmetic company. A Beautician is required to apply makeup, perform beauty and wellness therapies on numerous clients on an everyday basis. He or she must possess the critical component of having energy and stamina to perform longer hours.
Organising skills: A Beautician is required to perform various tasks at the same time. He or she is required to provide consultation to clients and market products and services at the same time. A Beautician is also involved in the distribution of beauty products and other related tasks.
Which certifications and internships can be helpful in becoming Beautician?
We have mentioned below major certification courses that aspiring individuals can opt to upgrade their skills to perform efficiently in a Beautician's role.
Internship Availability
Yes
An internship plays a crucial role in the initial level of career development. It brings industry insights and knowledge of functioning in the industry. Candidates must opt for an internship during the semester break of their academic programme or after successfully completion of an academic programme. There are several cosmetic institutions such as VLCC and Lakme which provide certification courses along with practical training. A Beautician intern is responsible for consulting with models, photographers and art directors to create custom looks based on specifications. He or she is required to determine which materials and colors are suitable. A Beautician intern must possess a strong knowledge of various colour palettes, design styles and other duties.
What is the job outlook for Beautician?
A beautician is required to enhance his or her skills from time to time and coordinate with latest trends followed in the cosmetic and fashion industry. He or she is required to possess a complete knowledge of cosmetics and other related products to determine a positive course of makeup application. The salon industry provides stable career opportunities. There is an expected 14 per cent increase in the number of jobs in the cosmetic industry for Beauticians in upcoming years. Employers prefer candidates with prior work experience. A Beautician may also find opportunities in events such as fashion shows, weddings and social gatherings. Beauty parlors, advertising agencies and magazines also provide opportunities to Beauticians.
Frequently Asked Questions for Beautician
Que. What is the average fee of B.Sc. Cosmetology?
Ans.
The fee varies depending on the institution. Government colleges charge an economic fee while private colleges charge hefty fees. The average fee of B.Sc. Cosmetology programme ranges from Rs. 5000 to Rs.1,000,000 per annum.
Que. What is the average salary offered to freshly graduates of B.Tech. Cosmetic Technology?
Ans.
The salary varies depending on skills and work experience of candidates. The average salary offered to freshly graduates of B.Tech Cosmetic Technology ranges Rs. 250,000 to Rs. 400,000 per annum.
Que. What is the average fee of a B.Tech in Cosmetic Technology?
Ans.
The fee varies depending on the institution. Government colleges charge economic fees while private colleges charge hefty fees. The average fee of B.Tech. in Cosmetic Technology is Rs. 30,000 per annum.
Que. What are the other roles one could opt after having a diploma or degree in cosmetology?
Ans.
There are numerous job roles offered to candidates in the cosmetic or beauty industry. We have mentioned the major ones.
Beauty Consultant
Spa Therapist
Nail Artist (Manicurist)
Pedicurist
Hair Stylist
Cosmetology Instructor
Salon Sales Consultant
You might also be interested in
Questions related to Beautician
Showing 2 out of 2 Questions
56 Views
when admission open for beautician course ?
Hello aspirant,
Beautician courses are offer by many colleges various fashion institutes  .so  there are some colleges there admissions are open :-
1 International school of design, kolkata
2 lakme academy
3 pearl academy ,Delhi
4 AAFT,  Delhi
So you can search their website and which college you like most you can  apply .
The question have been saved in answer later, you can access it from your profile anytime.
Access now
Report Question
Select your reason of reporting