Who is a Garment Technologist?
Fashion is part of the daily air and it changes all the time, with all the events. You can even see the approaching of a revolution in clothes. You can see and feel everything in clothes ~ Diana Vreeland
A garment technologist is someone who operates through several different steps of clothing development. The duty of the garment technologist is to provide suggestions, guidance and propose variations. Garment technologists ensure that appropriate fit and quality of the apparel. They take care of every stage of clothing production, such as garment manufacturing, garments styling, operations and maintenance. At the same time, it is extremely important for a garment technologist to be innovative and sceptical. They should have the appropriate talent and excellent work experience in the garment and fashion industry.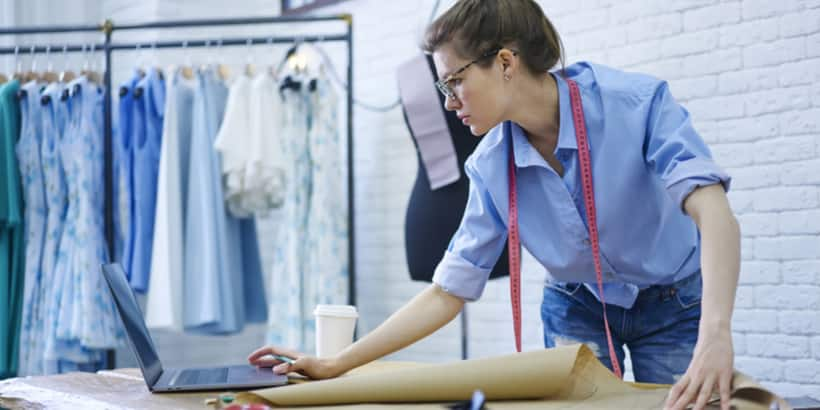 Garment Technologist in a Nutshell
From design to manufacture, garment technologists oversee every stage of clothing production. Individuals are actively engaged in determining the perfect fabric and ensuring that production remains inside the budget. Garment Technologists operate very closely with the designing team, pattern cutters and consumers.
Quick Facts for Garment Technologist
Industry

Fashion, Manufacturing

Suitable for

Male, Female, Others

Individuals can take up a career as a Garment Technologists, it is not gender-specific. Men, women, and others can choose a career as a Garment Technologist. In India, a male and female Garment Technologist enjoys equal benefits because gender is insignificant in this career.

Any special needs

Yes

Everyone, including those with physical disabilities, is appropriate for individuals who opt for a career as Garment Technologists. This career is well suited to everyone, even those with special needs. They should have the desire to show the world that in all conditions, they can accomplish their goals.
What is the role of Garment Technologist?
Garment technologists take an active part in every procedure related to the manufacture of clothing. They select materials and are also willing to liaise with designers and companies for feedback. A garment technologist needs to have a great working relationship with distributors and designers too. Garment technologists work in close collaboration with designers, sequence cutters, and also aiding purchase team members throughout all stages of the development process, from initial ideas to selling. Garment technologist recommends appropriate materials, suggests changes to layouts, guarantees that goods can be manufactured on a budget and aims to ensure clothing construction methods are being used, among several other responsibilities.
Developing systems
Systems development is a method of defining, creating, verifying and launching a new application or an essential component in the development process. Individuals who opt for a career as Garment Technologists are responsible for developing management control systems to ensure adequate cost planning and cost analysis.
Managing production problems
Individuals who opt for a career as garment technologists incorporate quality control processes to minimize production costs and solve problems. Production management means the making plans, organisation, orientation and control of business operations.
Measurement skills
Garment Technologists need to have strong measurement skills, a small difference in inches may ruin the piece of clothing. Garment Technologists try different fabrics and make a sample of them, often with less expensive material than the final product. Garment Technologists are in a position to create clothing in the proper shape and size as per the needs of the customer.
Design control systems
Individuals who opt for a career as garment technologists design control systems to ensure coordinated activities and production planning to ensure that products meet quality standards. The control system is a computerized system or a collection of devices that manage, direct or control other devices. The design of control systems is a good example of concept design.
Types of a Garment Technologist
Fashion designer: Fashion designer careers include the creation of designs with patterns and colours, which leave their mark in their minds and are admired by all. People wear outfits on any occasion, and fashion designers create accessories to complement these outfits. A career as fashion designers makes every effort to design clothing that is both functional and aesthetically pleasing at the same time. A career as a fashion designer needs to study past and present patterns in order to come up with effective ideas and predict the future. Fashion designer sketches and studies design trends. A career as fashion designers needs to take part in trade shows and also meet manufacturers to choose fabrics and trims.
Footwear designer: A footwear designer that comes up with creative ideas that are trendy. They put the patterns, the designs, the creativity, the colours, and a lot more to bring the style to a walk. Their experiments create shoes, hit among the consumers and have a high value in the market. Footwear designers have a special fascination with shoes and the ability to specialise in different consumer, style or shoe functions makes it a particularly dynamic field of fashion design. They need to present design ideas and their key features through the creation of a shoe model. They have to carry out continuous experiments with colours and fabrics in order to make effective shoes that become a style statement.
Textile Engineer: A textile engineer is an expert who has done undergraduate training in textile engineering or related specialisations. He or she began working in textile plants or related industries. Individuals who opt for a career as textile engineers conduct multiple tasks to make sure that work is done efficiently. He or she maintains time, defines the amount of labour required, and the technology that will be used. He or she oversees the actions of the workers to obtain the optimum product without inaccuracy.
What is the workplace/work environment of Garment Technologist like?
The workplace environments vary from place to place and depend on a number of factors. Conditions of employment depend on the nature of the work and the duties assigned to the worker. The work environment of a garment technologist is an office setting where a garment technologist monitors and analyses day-to-day operations. In a business, Garment Technologist is the main person in the production process.
Does Garment Technologist require travelling?
Likely
Yes, the career of a garment technologist sometimes involves travel to meet the clients of the company as well as designers. Garment Technologist travels quite frequently to get instructions from various companies.
Employment Shifts
Full Time
Work shifts are typically full-time for a garment technologist. A garment technologist performs on a full-time basis, but shifts vary by workload. However, he or she appears to be working in a regular shift, which does not mean that they do not have to spend additional shifts. In general, a garment technologist works between 40 and 45 hours a week, with particularly significant tasks that often require additional work.
Employment Nature
Contractual, Permanent
The role of a garment technologist may also be permanent or temporary in nature. A garment technologist, as part of a group, needs to function within organisations. He or she is talking to colleagues about projects or interacting with clients. Depending on the client's geographical location, a garment technologist will also need to be able to fly to reach customers. He or she may be employed for a certain period of time but is usually employed as permanent employees.
Work Place
Office, Factory
A Garment Technologist performs duties in the office setting. Both physical and intellectual capability are required for this job. In certain circumstances, physical strengths are often required.
Presence in Geographical Area
Semi-urban, Urban
A Garment Technologist has fewer possibilities in rural areas than in urban or semi-urban regions. Locations such as Chennai, Mumbai, Delhi, Kolkata offer a range of employment opportunities in this sector. The primary job opportunities for a Garment Technologist is mainly in the cities. However, this in rural areas began to expand with each day.
Time Pressure
Likely
A Garment Technologist carries out certain activities within a defined time-span for a company or individual. This career is one of India's emerging career opportunities which requires a lot of time and emotional toughness. This job takes a lot of time and mental resources.
Overtime Details
In most companies, a Garment Technologist works for nine hours a day on a daily basis. Yet he or she has to work harder when it comes to product launches. Many tasks that need more effort, a Garment Technologist in these circumstances will stretch the duration of the shifts to complete it in time.
Weekly Hours of Work
Min 45 Hours
A Garment Technologist works about forty-five hours a week, meaning nine hours a day. The roles of a Garment Technologist come under certain shifts, but he or she could be working more hours in various types of projects. Regular work is performed on a job site, as a Garment Technologist is required to conduct various research and evaluation during the job performance.
How to become a Garment Technologist?
Steps to become a Garment Technologist
What are the skills and qualities required to become a/an Garment Technologist?
Drawing skills: Drawing skills are essential for Garment Technologists to give life to their imagination. A career as Garment Technologists converts a piece of cloth into different styles of clothing. Without all the ability to draw, Garment Technologists could not even demonstrate their creativity to their customers. With the requisite qualifications, skills and experience, an aspirant can easily become a garment technologist and build a successful career in the very same profession.
Business Sense: Garment Technologists should have a strong understanding of marketplaces and businesses. Garment Technologists ought to be familiar with key business industries such as financial services and sales. These elements are crucial to becoming a successful garment technologist.
Creativity: Creative thinking encourages workers to cooperate. The creative process facilitates collaboration, but this is the most considerable advantage of having a working environment in which innovation and creativity can actually happen. Combat effective implementation also improves the performance of the organisation. Garment Technologists must have an eye to creative thinking in order to remain effective in the industrial sector. The essential ability to become Garment Technologists is a motivation to a wide range of creative fine arts. Art and imagination give the urge to convert the material into a wonderful piece of artistry.
Time management: Career as a garment technologist is evidently not unique from that of others, because practitioners also have this expertise. This skill would also make it possible for professionals to perform much better at a time of job stress. In order to fulfil the interests of the customers, the garment technologist requires different tasks to be carried out within a specific time limit. Garment Technologists need to take extra time to complete the tasks in a certain period of time.
Which certifications and internships can be helpful in becoming Garment Technologist?
Internship Availability
Yes
An internship provides a garment technologist with real-world experience and also visibility in the sector of his or her preference. Internships not just to give students the opportunity to develop their knowledge of the field, but also to improve their abilities. In the technological field, a six-month internship is compulsory for a student to graduate. Individuals who opt for a career as garment technologists must therefore do an internship and if they operate very well, individuals may be hired on a permanent basis by the company.
Career Path Progression for Garment Technologist
Apparel Designer: Career as an Apparel Designer is not difficult if an individual is aware of the history of costumes, fashion design, science and liberal arts, cloth production, fashion design management, fashion design, fashion and sketching patterns, different kinds of knitting, retail and marketing, computer-aided knitting, design processes, trends and apparel predictions. Applicants must have a thorough knowledge of textiles and style in order to enter the clothing design industry. It's also important to have the right skills and creativity as a parameter.
Fashion Director: The Fashion Director, also known as the Fashion Coordinator, is a job suited to people with a creative sense of style. Fashion directors have an affectionate knowledge about different market dynamics and then use this experience to design marketing strategies and to explore market dynamics. These careers need to travel, and they need to attend fashion shows in different countries. Fashion directors can predict fashion trends, have excellent communication skills, and be specialists in the area of fashion.
Fashion Stylist: Fashion stylists operate for individuals, clothing companies and retailers of garments. They focus on providing advice on fashion; choose and coordinate outfits and accessories for models in photo shoots or TV and film actors. These careers allow the customers to dress up by occasion using outfits and accessories. To develop a magnificent look, the wearer must master the art of visual balance by being able to make the best attire to suit the purpose, body type and personality of the wearer.
What is the job outlook for Garment Technologist?
Garment Technologist is one of those roles that are crucial to ensuring that the final product is produced smoothly. As fashion companies keep outsourcing production to other countries, there will always be a need for clothing technologists. Functioning as a communicator between both the brand and the factory, the garment technologist is accountable for maintaining that the product's objective is coordinated and as expected. The emerging sector has a promising outlook for fashion design graduates. Boutiques, clothing store chains, textile mills, export companies, leather companies, fashion show organisers are recruiting graduates. At the retail stage, producers understand the fundamental customer demands and have managed to open their own outlets to different potential markets.
Frequently Asked Questions for Garment Technologist
Que. What is garment processing?
Ans.
The word 'garment processing' may even be understood as preparation, dyeing, printing and finishing operations carried out on clothing and accessories that have already been fully manufactured and are ready for sale instantly after all those operational activities.
Que. How does the garment industry work?
Ans.
Clothing industry or clothing industry, starting with the textile industry, summarises the kinds of trade and industry and along with manufacturing and life chain of clothing and garments.
Que. What is a garment?
Ans.
The word garment is extracted from the French word for "equipment," clothing is a quite standard name that could be used when this is not the particular type of clothing.
Que. How many hours do garment workers work?
Ans.
Garment workers are sometimes required to work 14-16 hours per day, 7 days a week. During high season, individuals could even work until 2 or 3 a.m. to meet the clothing company's brand deadline. Their fundamental pay is so low how they can deny overtime apart from the fact that many would be suspended if they refused to work extra shifts.
Que. Which country produces the most garments?
Ans.
China is the biggest garment producer and is going to export to nations in the world. Clothes, clothing accessories, textiles, fabrics and textile articles are one of China's biggest exported products.
You might also be interested in
The question have been saved in answer later, you can access it from your profile anytime.
Access now
Report Question
Select your reason of reporting