Who is a Flight Engineer?
Aviation is the branch of engineering which is least forgiving of mistakes ~ Anonymous
If you wish to make a career in the field of engineering but don't want to be a part of a mainstream engineering field or work in the corporate sector then ask yourself a few questions like do you like to be in the sky? Would you want to make the sky your home? If the answer to these questions is 'Yes' then you have a choice of becoming a flight engineer. A valued crew member of any aircraft, the flight engineer, or the aircraft engineer is responsible for ensuring that all components of the aircraft are in proper operation. The flight engineer job description includes making adjustments if it is a problem with the machinery of the flight. People often wonder if a pilot and a flight engineer is the same thing and often compare 'flight engineer vs pilot'. Individuals who opt for a career as flight engineers interpret the complex flight-related scales and tools, as well as helps the pilots with navigation.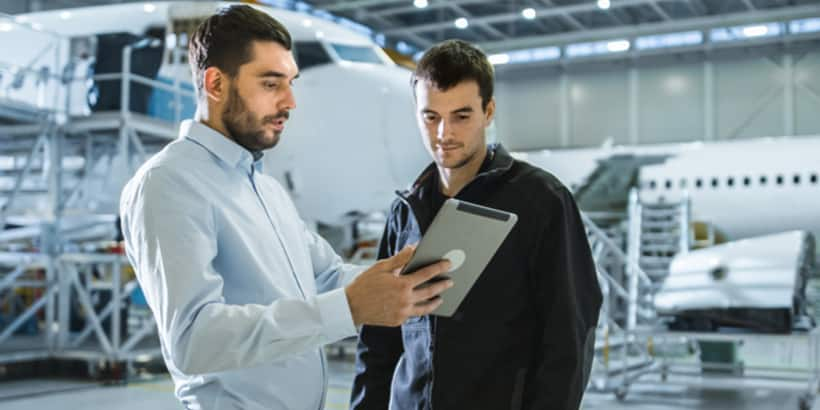 Flight Engineer in a Nutshell
A career in the aviation industry always sounds exciting. But, there is no scope for the slightest of error as it may cost the lives of many people. A Flight Engineer role comes with the responsibility of monitoring the air-craft engine and control systems while in flight. Whenever the aircraft is away from the home station, he or she is required to perform pre-flight and post-flight inspections
Quick Facts for Flight Engineer
Industry

Technology, Aviation

Average Salary in India

₹29500

Suitable for

Male, Female, Others

Individuals can take up a career as flight engineers, it is not gender-specific. Men, women, and others can choose a career as flight engineers. In order to become a flight engineer, an individual from any section or gender can do so. It doesn't matter which gender he or she belongs to when it comes to taking up flight engineering as a career option. Being a Flight Engineer in India is one of the most desired professions where an individual's gender is insignificant. Although gender is insignificant in-flight engineer jobs it is heavily dominated by men according to the current statistics.

Any special needs

No

People with special needs should not choose a career as Flight Engineer. A Flight Engineer job is not suited to everyone, specifically those with physical disabilities. It is not suitable for candidates with special needs. When it comes to doing flight engineer jobs it is better to be physically fit for a better and efficient way of working. Differently-abled people cannot be a part of flight engineer jobs as it is a critical field and according to the rules one needs to be physically fit.

Are you searching for how to become flight engineer? Scroll to read.
What is the role of Flight Engineer?
Individuals who opt for a career as flight engineers have a wide range of roles both inside and underground. Prior to departure, he or she should check the aircraft and make sure it is safe for use. Airport engineers usually have a preliminary checklist that must be completed before the flight is scheduled to fly. This includes checks for any water leaks or tires that have gone up improperly. Flight engineers specialize in all aspects of aircraft machinery runway systems, pressure oil, wing flags and even grip gear. They look at the weather patterns and see what is the amount of fuel that can be required. He or she controls the installation of air conditioners, cabin airflow, advanced electrical system and engine power. They also submit a completed flight record. If a problem occurs during a flight, it is their responsibility to file a proper report and contact the technicians for repair. Students need to know how to become aircraft performance engineers.
Inspection
The primary duty of a flight engineer is to carry out the inspection process of the entire aircraft. It is done both, before the takeoff of the aircraft as well as after its landing. All the parts and machinery are checked if they are in sound condition and safe to use. It is a very critical task and one cannot skip any part as it can be life-threatening. Individuals who opt for a career as flight engineers complete a variety of pre-flight checks of the aircraft which include checking for any fluid leaks or worn tires.
Monitoring
Once the aircraft is in the air the flight engineer is responsible to monitor all the computer systems. He or she checks for abnormalities if any and takes the necessary actions to prevent them. Once the aircraft is in the air there's a lot that can go wrong if not constantly monitored therefore a flight engineer must always be there attentively looking after the aircraft and its functionality.
Mechanical knowledge
It is the responsibility of a flight engineer to read and be aware of the flight he's working on. Individuals who opt for a career as a flight engineer must know the plane's mechanical instruments for example the fuel gauges, wing flaps, pressure indicators, so on, and so forth. If a flight engineer won't know what are the parts of the flight then it won't be possible to inspect them nor to correct them.
Solve problems
Technologies keep evolving and changing every now and then the same goes for the machinery used in an aircraft. Therefore, airport engineers answer the pilot's questions or concerns about a specific instrument and its operation on the aircraft. Individuals who opt for a career as flight engineers help and solve all the machine-related doubts of a pilot.
Fuel check
Airport engineer are responsible for determining the proper amount of fuel required for the flight. Fuel comprises the major weight of a flight therefore, the flight engineer makes sure that the amount of fuel is not way too much that it unnecessarily increases the aircraft's wait as well as it shouldn't be so less that it runs out of fuel.
Maintaining flight log
A flight log is maintained by a flight engineer. He or she has to submit it after the flight has completed its journey. It contains all the necessary information about the flight and its machinery. It may be used in the future if required. Individuals who opt for a career as a flight engineer also file a report of any problems that arose during the flight and contacts the mechanics about any necessary repairs.
Types of a Flight Engineer
There are types of flight engineers. We have provided below some of the most common types of flight engineers with their job descriptions.
Aviation Maintenance Technician: An aviation maintenance technician is a licensed person to carry out the inspection process of the aircraft. An aircraft maintenance technician uses several diagnostic equipment and gauges to test aircraft parts. He or she inspects the machinery to ensure it functions properly without errors. Aircraft maintenance technician generally works on general aircraft, piston-driven aeroplanes, helicopters or jets.
Aircraft Maintenance Engineer: An aircraft maintenance engineer is a person who is responsible for maintaining the machinery being used in the aircraft. He or she is responsible for correcting the faulty ones as diagnosed by the technician or he or she may remove them and put new parts according to the requirements. These types of airport engineers aim at the proper functioning of the aircraft by removing all the faulty machinery.
Aviation Communications Engineer: An aviation communication engineer is a person who has been trained to specialise in aviation communication. Aviation communication includes a wide variety of things like handling navigation systems, air traffic control and surveillance systems. These types of flight engineers have the option of working for military air forces, at aerodromes and across private companies as well which are offering aviation services to people.
Airline Pilot: An airline pilot or airline commander flies aircraft and helicopters to provide transportation to passengers or cargo. The airline pilot operates the engines of aircraft and controls to navigate and fly the air vessel. The ability to learn new technologies every time and to stay up-to-date with the changes in the industry is what airline pilots should possess. It is a possible job opportunity for a flight engineer. One needs to complete the licensing formalities and qualify for the test and if he or she is able to do so then one can become a co-pilot or pilot as well.
What is the workplace/work environment of Flight Engineer like?
Individuals who opt for a career as Flight Engineers spend most of their time in the plane itself. As a result, working hours are often not fixed due to frequent flight delays and changes in schedules that take place. Flight engineers usually have to work on night shifts and travel across the country or around the world. This means they can have less time spent at home. When not in the air, most of their time is spent at the aircraft next to the airport. This is a definite benefit for those who do not like the typical and monotonous work environment.
Does Flight Engineer require travelling?
Likely
A Flight Engineer job is mostly about travelling. He or she is often required to travel by plane in which he or she is functioning on job. Individuals who opt for a career as a Flight Engineer need to go to whichever destination the aircraft is going to land. The technician may not have to travel but a Flight Engineer's job does involve travelling.
Employment Shifts
Full Time
The employment shift of Individuals who opt for a career as Flight Engineer is full time in nature. The duration cannot be fixed as a lot depends on the schedule of the flight which often gets delayed due to several reasons like weather change or air traffic.
Employment Nature
Permanent, Contractual
The nature of the employment of a flight engineer is both contractual and permanent. Individuals who opt for a career as a Flight Engineer can be employed by a public or private organisation. Aspirants may locate Flight Engineer job opportunities with the help of recruitement websites where a number of employers post jobs on a regular basis.
Work Place
On-Field, Office, Air Craft Manufacturing Entities
Flight Engineers work on field with other engineers. They are often required to visit manufacturing sites. Individuals who opt for a career as a flight engineer are required to travel to manufacturing sites and offices to test manufacturing machinery or other components.
Presence in Geographical Area
Semi-urban, Urban
A Flight Engineer can work only in places that have an airport or a hanger for the aircraft. Therefore he or she has to work either in urban or semi-urban geographical locations. Since airports are located in urban or semi-urban geographical areas, therefore a Flight Engineer operates in these kinds of geographic locations.
Time Pressure
Likely
Most Flight Engineers are required to work for a typical 9 hours per day. Individuals who opt for a career as a Flight Engineer usually spend most of their working time in offices and aeronautical laboratories. They might be required to work for long periods during the end time of the project to ensure and verify their work. Apart from this, the time pressure is quite high in the profession as there is no room for error.
Overtime Details
Typically, Flight Engineers work for 9 hours per day. The working hours exclusively depend on the role and responsibilities of an engineer. Individuals who opt for a career as a Flight Engineer with a considerable amount of experience are required to work for long hours usually than the normal working hours.
Weekly Hours of Work
There are no fixed working hours for a Flight Engineer. Individuals who opt for a career as a Flight Engineer have to work according to the flight schedule. International flights can be really long were individuals who opt for a career as Flight Engineers have to work for the entire night.
How to become a Flight Engineer?
What are the skills and qualities required to become a/an Flight Engineer?
When it comes to how to become a flight engineer, the first thing that they should know about are the skills required to become a flight engineer. Some of the essential skills we have mentioned below.
Communication Skills: Individuals who wish to opt a career as Flight Engineer must have a good command over his or her language. It is important for his or her job position to be able to explain their message to the recipient clearly and precisely. Being able to communicate well eliminates the probability of errors being caused due to any sort of miscommunication. It is essential to be a good listener in order to communicate well.
Decision-Making Skills: It is essential that a flight engineer is decisive in nature. There are several instances where a flight engineer is supposed to make decisions about the aircraft. Individuals who opt for a career as flight engineers need to be calculative as well as decisive about the decisions made as well as calculate the risks in taking those decisions. It is a field where no risks can be taken therefore everything needs to be done with precision.
Leadership: Flight Engineers should have the ability to work with a group of people as a team. Not only that he or she should be able to lead the team as well. Individuals who opt for a career as Flight Engineers may have a technician or a junior flight engineer under him or her. It is important that he or she is able to communicate well and work towards attaining a similar goal.
Attention to Detail: Individuals who opt for a career as a flight engineer are expected to have extremely high attention to detail. It is important in his or her job position that he or she does not miss out on anything while inspecting or performing tests. Each and every part of each and every aircraft's machinery is supposed to be checked with utmost concentration to avoid any kind of unforeseen event.
Popular Online Engineering Courses and Certifications
Which certifications and internships can be helpful in becoming Flight Engineer?
We have provided the below certification courses that individuals may opt to upgrade their skills and knowledge for a career as a Flight Engineer.
Internship Availability
Yes
Internships are considered the best possible way for gaining experience in an individual's career choice. Airport Engineers provide the candidate with real-world experience. Internships provide an aspiring candidate the opportunity to apply the theoretical knowledge he or she gained during their time in college for pilots engineering, to bring them in practical use. Not only that, but internships also enable the candidate to make connections in the field for future use. If he or she performs well during the internship several companies or organisations could also hire the candidate on a full-time basis. The candidate can get an internship either through an online medium or he or she could also contact the aviation company of choice directly.
Career Path Progression for Flight Engineer
There are numerous job roles offered in the career as Flight Engineer. We have provided below some of the major job roles that one may acquire while progressing in the career gaining relevant work experience.
Air Traffic Controller: Air traffic controller's job is to monitor and direct the aircraft traffic that is going on in the air. These types of flight engineers are responsible for managing all communications with the pilots and providing them with assistance in the event of an emergency by telling them which area is safe for example, an emergency landing.
Aircraft Technician: An aircraft electrical installer or technician performs tests, or troubleshoots the equipment and systems of the aircraft, and develops or modifies electric components. These types of airport engineers typically work in an engineering department. He or she generally works with a team of people who are supervised by a senior technician or flight engineer. His or her work is very critical and these tests are performed in an aircraft before and after the plane's landing.
Aviation Maintenance Technician: An aviation maintenance technician is a person who has to comply with the already established safety standards and perform various safety checks. These types of airport engineers are also responsible for checking and preparing electric as well as the mechanical components of an aircraft. He or she also fixes the machinery if they are not functioning properly or have worn out.
Aircraft Manufacturing Engineer: An aircraft manufacturing engineer is responsible for the instilling and development of the different types of manufacturing systems for a certain type of aircraft. Not only that, these types of flight engineers are also responsible for developing maintenance programmes, and meeting the production deadlines.
Flight Engineer Jobs and Salaries
What is the job outlook for Flight Engineer?
Candidates who wish to become aircraft performance engineers experience quite a significant job growth. Job growth in the government sector is quite slow but there is a lot more job security than in the private sector. During this time of Covid-19, a lot of flight engineers have been sacked in private organisations but in the government organisations, the jobs of flight engineers are still secured. On the other hand, the private sector provides comparatively faster job growth in careers in flight engineering. Flight engineers are highly demanded by the military and airline companies. This is because the use of the very latest technology, operated under various programmes of commercial flights, is at risk of attack by mechanical problems.
Student Also Liked:
Frequently Asked Questions for Flight Engineer
Que. Is there a flight engineer on every flight?
Ans.
Flight Engineers are compulsory to be there in flights with three or more engines and in large helicopters. But now, in most modern aircraft, their complex systems are both monitored and adjusted by electronic microprocessors and computers, resulting in the elimination of the flight engineer's position.
Que. Is being a flight engineer difficult?
Ans.
The market for a Flight Engineer is shrinking as the technology is advancing. It is getting difficult to be a part of this career. But there are several other responsibilities that cannot be performed by computers, at least not yet. Therefore for a person who enjoys practical and hands-on work and who wants to make a decent salary, a flight engineer is a great career choice.
Que. Can a mechanical engineer become a flight engineer?
Ans.
Individuals belonging to the Mechanical Engineering, Electrical Engineering, or aeronautical engineering field are eligible to become flight engineers. One should have knowledge of flight theory and he or she can be a part of this field.
Que. How many years does it take to become a flight engineer?
Ans.
Two years of college (which means pursuing a diploma) is considered the minimum educational requirement for becoming a flight engineer. However, most airlines prefer to hire applicants who are college graduates. In order to increase job prospects, one can acquire a bachelor's degree in aeronautical, electrical or mechanical engineering.
Que. Do 767 flight engineer still required?
Ans.
The Boeing 747, earlier needed a minimum of three flight engineers before taking off. But, now ever since the automation took place it does not require any Flight Engineer during its time in the air until and unless it is mandatory by the country the flight is flying in and even in that case only one Flight Engineer is required.
You might also be interested in
Questions related to Flight Engineer
Showing 1 out of 1 Questions
58 Views
how to become flight engineer after class 12th step by step process
Hello Bibek,
To become a flight engineer in India you must follow the following steps
You should first complete your 10+2 level education with a minimum of 60% marks aggregate in science stream (physics, chemistry and mathematics)
After 12th, you must pursue your Bachelors degree in Mechanical /Electrical /Aeronautical engineering with a minimum of 60% marks aggregate
After your graduation (BE/B.Tech) you must enroll in a recognized aviation institute and obtain a flight engineer certificate. To qualify for this certificate you must be of 21 years old (minimum) and also have done a 2 year long course in aircraft and engine maintenance or 3 or more years worth of experience in the field of aviation.
Also obtain medical fitness certificate and certificate regarding eye sight.
Candidates are also required to qualify in in-flight examinations regarding normal as well as emergency tasks.
Hope this helps and Good luck
The question have been saved in answer later, you can access it from your profile anytime.
Access now
Report Question
Select your reason of reporting