Who is a Sustainability Officer?
Present stability and future outlook keeps a company running ~ Jeff Bezos
With growing industrialisation and development in the country, the pollution levels are increasing as well. Therefore every company or organisation requires a Sustainability Officer to make sure that all the company-related activities are performed by keeping their effects on the environment in mind. If you wish to be someone who can guide the company by setting goals, policies as well as objectives. If you are someone who can make sure that the organisation is able to maintain and exceed productivity and profitability by keeping the environmental policies in mind, then being a sustainability officer is the right career choice for you. If you want to know more about the career as a Sustainability Officer or how to become a Sustainability Officer then continue reading this article.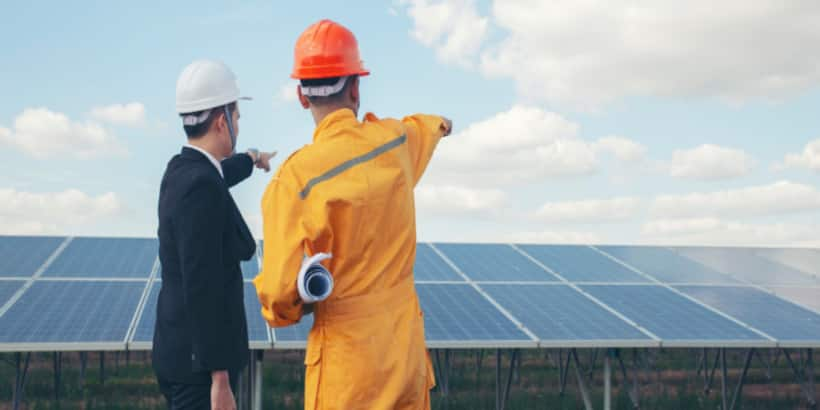 Sustainability Officer in a Nutshell
The career as a Sustainability Officer is filled with responsibilities. A sustainability officer is someone who is involved in the process of creating a sustainable environment while the company is delivering its product or services to the people. In the career as sustainability officer, one is responsible for fulfilling duties like making policies, analysing and predicting the company's future outlook, present stability and several other work. Depending on one's job responsibilities and experience he or she may also have to lead a team and work with juniors under him or her. In order to know more about the job of a sustainability officer continue reading the article.
If you want to know more about how to become a Sustainability Officer, Sustainability Officer salary, courses, colleges, chief sustainability officer skills required to perform well then continue reading this article.
Quick Facts for Sustainability Officer
Industry

Environment

Average Salary in India

₹39000

Suitable for

Male, Female

In order to become a sustainability officer an individual belonging to any section or gender of the society can do so. Pursuing a career as Sustainability Officer in India can be of several advantages due to the vast career opportunities available in this field where an individual's gender is insignificant. Every company requires a sustainability officer in order to have a better growth and future outlook for the company.

Any special needs

Yes

When it comes to taking up Sustainability Officer jobs it is better to be physically fit for a better and efficient way of working. But, differently-abled people can also be a part of sustainability officer jobs as it is more about collecting facts, analysing data and coming up with ideas which altogether are about mental work rather than physical work. If an individual can carry out all the duties without the efficiency of the work being affected then he or she can make a career as sustainability officer even if he or she is differently-abled.
What is the role of Sustainability Officer?
In the career as sustainability officer, one is responsible for providing continuous assessment of the company's profits, employees, environmental outlook and other matters affecting the company's operations. He or she reports directly to the Chief Executive Officer (CEO), or management team. The role of the officer in stabilising direct communication with most, if not all, participating in the production process. This job requires a person who is committed to reducing the company's carbon footprint, and in addition to complying with environmental regulations set by the government. The position offers the opportunity to engage in all levels of production.
Although companies are often linked to environmental issues such as water and energy use, a growing number of companies are making efforts to save their working conditions, develop better safety systems, and benefit from products that address environmental and social problems. In the career as a sustainability officer, one helps the company in making all of it possible.
Compliance
It is the first phase of responsibility, companies often start with compliance-related activities. In addition to compliance, employees can volunteer to work on recycling projects or green teams. Many companies in this category have not yet created a position for the CSO or the Chief Sustainability Officer. But, the number of CSOs are increasing as the environment rules are getting more strict on companies.
Efficiency
This is the second stage. At this stage companies become more strategic about sustainability by finding effective ways to save corporate money, such as cutting energy and water use or reducing waste and carbon emissions. In the meantime, many companies are likely to hire or appoint a team of sustainability officers, working with the CEO.
Innovation
This is an advanced design phase, where companies combine business resilience in ways that transform a company. Strategies are often driven by the market with the aim of maximising long-term profits, and sustainability efforts tend to address major social problems, including climate change, water management, and increasing pollution rates.
Following the Policies
One of the major challenges faced by a sustainability officer is to make sure employees of the company are abiding by the environment policies that are set both by the government or the company. It is one of the basic and most important steps in order to reduce a company's carbon footprint.
Filling Reports
Apart from making policies and persuading employees to follow them it is also important to compare the effects it has brought in. Therefore, a sustainability officer makes an analysis report in order to motivate the employees if the work is going according to the plan or the report could also be used in order to improve the future work quality.
Types of a Sustainability Officer
There is a wide scope of jobs in the career as sustainability officer after a student has completed his or her education. Depending on the person's qualifications as well as experience one can get employed in several fields. Some of the job opportunities which offer good sustainability officer salary include:
Director of Sustainability: An individual who is the Director of Sustainability is the one who is responsible for ensuring that organisations and companies set as well as meet their environmental goals by making sure one abides by the environmental policies. He or she develops green policies and initiatives that emphasise the proper use of environmental resources with a focus on sustaining these resources for future generations.
City Planners: The job of a city planner determines the best way to use a city's land and resources. He or she may also help in drafting the legislation documents, plan the construction of new public housing or building facilities, helping protect the environment, and suggesting zoning regulations for private property as well. A city planner aims at constructing multi-purpose buildings by making sure that minimum environment damage is caused.
Sustainability Manager: A Sustainability Manager ensures that his or her company upholds and aims at working towards finding new, innovative and economically reductive ways to stay green. A sustainability manager will be in charge of developing, implementing and monitoring companies or several organisational environmental strategies. He or she will also be responsible for communicating the plans, formulating budgets and marketing the green strategies to vendors, customers and colleagues. This is a career that enables an individual to help make a positive difference on the environment.
Environment Strategist: As the name suggests an environment strategist is that person of the company who is responsible for making strategies that can be implemented. He or she has to keep in mind that the company's product or service quality should not reduce in the process of saving the environment., Therefore, one needs to come up with a strategy that can be beneficial for both the company and the environment.
What is the workplace/work environment of Sustainability Officer like?
In the career as Sustainability Officer, one spends most of his or her time in the office environment itself. As a result, working hours are mostly between 9 to 5. The individual may sometimes stretch depending on the task in hand. It is a desk job and the individual generally works in an office on a desk and in a clean environment. One does not have to do any kind of physical work.
Does Sustainability Officer require travelling?
Likely
A career as Sustainability Officer is definitely a job for those who do not like to travel much during their work hours and sit and work peacefully. A Sustainability Officer's job does not require travelling. However, he or she may have to travel occasionally in order to meet the company's stakeholders.
Employment Shifts
Full Time
The employment shift in the career as a Sustainability Officer is full-time in nature. The duration is generally ranging between 40-45 hours a week. It may stretch depending on the workload on the individual.
Employment Nature
Permanent
In the career as Sustainability Officer, one works in a 9 to 5 job on weekdays. Weekends are off but one may have to work Saturdays depending on the workload. The job is mostly permanent in nature and the company hires him or her on a full-time basis.
Work Place
private companies
The nature of employment in the career as a Sustainability Officer is permanent in nature. A firm hires him or her for a full-time basis in order to make strategies and policies for the company or organisation.
Presence in Geographical Area
Semi-urban, Urban
In the career as a Sustainability Officer, one mostly functions in an urban or semi-urban location. The companies hardly operate in rural areas.
Time Pressure
Likely
There can be time pressure involved in a Sustainability Officer's job. Although the work pressure is not frequent in nature.
Overtime Details
In the career as Sustainability Officer, one may have to work overtime in order to meet the desired target or deadline.
Weekly Hours of Work
Min 40 Hours
In the career as Sustainability Officer, one has to work a minimum of eight hours on a daily basis. Which means 40 hours a week. The work hours can stretch depending on the project's deadline.
How to become a Sustainability Officer?
Steps to become a Sustainability Officer
What are the skills and qualities required to become a/an Sustainability Officer?
In a career as a sustainability officer, one needs to possess a certain set of skills in order to succeed in the career. Some of the chief sustainability officer skills are mentioned below:
Good Communication skills: A Sustainability Officer must have good communication skills in order to do well at his or her workplace. It is an essential requirement as one will have to communicate several goals, strategies as well as environment-related policies to the stakeholders, board of directors and the people involved in the production line of the company or organisation.
Teamwork: A Sustainability Officer does not work alone. Even if the company is a small-scale one and has only a single member for the sustainability department, he or she has to work with the entire company. Any policy or strategy that is made by the sustainability officer has to be put forward to the company and employees. Everyone needs to work as a team, especially the ones in the production department.
Rational: In order to reduce the company's carbon footprint a sustainability officer must be rational in his or her approach. Setting up goals that are almost impossible to achieve can lower the employees' morale and they might not consider working towards achieving the goals in the future, Therefore, one must set rational and achievable goals which can motivate employees as well.
Decision Making skills: As a Sustainability Officer one must have the capability to make the right decisions. There are times when one has to choose between multiple strategies to go with, a good sustainability officer will make sure to go with the one which offers the lowest amount of risk. It is his or her decision to make in situations like these.
Which certifications and internships can be helpful in becoming Sustainability Officer?
We have mentioned below several certificate courses that aspiring individuals may opt to upgrade their skills for a Career as a Sustainability Officer.
Internship Availability
Yes
Internships are considered the best possible way for gaining experience in an individual's career choice. The field of a sustainability officer is about making policies and strategies for the company while keeping the environment in mind, the first step is to understand the several policies that already exist. It can be learned in a better way by doing it practically. The internships provide the candidate with real-world experience. It is a way of knowing the career field before professionally joining it. Internships provide an aspiring candidate the opportunity to apply the theoretical knowledge and put it to use. Not only that, internships also enable the candidate to make connections in the field for future use. If he or she performs well during the internship several companies or organisations could also hire the candidate on a full-time basis.
Career Path Progression for Sustainability Officer
Candidates who wish to make a career as a Sustainability Officer, need to experience significant job growth. As and when students gain knowledge and experience he or she steps up the ladder of designation. Since the field is vast and it continues to grow, there are plenty of growth opportunities. Depending on the individual's track record of making environment-friendly strategies as well handling the team, play an important role in an individual's job growth.
There are more and more firms that are getting involved in sustainable development policies these days.
Manager of Natural Resources: The job of a Manager of natural resources is to make sure that all-natural resources that are used in the running of the company or the organisation are wisely used. He or she may set a limit on using natural resources when the employees are exceeding it. A manager of natural resources can set policies like cutting electricity consumption by a certain percentage in order to reduce the exhaustion of the environment's resources.
Director of Strategic Planning: Big companies can have several people working towards formulating a better and more efficient environment strategy. The job of the director of strategic planning is to decide amongst the several options and finalise the one which involves the least amount of risk to the company's profit ratio as well as helps in the sustainable development of the environment.
Chief Sustainability Officer (CSO): A CSO is the corporate title of an executive position within a company or organisation that is in charge of the environmental programmes. He or she is the head of the entire sustainability department of an organisation and no policy can be passed without the approval of a CSO. he or she works closely with the CEO of the company as well.
Sustainability Officer Jobs and Salaries
Director of Natural Resources
Monthly Salaries
Average Salary

38000

Starting Salary

35000

Junior Level Salary

35000

Senior Level Salary

45000
Job Description
A manager of natural resources is someone who is responsible for making policies which can reduce the company's use of natural resources altogether. This job position is generally given to an individual after he or she has gained an experience of three to five years in the field.
Salary Description
At the job position of a manager of natural resources the primary factor that affects the amount of salary is the years of experience. More the work experience, more is the salary as a longer term of work experience would sharpen the individual's skill sets as well.
Director of Strategic Planning
Monthly Salaries
Average Salary

40000

Starting Salary

37000

Junior Level Salary

37000

Senior Level Salary

50000
Job Description
A director of strategic planning is the one who designs strategies for the company in order to become more environment friendly and reduce their carbon footprint. He or she studies and analyses the previous strategies in order to make better ones.
Salary Description
In the field of sustainability, the rank of a director of strategic planning is quite prestigious and it comes after several years of experience. Therefore, the salary offered is also higher than other job positions.
What is the job outlook for Sustainability Officer?
The world continues to evolve on a daily basis and so does technology. With so much advancement in technology, an increasing number of changes and developments are entering the market which has, in turn, increased the rate of pollution and waste generation. It has led to an increase in demand for a sustainability officer. Not just big multinational companies need a sustainability officer but even smaller companies are hiring more and more sustainability officers in order to abide by government norms. In the career as a sustainability officer, one who has the experience and a decent set of skills can easily get a job in any firm. India still has a long way to go when it comes to sustainable development as the population continues to grow.
Frequently Asked Questions for Sustainability Officer
Que. How do I get involved in sustainability?
Ans.
Being a part of sustainability or sustainable development can be made possible through various methods. For example one could join the field professionally, or take up a degree or could also volunteer.
Que. What are the three principles of sustainability?
Ans.
The principles of sustainability are the foundations of what this concept represents. Therefore, sustainability is made up of three pillars: economy, society, and the environment. These principles are also informally used as profit, people and planet.
Que. Can you get a sustainability officer's job with no experience?
Ans.
It is necessary to have job experience before becoming a sustainability officer. One must have completed a degree course in order to become a sustainability officer, apart from that he or she should also have experience of at least three to five years in the field. It makes finding a job a lot easier.
Que. How do you become a chief sustainability officer?
Ans.
To become a chief sustainability officer (CSO), one should at least have a bachelor's or master's degree in business or an environmental science field, such as biology. Along with experience of a few years in the profession.
You might also be interested in
The question have been saved in answer later, you can access it from your profile anytime.
Access now
Report Question
Select your reason of reporting