Who is a Web Administrator?
If debugging is the process of removing software bugs, then programming must be the process of putting them in – Edsger Dijkstra
Individuals who opt for a career as Web Administrators design, create, maintain and fix websites. Most crucially, they ensure a secure and efficient customer experience. Which may include developing security measures, reconfiguring programmes, creating backups, addressing software issues, updating content, and much more. They can work with several clients or with one company to build, programme and manage websites. Web administrators utilise their technical aspects to the programme, the artistic side to design, and the collaborative side to resolve the issues. With these kinds of various expertise, web administrators are essential to an organization's online business, making them a valued asset.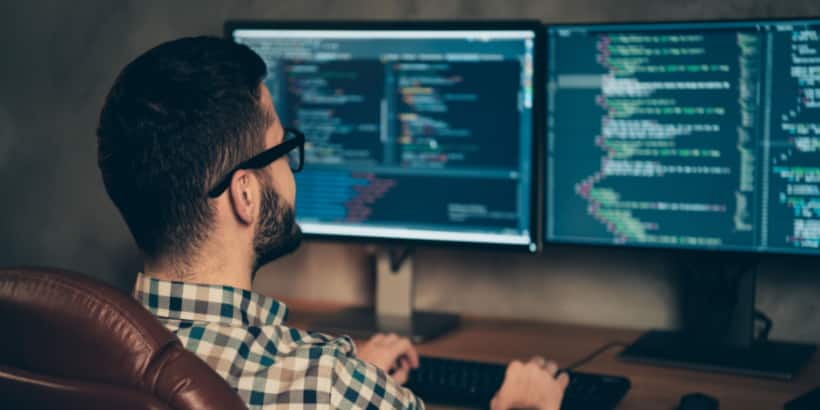 Web Administrator in a Nutshell
Individuals who opt for a career as Web Administrators configure the webserver to make sure that the directory structure is very well-structured, logical, protected, and also that the databases are correctly labelled. They monitor systems for intrusion or denial of service attacks and information security issues to a company authority.
Quick Facts for Web Administrator
Industry

Technology

Average Salary in India

₹60000

Suitable for

Male, Female

Individuals can take up a career as Web Administrators, it is not gender-specific. Males, women, and others can choose a career as Web Administrators. In India, a male and female Web Administrator enjoys equal benefits because gender is insignificant in this career.

Any special needs

Yes

Everyone, including those with physical disabilities, is appropriate for individuals who opt for a career as Web Administrators. The career as Web Administrators is well suited to everyone, even those with special needs. They should have the desire to show the world that in all conditions, they can accomplish their goals.
What is the role of Web Administrator?
Individuals who opt for a career as Web Administrators maintain the design, implementation, development and maintenance of the web environment. They also execute quality assurance and evaluation of websites and user interfaces. They conduct the everyday tasks necessary to maintain a website. Individuals who opt for a career as Web Administrators may also design and implement website advancements and maintain web content. Website administrators develop web pages, fix bugs, and make systems management. They may also help users who may have difficulties using websites and applications.
Troubleshooting
Troubleshooting is a problem-solving methodology which is often used to repair damaged products or procedures on a device or system. It is a logical, systematic analysis of the cause of the matter and, once again, to make the product or method work. It is used to address hardware, software, as well as many other applications.
Design and development
Individuals who opt for a career as a Web Administrator are responsible for designing information systems to improve system design, system development and installation of software solutions. Design and implementation are the major phases that makeup almost all of the work.
Database maintenance
The database management system is an application which is used to develop and maintain database systems. The database management system handles, organises and provides ways for users or other systems to change or delete data. Examples of the database management system include MySQL, PostgreSQL, Microsoft Access, SQL Server, FileMaker, Oracle, RDBMS, dBASE, Clipper, and FoxPro.
Collaboration
Individuals who opt for a career as Web Administrator coordinate with the product development team and engineers to identify and implement creative product strategy, graphics and interface solutions. A secure and flexible atmosphere enables Web Administrators to feel more comfortable, enabling them to communicate easily and effectively.
Types of a Web Administrator
In this section, we have discussed the types of Web Administrators.
Software Engineer: Individuals who opt for a career as a software engineer are computer science experts who apply knowledge of engineering and software development concepts to develop software products, design computer games and operate network control systems. The job description of the software engineer includes the design of customised applications for specific clients. Individuals who opt for a career as a software engineer apply software engineering concepts to every stage of the development process.
Computer programmer: Career as a computer programmer involves writing and reviewing code, enabling computer and software programmes to function properly. He or she transforms the programme designs of the software developer and engineer into instructions that the computer can follow. A career as a computer programmer involves using designs created by software developers and engineers and transforming them into commands that can be implemented by computers.
Multimedia Animator: Multimedia animation is an illusion that has been developed with still photographs. Multimedia animators are working in a specific medium. Individuals who opt for a career as a multimedia animator use computers to make two-and three-dimensional images, special effects and graphics for use in computer games, television programmes, videos, commercials and movies. The field of animation is vast and, as technology has grown, has provided a wide range of opportunities for art and innovation in various aspects of visual arts.
UI Designer: User Interface Design is a technologically focused career that seeks to establish digital software that attracts users to a kind of smoother human-computer communication. The goal of a career as a UI designer is to enhance the customer experience by making interactions with the new website or quick, engaging, safe and inexpensive software. The tasks of the user interface designer include the collection of user specifications, the design of graphical elements and the implementation of navigation modules.
What is the workplace/work environment of Web Administrator like?
Individuals who choose a career as a Web Administrator work in an office environment. They operate using computer programmes to monitor, manage and maintain websites that result in improved production and profitability of the organisation. The Web Administrator is less likely to travel in his or her job.
Does Web Administrator require travelling?
Not Likely
Individuals who choose a career as Web Administrators prefer doing desk job and it does not require a lot of travel. Occasionally, they may require travel to attend meetings. They need to be part of the initial planning process and to meet with the customer to discuss ideas for the work layout.
Employment Shifts
Full Time, Part Time
Yes, the career as a Web Administrator falls into a certain shift. He or she works from early morning to late evening. You have to work full time in your career as Web Administrators, and additional work hours are also common.
Employment Nature
Contractual, Permanent
In a career as Web Administrator, candidates usually work in a company on a permanent basis. However, there are certain companies that hire Web Administrators on a contractual basis.
Work Place
Office
In his career as a Web Administrator, one of them works in the office setting. They are required to work for a minimum of 40 hours per week. The working hours may be extended depending on their current project.
Presence in Geographical Area
Semi-urban, Urban
In rural areas, there are little or no prospects for a career as a Web Administrator. Many of the employment of the Web Administrator is in urban areas since many IT companies are located in urban areas.
Time Pressure
Likely
Individuals who opt for a career as Web Administrator are responsible for managing, maintaining and monitoring websites. One is likely to face time pressure in a career as a Web Administrator. Web administrators usually operate under a lot of time pressure.
Overtime Details
Usually, in a career as a Web Administrator, employees are required to work nine hours a day. However, these working hours are generally extended due to unattainable results and work pressure. Web Administrators are therefore required to work for long hours in situations of stress.
Weekly Hours of Work
Min 45 Hours
Individuals who choose a career as Web Administrators work at least 40 to 45 hours a week. Hours of work may vary depending on the organisation. Work hours may often be increased due to deadlines or work pressure.
How to become a Web Administrator?
Steps to become a Web Administrator
What are the skills and qualities required to become a/an Web Administrator?
Organising skills: Web Administrators require multiple functions to be performed within a limited time period. Research is required for the interpretation and analysis of scientific data. These types of Web Administrator jobs include the transfer of their work to other professionals, such as other engineers, programmers and scientific staff. It is, therefore, necessary to organise it in order to avoid any mismanagement.
Business sense: Web Administrators are engrossed in industrial environments. They engage in business development meetings, make presentations, write technical solutions and are responsible for a number of other tasks. As a designer, therefore, they need to have business skills.
Technical skills: Web Administrators must be able to design, instal and configure software and hardware components in order to achieve optimal website and application performance. They are responsible for facilitating the development and proper functioning of website design.
Popular Online IT Courses and Certifications
Which certifications and internships can be helpful in becoming Web Administrator?
Internship Availability
Yes
Practice plays a key role in practical learning. The academic course provides theoretical knowledge. But this is incomplete without practical knowledge and experience. For this reason, internships are important for practical training. It brings insights to the industry. Individuals who opt for a career as a Web Administrator with internship experience will be prepared for a full-time entry-level role. Web administration internship benefits the individual by making it suitable for the market. It practically trains for work in a less pressurised yet formal work environment.
Career Path Progression for Web Administrator
Junior Developer: Junior Developers will assist the senior developer with all aspects of design and coding. They often attend and contribute to business development meetings. Junior Developers gain knowledge about the codebase and improve programming knowledge. They respond to questions from the development team and gather information about consumers about the functionality of the programme.
Senior Developer: Senior Developers are quite independent regarding their job, take care of the most challenging web building projects, and break them out from the park every time. They remain up-to-date with market dynamics and technological innovations, analysis code for accuracy and functionality, and develop and implement design plans.
Web Administrator Jobs and Salaries
Junior Developer
Monthly Salaries
Average Salary

30000

Junior Level Salary

15000

Senior Level Salary

50000
Job Description
Junior Developers are entry-level developers who assist the development team with all aspects of design and coding. Their primary role is to learn the codebase, participate in design meetings and helps the development manager in all website development assignments.
Salary Description
Salaries in this career largely depend on the company and the role which an individual occupies. An average salary for a Junior Developer is up to Rs. three lakhs per year. At the beginning of their career, they receive more than one lakh a year which increases to even more than Rs. six lakhs a year in senior positions.
Senior Developer
Monthly Salaries
Average Salary

90000

Junior Level Salary

50000

Senior Level Salary

150000
Job Description
Senior Developer performs a variety of development tasks, such as coding and web development. Senior Developers may specialise in a particular field, supervise project work and monitor junior developers.
Salary Description
The salaries of Senior Developers depend on career growth or rely entirely on the experience of the particular field. The salary of Senior Developers depends mainly on the experience of the employees. The Senior Developers receive on average up to Rs. ten lakhs a year. They get more than Rs. six lakhs a year at the early stage but finally get more than Rs. fifteen lakhs at the senior level.
What is the job outlook for Web Administrator?
Technology has evolved rapidly over the last decade, and so is the demand for information technology services and products leading to an industrial revolution in the Indian market. IT helped in representing India as a member of the world trade industry, making it one of the best biggest economies in the world to deliver a high-end business solution and open up new export verticals. There are a number of job opportunities not only in India but also as Web Administrators abroad. Web Administrator career in India is emerging rapidly.
Student Also Liked:
Frequently Asked Questions for Web Administrator
Que. Is an administrator a good job?
Ans.
Every office requires an effective administrator who can make sure that everything is running efficiently behind the scenes of a leading organisation. Without an administrator, things are easily falling apart. It's a fantastic job for those who want to indulge in a variety of functions and can easily multitask.
Que. What are the key roles and functions of the Web administrator?
Ans.
To have a website ranking, web administrators must create a web host, enable user access, set up news and mail servers, and based on similar databases and other back-end elements. They are responsible to make clients aware of the website and ensure that it runs effectively.
Que. What are the admin skills?
Ans.
Administrative skills are those skills that help you accomplish tasks associated with the management of a company. This may require responsibility and accountability such as filling out paperwork, meeting different stakeholders, conveying crucial information, developing processes, responding to customer queries.
Que. What is the administrator job description?
Ans.
Web Administrators maintain office functions by planning office operations and procedures, preparing payroll reports, developing files and documents, monitoring and evaluating supply requests and assigning and monitoring administrative operations.
You might also be interested in
The question have been saved in answer later, you can access it from your profile anytime.
Access now
Report Question
Select your reason of reporting