Who is a Geneticist?
Genetic engineering is to traditional crossbreeding what the nuclear bomb was to the sword ~ Andrew Kimbrell
In career as geneticist, individuals studies how environmental factors interact with genes to cause various diseases or the adaptation of species to it. We've often heard, "If your parents are diabetic so can be you" or "We get a pink rose by mixing the branches of a red and a white rose plant." It is true, but how do we know this? Genetics is a subset in biology where genes, heredity, mutation, genetic variation, and the roles of genetics in ageing and disease are studied. Genetics is the study of heredity in general and of genes in particular. A career in genetics in India forms one of the central pillars of biology and overlaps with many other areas, such as agriculture, medicine, and biotechnology. Students can pursue B. Tech in Genetic Engineering to opt for a career in genetics in India. You can make your genetics careers if genetics is your area of interest. Here, in this article, we will discuss careers in genetics and genomics, the salary of a geneticist, high paying jobs in genetics, how to become a geneticist in India, genetics courses in India.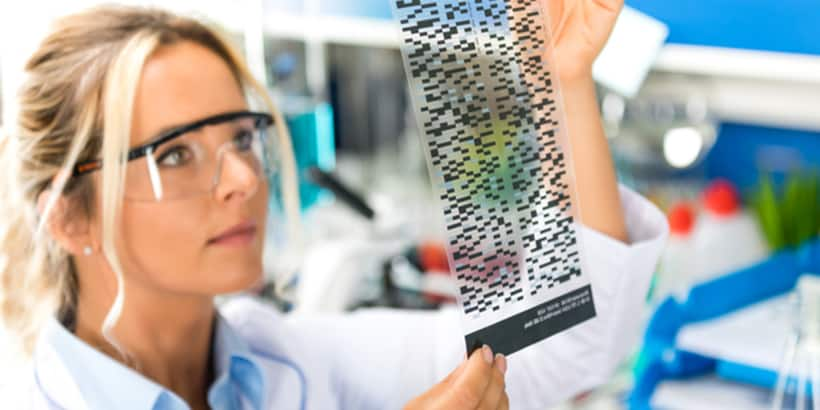 Geneticist in a Nutshell
Individuals who opt for a career as a geneticist work in both medical and scientific fields to gain a better understanding of mutation, reproduction and cell growth. The work of a professional in the field of Genetics typically consists of detecting genotypes, keeping records of genetic ailments, detecting faulty/misfired genes, employing mutation techniques, analysing test results, and many other functions. After having conducted tests or experiments, they prepare reports for clinicians and clients (patients), explaining to them the results of their analysis.
Quick Facts for Geneticist
Industry

Technology

Average Salary in India

₹40000

Suitable for

Male, Female

In order to make a career as geneticist being gender specific is not required. An individual can become a geneticist doctor irrespective of his or her gender.

Any special needs

No

In the career as geneticist, even the specially-abled people can be a part of it.
Table of Contents for Geneticist
What is the role of Geneticist?
In career as geneticist, individuals are leaders in biology and are directly involved in unlocking some of the secrets of life. In the career of a geneticist, one has many roles such as putting together the puzzles of heredity and DNA. Individuals in genetics careers spend most of their life looking for the answers to one to several specific questions and are incredibly dedicated to their work. With this devotion, the field of genetics has thrived, advanced, and progressed throughout the years.
Evaluation
As a geneticist, it is the prime responsibility of the individual to evaluate, diagnose, or treat genetic disease or find their cures. In order to keep finding advanced diagnoses, geneticists need to keep researching as well. It also includes detailed medical history such as cancer and pre-neoplastic diagnoses, the construction of a family tree, physical examination, risk assessment, and consideration of genetic testing, including a full discussion of possible genetic discrimination.
Maintain records
Maintain laboratory notebooks that record research methods, procedures, and results of the patient. It also important to know the family history, a complete record means a record of three generations.
Manage funds
Write grants and papers or attend fundraising events to seek research funds. Attend clinical and research conferences and read scientific literature to keep abreast of technological advances and current genetic research findings.
Supervision
Supervise or direct the work of other geneticists, biologists, technicians, or biometricians working on genetics research projects. Make sure they are doing research properly, using accurate information.
Collaboration
Collaborate with biologists and other professionals to conduct appropriate genetic and biochemical analyses and to achieve business benefits. Collaboration is another way of learning new things.
Types of a Geneticist
There are several types of geneticists career opportunities in the field of biology, biomedical and life sciences. The job opportunity in the career as geneticist is continuing to expand. The genetic employees are not sufficient now, that's why the demand for genetics continues to increase. Some of the careers are: Geneticists are in an ever-evolving field and must keep up with current technology such as new methods, tools, and findings from other scientists.
There are a few branches of genetics that the geneticist can specialize in. Each specialization has its own unique and interesting challenges, Some of them are:
Agriculture: In the career as geneticist, one aims to increase crop yield and to learn about the resistance to all the different diseases that usually affect valuable crops. Agricultural genetics is the applied study of the effects of genetic variation and selection used to propagate valuable heritable trait combinations in crop plants and farm animals.
Biomedicine: The department of biomedical genetics investigates how cell regulation and signaling pathways control complex biological processes, including stem cell maintenance and differentiation, cancer, aging, and organism development. They can be referred to as clinical geneticists also. There is a focus on genetically tractable human disease models analyzing the genetic origin of certain diseases so medication can be created to target the causes of these disorders. They may also seek to invent new treatments for genetic disorders such as sickle cell anemia and more in the career as geneticist.
Forensics: In the career as geneticist, the branch that deals with the application of genetic knowledge to legal problems and legal proceedings. Forensic genetics is also a branch of forensic medicine which deals more broadly with the application of medical knowledge to legal matters.DNA tests can be used to verify if a suspect is guilty or innocent. They are also known as laboratory geneticists.
Archaeology: In the career as geneticist, archaeogenetics is the study of ancient DNA using various molecular genetic methods and DNA resources. A geneticist may be called to assist in the analysis of ancient organic matter.
Bioinformatics: In the career as geneticist, the raw material of bioinformatics is the genetic data and the related gene expression. A combination of computer science and biology, a geneticist in this field may be involved in analyzing information such as in the human genome project.
What is the workplace/work environment of Geneticist like?
In career as geneticist, individuals can work in many different fields, doing a variety of jobs. There are many careers for geneticists in medicine, agriculture, wildlife, general sciences, or many other fields. Workplace depends on the type of work being done; most research geneticists work in the laboratory of a research facility. On rare occasions, some may go to the field to extract samples, however, this is usually done for them by others. Medical geneticists work in hospitals, medical research facilities, or biotechnological research companies. Professors teach at various learning institutions. Most work at colleges in biology departments with strong concentrations in genetics.
Does Geneticist require travelling?
Not Likely
Most of the time, in the career as geneticist, individuals work in laboratories or in an office environment, where they do their research work. So in a majority of cases, there is not much travelling required except when there is a survey to be done.
Employment Shifts
Full Time, Work From Home
Individuals who opt for a career as a geneticist works full time in a company or a firm.
Employment Nature
Permanent
The employment nature in the careers in genetics is mostly permanent.
Work Place
Office, Laboratory
Individuals in genetics careers often work in offices or laboratories doing some research work or report writings.
Presence in Geographical Area
Semi-urban
In the career as geneticist, most of them, find employment as research staff at university laboratories, government agencies, and hospitals. These geneticist jobs are available nationwide. Employment in the private sector is fairly rare.
Time Pressure
Not Likely
Individuals who opt for a career as a geneticist work for a minimum of 40 hours a week. Individuals in genetics careers may have to work in shifts depending on the requirement of their workplace. Hence, it can be concluded that they might face time pressure occasionally.
Overtime Details
In career as geneticist, individuals usually work for forty hours a week during regular business days. Geneticists are unusual to work on public holidays, even late at night on weekends. Moreover, additional hours can take near to deadlines, and when there are issues, an immediate resolution is needed. In situations like these, they are required to stay for long hours and work overtime.
Weekly Hours of Work
Min 45 Hours
In career as geneticist, individuals have to work between 45-48 hours minimum on a weekly basis. It can increase depending on the work pressure as well.
How to become a Geneticist?
What are the skills and qualities required to become a/an Geneticist?
When it comes to making a career in genetics in India, it is essential to possess some skill sets. Below mentioned are the important skill sets that can help an individual in making genetics careers:
Analytical skills: Analytical skills involve the ability to gather and evaluate knowledge, to resolve problems by making choices. Employees that have certain skills which will help solve the challenges affecting business and increase its overall efficiency and performance. Analytical skills could be complicated but in regular tasks, they use all those techniques, therefore, it is an important skill set in order to make genetics careers. Individuals who opt for a career as a geneticist is required to go through volumes of gene data, so it is important to have good analytical skills.
Logic: Logical thinking abilities serve to strengthen in several ways in the career as geneticist, for instance by requiring analytical self-improvement, and even when measuring one's own success one considers hard facts. These also lead to becoming a stronger team player as it helps to control over judgment, along with the ego. Geneticists also need to have logical skills. These skills are extremely important as there are times when unexpected hurdles will come up, and these hurdles can be crossed if the person has the required skill sets.
Situational Awareness: Situational awareness is knowing what's happening around you and being alert to any changes or threats which is extremely important in the career as a geneticist. By being even more conscious and attentive at work, all workers will help create a healthy atmosphere and protect the effectiveness of everyone else around them. A geneticist should be well aware of all the current events taking place around him or her.
Communication skills: Communication in the workplace is essential to businesses as it helps organisations to be competitive and work effectively. Workers will experience a rise in morale, efficiency, and engagement if they can interact with an organisation. Communication skills are important in order to make a career as a geneticist. It is important to communicate the correct findings and reports.
Time management: The most basic time management skill is the ability to use your time in a way that suits the objectives. When making choices on what time will concentrate, one must always be mindful of those goals and how each behaviour is intended to always get closer to meeting organisational goals. Time management is an essential skill to have in order to make a career as geneticist. Conducting the tests or writing the report on time is important. There are several functions a geneticist might be doing hence, it is important to manage all of them in an efficient manner.
Problem-solving ability: When we speak of problem-solving skills, they almost always relate to the ability to interact with difficult or unexpected workplace situations, and also complex financial difficulties. Companies depend on people who could really analyze both performances and identify quick fixes in a calm manner. In a career as a geneticist, one must be a problem solver by nature. There are various problems that can and do come in the way of researchers and scientists and they have to find a solution no matter what.
Self-reliant: The existence of individual relations is essential to becoming self-reliant. Self-reliance is one of the important pillars in the career as geneticist. Quite often geneticists will work alone or in small teams, hence it is important for them to be self-reliant and should take the initiative to ensure that the work is completed.
Popular Online Medicine Courses and Certifications
Which certifications and internships can be helpful in becoming Geneticist?
We have mentioned below certifications that individuals may opt for who want to establish a career as Geneticists.
Internship Availability
Yes
There are plenty of internship opportunities available for those who want to make a career in genetics in India. Practical, hands-on knowledge acquired through some internship or mini-projects in the test laboratories may increase the person's chances of getting a genetics-related job to up to 80 per cent. Get well versed with all the techniques used in the field, rest assured once this is done – that desired job of an individual is not far away. If given an opportunity for some work experience within the industry as well as academia so one can compare the two and decide where the individual wants to work. Temporary – short-term work within a healthcare environment, for example – a hospital, may also prove useful in helping explore career ideas. The individual decides to do some volunteering with organizations that specialize in researching genetic conditions or supporting people with inherited disorders.
Career Path Progression for Geneticist
Most geneticists are drawn to the fields of medicine, agriculture, crime and education
Laboratory Geneticist: In the career as geneticist, laboratory geneticist is the most popular field to enter. This role involves the application of genetic technologies. Clinical Laboratory Geneticists are certified to perform and interpret genetic tests that are important for diagnosing and managing genetic diseases. They primarily work in genetic testing labs that are part of either academic or research institutions, hospitals, or private diagnostic companies
Genetic Counselor: A field where geneticists work as consultants or as a nurse. This role involves working closely with parents who are at risk of conceiving children with birth defects. They also play a crucial part in consulting with healthcare and insurance companies regarding new medical technologies. Genetic counsellors are professionals who have specialized education in genetics and counselling to provide personalized help patients may need as they make decisions about their genetic health. Today, there are close to 5,000 certified genetic counsellors.
Medical Genetics: Medical Genetics work in hospitals, medical facilities, or biotechnological facilities. Medical genetics is any application of genetic principles to medical practice. This includes studies of inheritance, mapping disease genes, diagnosis and treatment, and genetic counselling. Medical genetics is the branch of medicine that involves the diagnosis and management of hereditary disorders
Professor: They work at learning institutions such as colleges and universities, where they teach the principles of genetic studies to future geneticists. This is also a good option for those who are interested in teaching and research at an academic level. Quite often the college or the institution funds the research, which is of great help.
Also read - Career as bioinformatics scientist
Geneticist Jobs and Salaries
Laboratory geneticist
Monthly Salaries
Average Salary

40000

Junior Level Salary

25000

Senior Level Salary

50000
Job Description
Laboratory Geneticists are trained to conduct and analyze genetic tests that are critical for genetic condition diagnosis and management. They operate mainly in genetic testing laboratories which are either part of academic or research institutions, laboratories, or private diagnostic companies.
Salary Description
Laboratory Geneticists' salaries might vary based on their skills, and experience. Laboratory Geneticists' average salary structure is more than Rs. four lakhs per annum, the initial payment could be up to Rs. three lakhs per year. Several organizations are paying higher salaries to the qualified and experienced Game designers, who could earn more than Rs. 50,00,000 per year.
What is the job outlook for Geneticist?
A career in genetics in India has extensive scope in the government and private sector. Those interested in pursuing this career should major in genetics, biology, environmental science, or any other related disciplines in order to have a good geneticist job outlook. The most important courses to have a career in environmental genetics are biology, population biology, ecology, chemistry, math, statistics, and computer science. Although a bachelor's degree is enough for an entry level genetics jobs, the advancement and long-term prospects necessitate advanced study and continued professional development. Independent research positions or academic positions in genetics will generally require a doctoral degree. The Healthcare industry has embraced some of the applications of genetic testing for diagnostic and disease prevention and thus solving problems. Apart from that, there are a number of start-ups working on personal genomics and DNA sequencing. Careers in genetics and genomics are slowly finding their liking among the youth in India with a continuously evolving offering from start-ups. Today, healthcare and wellness are important for people and they are willing to use the tech available to ensure their family's wellbeing. Genetics has opened a floodgate for a number of possibilities. Every player is using different applications to tap into the ocean of opportunities in the career in genetics in India.
Student Also Liked:
Frequently Asked Questions for Geneticist
Que. What is Gene and genetics?
Ans.
A gene is the basic physical and functional unit of heredity. Genes are made up of DNA. Some genes act as instructions to make molecules called proteins. However, many genes do not code for proteins. In humans, genes vary in size from a few hundred DNA bases to more than two million bases. In a career as a geneticist, one has to pursue a genetic course that defines genes in detail.
Que. How does genetics affect our daily life?
Ans.
Genes affect our chances of having several common illnesses, like heart disease, asthma and diabetes but so do many other factors, such as diet and lifestyle. It is like betting on a horse race the horse, rider, course and weather can all affect the outcome in a way that is hard to predict.
Que. Genetic counsellor. Pharmacologist. Plant breeder/geneticist. Research scientist (life sciences)
Ans.
Geneticist jobs where the degree would be useful include:
Clinical research coordinator, physiological sciences, Epidemiologist, Medical sales representative, Physician Associate, Laboratory Technician, Science writer.
Que. Is genetics a good career?
Ans.
There are a lot of career opportunities in the field of biology, biomedical and life Sciences. The job opportunity for a genetics degree holder is continuing to expand. The genetic employees are not sufficient now, that's why the demand for genetics continues to increase.
You might also be interested in
Questions related to Geneticist
Showing 2 out of 2 Questions
199 Views
are geneticist and genetic engineer the same professions?
Hi Arya,
Geneticist and Genetic Engineering both are Different Profession fields. I'll try to explain them in brief so that you can have clear picture of both.
Geneticist is Biologist or scientist, who studies the Science/History behind the genes, Its hereditary ( Passing of Genes from parents to Children) in many Living organism. Geneticist can hired for both agricultural and Medical Fields to perform general or complicated research on their respective genetic process. Patients who are having hereditary conditions, Mutation analysis, various disorders/diseases passed from their ancestors,  via genes are treated by Geneticist. Geneticist can opt for different areas of specialization such as
Research and Development
Gene Therapy
Animal Breeding
Biotechnology
Forensic DNA
Agriculture etc..
Genetic Engineering also known as Genetic Modification is  the process of alternation of the DNA of any living organism's genome by an artificial means and combining it with the DNA of other organism as a host. Genetic Engineering can be performed in various fields like Scientific Research, Agriculture and industrial Biotechnology. In Simple terms its Cross Breeding or modification Between DNA's of two Different organisms. Hope this information helps you to understand the difference between them.
Thanks & Good Luck!..
The question have been saved in answer later, you can access it from your profile anytime.
Access now
Report Question
Select your reason of reporting