Who is a Policy Advisor?
Are you a lawyer who would like to work in both the corporate and law sectors at the same time? If so, then you might want to consider becoming a Policy advisor. A career as a Policy Advisor allows you to provide impartial advice to companies. The Indian constitution is considered to be the longest-written constitution in the world. An organisation or a company needs a policy expert to help them with their legal matters. Big companies hire a team of lawyers to carry out their operations in accordance with the law.
An individual who opts for a career as a Policy Advisor is a lawyer who works for a large organisation or government agency and provides legal advice and services to his or her employees. Unlike advocates and attorneys, he or she does not provide his or her services to an employer. In this article, we will talk about how to become a policy advisor in India, what kinds of policy advisor vacancies are available in the country, and what are the Policy Advisor qualifications.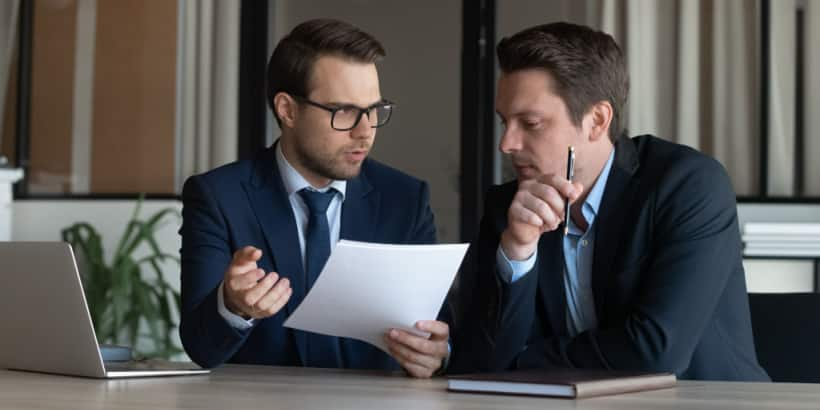 Policy Advisor in a Nutshell
One of the most exciting and challenging positions in the policy advising profession is that of a policy advisor. A career as a Policy Advisor requires working in both the private and public sectors. Due to the increasing number of organisations that require policy advisors, there are numerous job opportunities for freshers in the industry. Most policy advisor jobs are filled by an individual who has previously worked as an attorney or advocate. These individuals have the same training and requirements as those working as attorneys.
Quick Facts for Policy Advisor
Industry

Finance

Suitable for

Male, Female

Regardless of one's gender, an individual can pursue a career as a Policy Advisor in India. Being a policy consultant in the country is considered one of the most desired positions in the country, and it does not matter which gender you belong to. The increasing number of women students and the growing number of opportunities for them make it an attractive profession.

Any special needs

Yes

It is generally better for people to be physically fit when it comes to opting for a career as a Policy Advisor in India. However, there is no absolute rule that it is mandatory for individuals to be fit in order to work as a policy advisor. If one's disability does not prevent them from doing their job, then they are fine to pursue it.
What is the role of Policy Advisor?
Have you ever wondered what is the role of a policy advisor? A policy advisor job is a type of position that involves working with companies and organisations to develop and implement policy strategies. Usually, a career as a Policy Advisor involves advising the company's leaders and executives on the best way to approach certain policy issues. This type of advice helps the clients make informed decisions.
The Policy Advisor is required to write reports and consult with different stakeholders. He or she spends most of his or her time in reading and analysing the current trends. A Policy Advisor partakes in the policy meetings, schedules meetings, conferences and events and oversees the development of resolutions.
Overseeing contracts
The role of a policy advisor is a person who helps companies with their legal requirements and manages their vendor and client contracts. He or she can also help them resolve disputes. In financial sectors, such as banks, a policy advisor is expected to help his or her client with drafting legal documents and resolving disputes.
Cost effective policy advice
Consultants working in policy advisor roles provide cost-effective and sensible advice to the construction industry on various issues.
Drafting
The Policy Advisor roles and responsibilities is to review and create new documents for his or her clients, and he or she must be familiar with the terms and conditions of his or her contracts. A Policy Advisor also helps to draft basic policies for construction projects.
Damage claims
A damage claim is a type of claim that a company can make against another entity for damages that can lead to financial loss. Usually, these claims are settled in the form of monetary compensation. Policy advisors handle contracts and damage claims.
Resolving disputes
Resolving disputes is a process that involves working out the differences between two parties. There are various types of disputes in the law, and they can be resolved both in court and without going to court. Policy advisors can also help resolve property infringements and buy-sell disputes.
Overseeing claims
The Policy Advisor roles and responsibilities include managing various aspects of a health and safety claim. He or she can also advise on court cases. As He or she is well versed in the policy and claim process, a Policy Advisor is required to help his or her client get the settlement done.
Meeting and interviewing clients
Usually, policy advisors conduct interviews and meetings with their clients to gather information about their cases. They also organise meetings to collect proofs and collaborate with policy analysts. The Policy Advisor maintains relationships with stakeholders and performs consultations with stakeholders and colleagues.
Types of a Policy Advisor
In India, there are various Policy advisor career options. Not only in the corporate sector but also in banks. There are various types of policy advisors available in both the public and private sectors, such as:
Senior Counsel: A senior counsel is responsible for handling various legal matters for a law firm. His or her specific responsibilities can vary depending on their position within the organisation.
Attorney: An attorney-at-law is a lawyer who defends clients in court. He or she typically starts his or her practice within an organisation or within a legal firm. A fresher in the market may also start within a legal firm or within an organisation.
Senior Attorney: A senior attorney is typically responsible for the efficient functioning of the team of junior attorneys. In some cases, he or she can be a partner or a high-ranking specialist. The senior attorney directs the team's preparation for the representation of clients in court or negotiations.
What is the workplace/work environment of Policy Advisor like?
A career as a Policy Advisor needs to typically work in the legal department of a large corporation. He or she may have to go to court if He or she is required to do so, but most of his or her time is spent inside the office.
Does Policy Advisor require travelling?
Likely
Although policy advisor's positions are usually limited, they may also have to travel to court. This is not a full-time job, and there may be times when a policy advisor has to go to another place.
Employment Shifts
Full Time, Part Time
The policy advisors usually have to work for at least eight hours a day. Depending on the workload, a policy counsellor may be required to work for additional hours. Similarly, they may have to do extra hours depending on the number of cases they handle.
Employment Nature
Contractual, Permanent
If a young individual from college is hired by a law firm as a policy advisor, then his or her job is permanent. However, if he or she is hired by a start-up or small firm, then his or her job may be contractual. This means that policy advisor can be in both permanent and contractual positions.
Work Place
Office
In a career as a policy advisor, one works in an office environment.
Presence in Geographical Area
Semi-urban, Urban
As a policy advisor, one has to work in both semi-urban and urban areas. The kinds of industries and organizations that a policy advisor works for are usually located in urban regions.
Time Pressure
Policy advisors are expected to work at their usual times, such as 9 am to 5 pm, though they are also required to work overtime depending on their tasks and deadlines. On average, they are required to work up to 55 hours a week.
Weekly Hours of Work
Min 45 Hours
The high level of pressure that policy advisors feel is often reflected in their work hours. They typically work over 8 hours per day, and depending on the number of clients they handle, they may have to work for additional hours.
How to become a Policy Advisor?
Steps to become a Policy Advisor
If you are someone interested in analysing, developing and implementing policies that address social, environmental and economic issues then a career as a Policy Advisor is the best option for you. If you are someone interested in policies and love to make a career and looking for the details on how to become a Policy Advisor in India then we have mentioned the step-by-step details.
What are the skills and qualities required to become a/an Policy Advisor?
Apart from the required law courses, one should also have various other skills to become a policy advisor. Here are some of the most common skills that policy counsellors need.
Commercial Awareness: Individuals who are looking to become a policy advisor need to have commercial awareness, which means they should have the necessary knowledge to deal with current issues affecting the industry. This includes having the necessary knowledge about international, national, and local business. As policy advisors, they are expected by their clients to develop trusting relationships and market their services to potential clients. Law firms are businesses, and lawyers must take into account the importance of meeting deadlines and keeping costs low.
People Skills: In India, policy advisors need to work with a variety of people in order to win cases. This is because, unlike in other countries, policy advisors do not work alone. They need to collaborate with their colleagues and clients in order to achieve their goals. This is because, unlike in other countries, policy advisors do not work alone. They need to collaborate with their colleagues and clients in order to achieve their goals. One of the most important factors that policy advisors need to consider is the ability to work as part of a team. This is because, in certain cases, the workload can be too heavy for one individual.
Communication Skills: Being able to communicate effectively in the workplace is very important for businesses as it allows them to be competitive and efficiently operate. This skill can be used in the career of a policy counsellor. Employees will benefit from having the opportunity to collaborate with others in an organisation. Having the necessary written and oral communication skills is very important for policy advisor as it allows them to effectively communicate with their clients. Having the ability to listen to and build relationships with clients is also very important for a policy advisor.
Attention to Detail: Having the proper eye for accuracy is very important for a policy advisor. A single mistake can affect the meaning of a contract or a clause, and it can cost a firm a lot of money. Also, ungrammatical or misspelt letters or emails can give clients a bad impression.
Research Skill: Law school graduates who want to work as policy advisors should consider reading large amounts of information and absorbing facts and figures in order to create something manageable.
Problem-Solving Ability: Although some people may think that working in the legal profession provides them with an outlet for their creative talents, this isn't the case. Individuals will have to think outside the box in order to get the job done.
Popular Online Law Courses and Certifications
Which certifications and internships can be helpful in becoming Policy Advisor?
Internship Availability
Yes
In order to be successful in the field of legal advice, candidates need to have at least some experience in internships. This is because, in most cases, a policy advisor will not be hired if he or she is a fresh graduate. Having experience in internships can help boost a candidate's chances of landing a job. If an intern works well with a certain firm, he or she may be able to get a permanent job there. In addition to gaining practical knowledge, policy counsellor internships also help prepare candidates for their future careers.
What is the job outlook for Policy Advisor?
Individuals who are interested in becoming policy advisors typically work in large corporations' legal departments. According to a study, the employment category of lawyers is expected to grow by six per cent from 2016 to 2024. This profession involves working with various members of the corporation's legal services department on matters related to commercial power and authoritarian issues. Unlike legal consultants, policy advisors typically have the same training as lawyers, and they can be hired in both the private and public sectors.
After graduating from university with a law degree, aspiring policy advisors have a wide range of opportunities. High pay is often associated with the legal profession. Although some of the physical demands involved in this job are minimal, legal consultants can work up to 40 hours per week. They are usually tasked with reviewing the latest corporate transactions to ensure that they conform to legal standards.
The policy advisor job market in India is expected to be very strong in the coming years due to the country's large number of pending cases. As a result, there will be a huge demand for lawyers. Besides government agencies and multinational corporations, policy advisor positions are also becoming more prevalent in various other sectors such as insurance and start-ups.
Frequently Asked Questions for Policy Advisor
Que. What is the qualification of policy maker?
Ans.
The qualification of a Policy Maker is a bachelor's or a master's degree in a relevant field such as political science, public policy, international relations, economics, or law.
You might also be interested in
The question have been saved in answer later, you can access it from your profile anytime.
Access now
Report Question
Select your reason of reporting