Who is a Securities Broker?
To be good at improving a client's business a securities broker must be able to improve himself first ~ Anonymous
Are you someone who is familiar with the concept of stocks, debentures, or bonds and wishes to learn about Sensex and Nifty? You can choose to become a securities broker. A securities broker is an expert who unites individuals and businesses in the financial sector. He or she advises clients on possible investments while selling them stocks and other products. The securities broker communicates with clients who want to invest in the securities market. He or she provides customers with updates on market trends for investments and securities.
In this article, we will discuss how to become a securities broker in India and the securities broker job description. The securities broker provides relevant information to both institutional and private clients. He or she can purchase or sell stocks, commodities, and other assets.
The securities broker might create or build a portfolio, which is a diverse collection of stocks. He or she buys and sells stocks and other securities on behalf of their clients, now those clients might be individuals or they could also be institutions. In a career as a securities broker, the individual's career path receives a commission which is compensation for making the transaction for the client.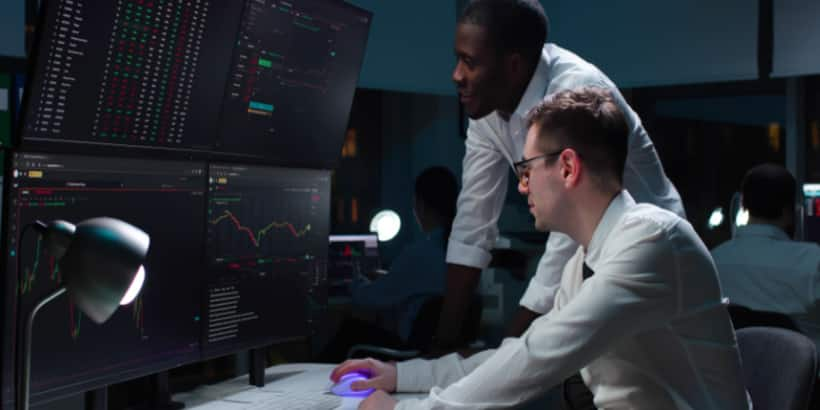 Securities Broker in a Nutshell
A career as a securities broker is filled with excitement and plenty of responsibilities. One cannot afford to miss out on the details. He or she explains to his or her clients the complex details related to the securities or the stock market. Choosing to become a securities broker is a good career choice especially due to the liberalisation as well as economic growth. There are several companies and organisations in India which hire a securities broker. If you are also thinking of making a career in this field then continue reading the article, it will answer all your questions related to the field.
Quick Facts for Securities Broker
Industry

Finance

Suitable for

Male, Female

In order to opt for a career as a securities broker an individual from any section or gender can do so. It does not matter which gender he or she belongs to when it comes to becoming a securities broker. Being a securities broker in India can be of several advantages due to the vast career opportunities available in this field where an individual's gender is insignificant. Although gender is insignificant in a securities broker job it is largely dominated by men according to current statistics.

Any special needs

Yes

When it comes to taking up securities broker jobs it is better to be physically fit for a better and efficient way of working. But, differently-abled people can work as a securities broker as it is more of mind work than physical work. If an individual can carry out all the duties without the efficiency of the work being hampered then he or she can become a securities broker.
What is the role of Securities Broker?
You must be wondering what does a securities broker do? in this section we have provided the roles and responsibilities that a securities broker must do. A securities broker is an individual or part of an organisation, who has been granted a license to participate in security or stock markets on behalf of his or her clients. He or she plays the role of an agent. Securities broker jobs include buying and selling shares on behalf of his or her clients.
Communicating with his or her customers on a regular basis and updating them regularly on the flexibility and marketing process. An individual in the securities broker career path also advises when to buy. The investor should view the securities broker as someone who provides essential services and information by helping him or her make an informed investment decision.
Interaction
The securities broker roles and responsibilities include interacting with the clients, stakeholders or people who are interested to invest in the securities market. As a securities broker it is his or her job to understand the requirements of the clients. One needs to keep in mind how much a client wants to invest and what kinds of returns are expected. There are several other pieces of information that are also required to be discussed therefore, interaction with a client is the first step involved while one is planning to invest in financial securities.
Research
The role of a securities broker is to keep in mind the client's needs while deciding the possible options. A securities broker also needs to consider factors like the risk element and should advise his or her client to invest in securities with minimum possible risk.
Update Client
The securities broker job description includes constantly being in touch with his or her clients. One is required to update his or her clients about the several trends going on in the securities market and what are the results of the investments made by one's clients.
Recommendations
The securities broker roles and responsibilities involve advising clients about when to buy which financial security and in what numbers. Not only that, but a securities broker is also responsible for advising clients about the right time to sell the securities in order to gain the maximum profit. It all comes after a lot of market research and analysis that is done by a securities broker on which he or she bases the advice for clients.
Types of a Securities Broker
There is a wide scope of securities broker jobs in this field after a student has completed his or her education. Depending on the person's qualifications as well as experience one can get employed in several fields. According to the current scenario, there are several securities broker career options. We have mentioned below the various types of securities brokers.
Financial Analyst: A financial analyst is also known as an equity or security analyst who is responsible for generating reports, analysing data, troubleshooting, researching, and resolving issues related to the financial securities market. He or she checks the information to make sure their reports are accurate. A financial analyst makes recommendations on how a client can invest in several securities.
Financial Advisor: A financial advisor is a professional who is responsible for suggesting to his or her clients financial services based on the client's financial situation and demands. A financial advisor helps his or her clients by advising them to invest in financial securities or could help them with tax laws as well as insurance decisions.
Investment Advisor: An investment advisor is any person or organisation that makes investment recommendations or conducts research to draw securities analysis in return for a fee. It can be either done through direct management of the client's assets or by way of written publications.
Also read: Career as an investment banker
What is the workplace/work environment of Securities Broker like?
A career as a securities broker involves spending most of his or her time in the office environment itself. But there are occasions where one needs to step out in order to meet the clients. Although, it is not a regular occurrence. Securities broker jobs are mentally demanding at times and can extend for extra hours.
Does Securities Broker require travelling?
Likely
A career as a securities broker is not a full-time travel-based job but there can be instances where a securities broker may have to travel in order to meet a client to evaluate the several parameters that determine the securities one should invest in.
Employment Shifts
Full Time
The employment shift of a securities broker is full-time in nature. The duration is generally ranging between 40-45 hours a week. It often stretches depending on the workload of the individual.
Employment Nature
Permanent
An individual in the securities broker career path works between 9 a.m. to 6 p.m. on weekdays. Weekends are generally off for a securities broker. A securities broker is hired by a company or an organisation on a full-time basis. But if one is an independent agent then he or she is hired by the client on a contractual basis.
Work Place
Office
The nature of employment of a career as a securities broker is permanent in nature but it can be contractual as well. A firm hires him or her on a full-time basis. But, if one works as an independent agent then an investment broker is hired by the client on a contractual basis.
Presence in Geographical Area
Semi-urban, Urban
A career as a stock and securities broker provides alluring opportunities in urban and semi-urban locations. Rural areas hardly have any securities brokerage firms.
Time Pressure
Likely
A securities broker job is hectic at times. He or she constantly works under pressure. An investment broker cannot afford the delay in buying or selling securities as it can lead to losses for his or her clients.
Overtime Details
Individuals in the securities broker career path may have to work overtime in order to meet the desired target or deadline.
Weekly Hours of Work
Min 45 Hours
An individual in the securities broker career path works around eight to nine hours on a daily basis. Depending on the workload it may stretch.
How to become a Securities Broker?
Steps to become a Securities Broker
If you are interested in finance mostly in stocks, bonds, debentures, Sensex or commodities trading then you must opt for a career as a Securities Broker. If you are interested in trading providing consultation to customers and learning about forecasting economic trends or risk analysis then a career as a Securities Broker is the best option for you. Below we have provided the steps for how to become a Securities Broker in India.
What are the skills and qualities required to become a/an Securities Broker?
There are several requirements to become a security broker. Security broker careers demand skilled candidates, one can not do in securities job without communication and decision-making skills. We have mentioned below securities broker skills that enhance a professional securities broker resume to acquire jobs in securities brokerage firms. Here, we will discuss security broker skills.
Decision-Making Skills: It is essential that a securities broker is decisive in nature. There are several instances where a securities broker is supposed to make decisions about which financial security the client should invest in. An investment broker needs to be calculative as well as decisive about the decisions made. One is also required to calculate the risk in making those decisions. Calculative and well-informed risks should be taken otherwise the client can suffer a huge amount of loss.
Leadership: A securities broker should have the ability to work with a group of people as a team. Not only that he or she should be able to lead the team as well. An investment broker may have an analyst or other people as part of his or her team in order to provide assistance. It is important that he or she is able to communicate well and work towards attaining a similar goal.
Negotiation Skills: A securities broker works with the client in exchange for a fee. Therefore, it is essential that he or she has the skills to negotiate as it would directly affect one's profit margin.
Communication Skills: A career as a securities broker demands proficiency in communication skills. One must have a good command of his or her language. Being able to communicate well eliminates the probability of errors as well as ambiguity in the mind of the receiver. It is crucial to understand the problem and clearly explain the solution to the client required in this job and one must be good in his or her communication skills in order to be able to carry out these functions properly.
Popular Online Finance Courses and Certifications
Which certifications and internships can be helpful in becoming Securities Broker?
Individuals who are interested in becoming a Securities Broker can check out the various certifications that are available.
Internship Availability
Yes
Internships are considered the best possible way to gain experience in an individual's career choice. Being a security broker is mostly about analysing the market forces to know where to invest, when to invest and how much to invest. It can be learnt in a better way by doing it practically. Internships provide the candidate with real-world experience. It is a way of knowing the career field before professionally joining it.
Internships provide an aspiring candidate with the opportunity to apply the theoretical knowledge he or she gained, to bring them to practical use. Not only that, but investment broker internships also enable the candidate to make connections in the field for future use. If he or she performs well during the internship several companies or organisations could also hire the candidate on a full-time basis. The candidate can get an internship either through an online medium or he or she could also contact any firm that deals with financial securities.
What is the job outlook for Securities Broker?
Candidates who wish to become securities brokers experience quite a significant job growth. As and when the students gain knowledge and experience they step up the ladder of designation in this field. Since the field is vast and it continues to grow, there are plenty of growth opportunities mainly due to the opening up of India's economy. Depending on the individual's track record of handling the clients as well as the problems and the kind of results the investments give play the most important role in an individual's job growth.
There are several Indian firms that pay well for packages for securities brokers, there are some high-profile enterprises in the country that hire people who want experienced securities brokers. The world continues to evolve on a daily basis and so does the country's economy. With so much hype around financial securities and their advantages, an increasing number of people prefer to invest in them. Therefore, the market scenario for a securities broker's career is on the positive side given the current demand. The securities broker employment opportunities are going to expand in the upcoming years.
The demand is expected to grow by seven percent in the coming four to five years which is comparatively higher than the average of most careers and professions. There are various factors that affect an individual's salary. For example which college the student study from, the experience he or she has, the hiring company, the location of the job, and many more.
The securities broker salary in India for an entry level position ranges somewhere between Rs.30,000- Rs.35,000 on average. Once the individual has reached the executive level his or her salary is above Rs. 60,000 on a monthly basis.
Student Also Liked:
Frequently Asked Questions for Securities Broker
Que. Is a securities broker a good job?
Ans.
The education of a securities broker covers the most important analysis skills. A good securities broker is a good communicator, a problem-solver, and thinks critically. An investment broker can understand the client's requirements and analyse several securities. It is one of the most valued job positions.
Que. Is being a securities broker difficult?
Ans.
Being a securities broker can be tough because, at one point in this career, the individual will have a lot to deliver in a limited period of time. An investment broker needs to take care of all the clients in a limited time and it can be difficult to manage.
Que. Are securities brokers well paid?
Ans.
The job of a securities broker can get stressful at times but he or she is paid quite well. An individual goes through a lot of hard work and education in order to reach that position and he or she gets the remuneration accordingly.
Que. How many years does it take to become a securities broker?
Ans.
In order to become a securities broker one needs to complete his or her graduation in finance, economics or any other related field. It can be three to four years long. After that one has to complete the post-graduation which can be between one to two years in length depending on the choice of course. So, it takes around five-six years of education in order to become a securities broker.
Que. Can you get a securities broker job with no experience?
Ans.
It is not necessary to have job experience before becoming a securities broker. But, one must have some knowledge of the field either through an internship or so.
Que. How can I become a stock broker?
Ans.
To become a stock broker you are required to complete 10+2 and at least a bachelor's degree in the relevant field. After pursuing a formal education you are required to pursue an internship and a certification course if you are willing.
Que. How do I become a SEBI broker?
Ans.
To become a SEBI broker you are required to complete 10+2 and at least a bachelor's degree in the relevant field. Your age must be 21 years old and must be an Indian citizen. You are required to also have two years of experience as a partner or authorised assistant authorised clerk or register or apprentice to a Stock Broker.
You might also be interested in
The question have been saved in answer later, you can access it from your profile anytime.
Access now
Report Question
Select your reason of reporting