Who is a Travel Agent?
I traveled among unknown men, in lands beyond the sea; nor England! did I know till then what love I bore to thee ~ William Wordsworth
A career as travel agent provides employment opportunities that involve working in the tour and travel industry. His or her work responsibility involves arranging travel for the end clients such as individuals, corporations, or groups on behalf of his or her supplier such as hotels, airlines, railway, travel insurance, package tours, and other facilities). Career as travel agent involves working for an independent travel agency or can be a part of a travel agency. A travel agent may specialize in leisure travel or corporate travel. There are also other niches in the travel market. The agents generally receive 10-15 percent commissions from accommodations, transport companies, and on the attraction of coordination for transport bookings. It saves time to book a hotel or plan and make arrangements for a trip through a travel agent. While working in the tour and travel industry, one can explore cities, towns and various places. Those interested in pursuing a career as a travel agent should study travel and tourism or hospitality and travel courses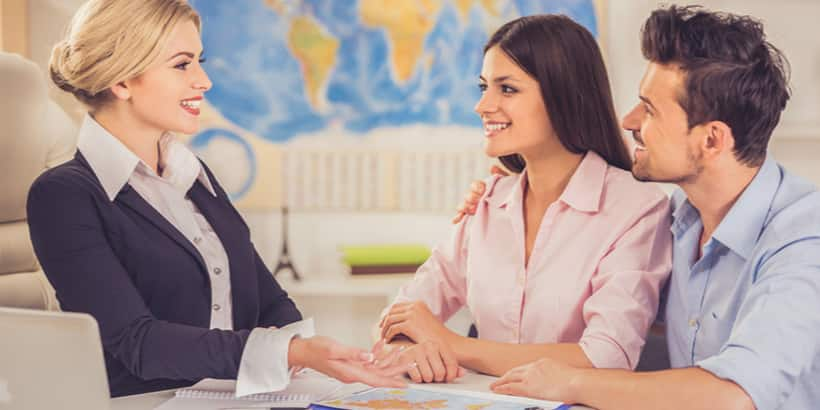 Travel Agent in a Nutshell
To become travel agent one does not require a degree. One can master the skills and gather knowledge about the travel industry and become a travel agent. Travel agents are involved in planning trips for their clients in their day to day life. Travel agents stay updated about the hospitality and travel industry. They stay aware about the schedules of airlines, fare prices and charges on hotel bookings. They make travel arrangements as per the clients requirements and budget.
Quick Facts for Travel Agent
Industry

Hospitality

Average Salary in India

₹27500

Suitable for

Male, Female, Others

A career as a travel agent is suitable for everyone regardless of gender. Whether a person is male, female or belong to any other gender, he or she can opt for this career. There is not any gender based restriction in this career. It suits everyone who has passion and willingness to make the travel convenient and easy for their customers.

Any special needs

Yes

A career as a travel agent provides various type of job roles. It could be on field or a desk job. A desk job suits the candidates with special needs otherwise it may become difficult if it will require travel. There are several types of travel agent jobs, the candidates with special needs can opt for a desk job which requires taking queries on call and emails and resolving it.
What is the role of Travel Agent?
There is a list of careers in travel and tourism industry. A career as travel agent is such a travel and tourism-based career. Travel agency jobs come up with various roles and responsibilities. A travel agent goes through the vast information to find the best options to plan the trips for their customers. The resorts and specialty groups hire travel agents to promote their traveling packages. Travel agents visit various locations, and cities in order to get the first-hand experience. They visit hotels and resorts to evaluate their services such as comfort, hygiene and cleanliness, the quality of food and other things. This experience benefits them as they can recommend their vacation packages to their clients and hence they will make profits on commissions as well. A career as travel agent requires to spend most of the time interacting with their clients, resolving their queries, understanding their travel needs, and recommending them travel packages. They contact airlines and hotels to make travel arrangements. There is a travel system commonly known as a Global Distribution System or GDS widely used by travel agents to access travel information and contact travel suppliers such as airlines, and hotels to make reservations.
Make travel arrangements
A travel agent is responsible for arranging business travel and vacation travel for his or her customers. He or she organises the trip that involves reserving flights, hotels, rented cars and other facilities for a comfortable journey.
Manage customers
The prime responsibility of a travel agent is to understand what his or her customer wants, what they do require such as schedules and costs.
Planning tour packages
A travel agent is responsible for planning and arranging tour packages that incursions and day trips. A tour package involves visits and sightseeing of places depending on the interest of clients. A travel agent makes each arrangement as per the timings and budget that suits the client.
Budgeting
A travel agent stays informed about fare and schedule of travel. A travel agent stays updated with the fare charges of airlines, buses and rented cars. He or she stays updated about the schedule of airlines and other developments for travel and plans the budget accordingly.
Booking
A travel agent confirms reservation for travel, hotel, airlines, rental cars, and events such as tours and excursions on the scheduled date and timing and informs the same to his or her customers.
Describing customs and traditions
A travel agent describes his or her customer about the weather conditions, customs, and other major attractions of the cities or destinations they are planning to visit.
Making alternative arrangements
A travel agent makes alternate travel bookings if sudden change arises during the trip or before. A travel agent always has several options for last minute travel or alternative plans. They don't panic and make it a smooth trip for their clients.
Types of a Travel Agent
There are various sub-disciplines of a career as a travel agent. If you are planning to opt for a career in travel industry, then you must be aware of various types of travel agents. We have mentioned below major types of travel agents jobs.
Leisure Travel Agent: Leisure travel agents sell vacation packages to their clients. They plan and arrange trips as per the interest and budget of the clients. They plan adventure tours. The leisure travel agents may also cater to a specific group of people such as senior citizens or single people.
Corporate Travel Agent: Corporate travel agents are responsible for making travel arrangements for businesses. They plan and organize the trip for the employees of an organization for the purpose of business meetings or to attend conferences.
Retail Travel Agent: Retail travel agents advise the general people about the travelling requirements such as visas, passport. They provide information about the exchange of currency for those who are traveling to foreign nations. They provide all the necessary information such as timetable and travel literature. A retail travel agent computes fare costs, makes reservations, and sells tour packages developed by wholesale travel companies.
Web-Based Travel Agent: A web-based travel agent sells holiday and tour packages over the internet. He or she provides all the information about accommodation and flight bookings on the internet. Web-based travel agents make last-minute travel deals with varieties of options of travel convenient. It saves time and money to visit other travel agents to make bookings at the last minute.
So. these were the various types of travel agency jobs offered in the career as a travel agent. To know about how to become travel agent, list of careers in tour and travel industry and other information, you are required to keep reading this article.
What is the workplace/work environment of Travel Agent like?
A career as travel agent is based on providing assistance to individuals and groups to plan and arrange travel. It includes facilitating ticket purchases for travel, reserving accommodations for stay, and renting cars. Travel agents recommend travel packages to their clients while assisting them in booking vacation packages that include a tour, and visits specific locations of their interest. Travel agents typically earn through commissions for booking arrangements from the providers themselves. A travel agent is allowed to have access to real-time variable data. Travel agents work with individuals to plan trips including multiple destinations, transportation modes, and sightseeing.
Does Travel Agent require travelling?
Likely
All the careers in tour and travel industry does not require traveling. There are also home based corporate travel agent jobs. A travel agent is assigned a desk job, unlike a travel guide who accompanies the client during the whole trip. It depends on the organisation if it assigns several responsibilities to a travel agent that requires travel. Otherwise, traveling is not a necessity.
Employment Shifts
Full Time
A career as a travel agent ensures full time and work from home employment opportunities. There is no scope for hourly basis employment.
Employment Nature
Contractual, Permanent
The travel Industry offers both types of employment contractual and permanent. It depends on the requirements of the organisation and travel agent careers with varying job roles.
Work Place
Office, On-Field, Work From Home
A travel agent works in an office setting. There are also home based corporate travel agent jobs available in the industry. Several travel agents require to travel on a regular basis. Travel agency jobs vary depending on requirements of organisations.
Presence in Geographical Area
Semi-urban, Urban
A career as travel agent provides flourishing opportunities in locations enriching with historical heritage and monuments or vacation destinations irrespective of their geographical conditions. New Delhi, Kerala, Jaipur, and Agra are the job hubs for travel agents in India. These cities are enriched by cultural heritage and attract a huge number of travelers every year.
Time Pressure
Likely
Travel agents do not face any extent time pressure. Usually, travel agents work 8-9 hours a day and 35-40 hours a week. Sometimes, it can be stretched due to excess of work and deadlines.
Overtime Details
A career as a travel agent may sometimes involve working overtime. However, due to travel discrepancies, they might be required to work for long hours.
Weekly Hours of Work
Min 35 Hours
A career as travel agent involve a minimum 8 to 9 working hours a day and 35-40 hours a week. Work hours may extend depending on the time-pressure and deadlines. Jobs that involve traveling do not have fixed hours, it can stretch up to 10 to 12 hours a day as traveling requires time.
How to become a Travel Agent?
What are the skills and qualities required to become a/an Travel Agent?
Adventurous: When we think of travel and vacations, we think of adventure. Humans strive for adventure in their busy lives. They make time and spend money to get adventure in their life. There are travel agencies that specialize in designing such travel packages known as adventure travel or ecotravel. They hire travel agents having the same interest in adventure. It is a crucial skill in the travel agent careers.
Communication Skills: Travel agents have to interact with so many people and clients whom they are meeting for the first time and host them. It is necessary that they bear confidence while communicating with people. They have to listen to them attentively and resolve their queries.
Customer-Service: There are times when customers ask for changes or cancel plans at the last minute or when every arrangement has been planned and taken out by the agents. In such situations, travel agents are required to tackle the situation with calmness and a friendly manner. A travel agent has to respond to their complaints and queries as well.
An Eye for Detail: Travel agents are required to be attentive and carefully check that the arrangements they have made are as per the customers' needs. They have to make sure the reservation dates are correct, seats are confirmed, and locations to meet the customers or travelers are correct and as per schedule.
Organising Skills: Travel agents are required to be organized as they have to meet many customers and resolve their queries and take their complaints as well. They have to interact with them in a professional manner by keeping them informed about the orders and ensure their bills and receipts are processed.
Business Sense: Travel agents sell traveling packages with several services to customers. They must bear high persuading skills to ensure their customers that whatever they have offered to their customers is better. Most travel agents do not have permanent jobs. Their earnings depend on the commission and service fees. Therefore, it becomes an essential skill in the career as a travel agent.
Which certifications and internships can be helpful in becoming Travel Agent?
We have provided below a list of travel agent certification courses. Individuals can opt for these courses to upgrade their skills to improve themselves to perform more efficiently.
Internship Availability
Yes
Aspiring candidates of a career in travel industry can go through numerous recruitment websites and apply for internships. A certification in travel and tourism increases the chances of getting an early career role as internship in a reputed organization. Internships are essential for developing skills and getting exposure to the industry. Candidates can directly apply for internships through the official websites of travel agencies. The interns are required to provide assistance to their seniors. They are asked to handle itinerary preparation for Indian destinations. They are also involved in cost estimation and acquisition of hotels. Travel interns are assigned to sell tour packages. Their responsibilities may vary depending on the size of the travel agency or organisation.
Career Path Progression for Travel Agent
There are various types of job roles in the hierarchy of a career as a travel agent. We have mentioned below major roles that one could get while progressing in his or her career in travel industry.
Travel Coordinator: A travel coordinator is often known as a travel officer. He or she is responsible for scouting the hotels, flights, and rental cars at the best prices. They are responsible for processing employee travel expenses and providing corporate discounts with collaboration with travel vendors. A travel coordinator works for a single organization and oversees the travel arrangements such as arranging transportation and lodging. They are also responsible for reimbursement of travel expenses of employees in hotel bookings or fare charges.
Tour Operator: A tour operator spends hours on researching hotels, destinations, airlines and other things. He or she designs the whole tour that involves arranging travel and hotel accommodations for a safe stay. A tour operator is employed by travel companies that operate tours for domestic and international client bases. A tour operator either sells the tour packages designed by himself or herself or uses the services of travel agents to sell them.
Also read: Career as Travel Journalist
Travel Agent Jobs and Salaries
Travel Coordinator
Monthly Salaries
Average Salary

30000

Junior Level Salary

12000

Senior Level Salary

58000
Job Description
Travel coordinators use their knowledge of travel destinations, airlines, hotels, routes and other related information to advise the appropriate tour packages to clients. They keep in mind clients' schedules, interests, and budget and suggest to them the best options of tour packages, vacation destinations as per their requirements. They make travel arrangements for their clients that include domestic and international transportation and lodging arrangements.
Salary Description
A travel coordinator with an experience of less than one year may expect up to Rs. eighty-four thousand to Rs. one lakh eighty thousand per annum. Senior-level travel coordinators would get more than seven lakh per annum.
Tour Operator
Monthly Salaries
Average Salary

25000

Junior Level Salary

15000

Senior Level Salary

150000
Job Description
A tour operator uses their knowledge in planning the travel arrangements and tour packages. A tour operator designs the tour packages and makes travel arrangements as described in the tour packages. They sell tour packages designed by themselves. They provide all the travel services such as tour guides, accommodation, and rented cars.
Salary Description
A travel operator with an experience of less than one year may expect up to a yearly salary of Rs. one lakh eighty thousand to Rs. one lakh ninety-two thousand per annum. A senior-level tour operator would get more than nineteen lakh per annum.
What is the job outlook for Travel Agent?
According to the article published in Forbes, the travel and tourism industry was the most expanding sector in 2018. All the other economic sectors were after the tour and travel sector in growth. It recorded the contribution of 8.8 million dollars in the world's combined economic GDP (Gross Domestic Product) in 2017. 319 million jobs were alone in the travel and tourism sector in 2017. Now, the travel industry has been affected by the global pandemic Covid-19. It is estimated that it will result in a declining number of jobs in the tourism and travel industry. Nowadays, travelers rely on the internet to reserve airlines, buses, cars and hotel rooms. This has resulted in suppressing the need for travel agents.
Frequently Asked Questions for Travel Agent
Que. Is there any formal training required to work as a travel agent?
Ans.
No, there is not any requirement for formal training to become travel agent. But somehow, formal training helps to learn the skills of a travel agent and it provides a vast knowledge about the travel industry.
Que. What is the difference between a corporate travel agent and a leisure travel agent?
Ans.
A corporate travel agent plans and arranges travel for the employees of an organization for the purpose of business trips, meetings with clients, and attending conferences. While a leisure travel agent is responsible for arranging travel for leisure vacations and adventurous trips. A leisure travel agent plans and arranges travel for a specific group or individual.
Que. What is the average salary of a travel agent?
Ans.
The average salary of a travel agent is Rs.291,223 per annum in India, according to payscale.
Que. Is a license required for a travel agent career?
Ans.
Yes, a license is required for a travel agent career. A license is provided by the ministry of tourism, Govt.of India for a period of five years. After the completion of five years, it is required to be renewed for the next five years.
You might also be interested in
The question have been saved in answer later, you can access it from your profile anytime.
Access now
Report Question
Select your reason of reporting