Who is a Biologist?
Our ancestors were monkeys, but how did we learn about this? Science has a lot of disciplines that allow us to collect information like this. One of these is biology, which focuses on the study of animals and plants to find out what makes them unique and what makes them different.
If you're interested in becoming a biologist, then this field is for you. You'll be able to study the genetic information of living organisms and examine their RNA and DNA. Most of the time, biologists work in laboratories. They also perform experiments and examine samples.
As a biologist, you'll be handling toxic chemicals that could threaten the lives of people. You'll also be able to analyze the results of your studies in various data analysis programs.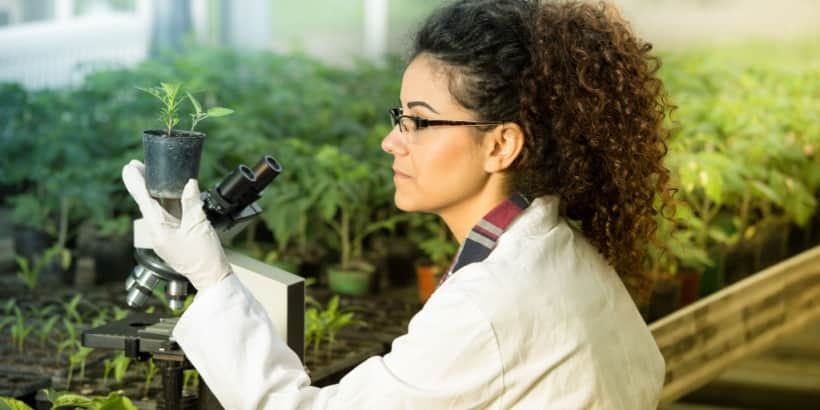 Biologist in a Nutshell
A biologist is a scientist who specializes in analyzing the genetics of various animals and plants. He or she uses his or her knowledge of physics, chemistry, biology, and physiology to examine the relationship and variation between organisms' DNA, ribonucleic acid, and deoxyribonucleic acid.
Quick Facts for Biologist
Industry

Healthcare

Suitable for

Male, Female

A career in biology is suitable for individuals of all genders. This field does not have any gender-based discrimination. The biologist job involves working in a research-based setting. In addition, graduates of science are eligible to pursue these types of biologist careers.

Any special needs

Yes

A biologist is not suitable for individuals with special abilities. He or she should be capable of conducting experiments and preparing reports. They should also be regularly monitored to ensure that their results are accurate. This field involves carrying out experiments that use toxic chemicals.
Table of Contents for Biologist
What is the role of Biologist?
A biologist is a scientist who studies the interactions between different cells. He or she is involved in the study of the cell's functional structure and functioning. In addition, he or she studies the molecular networks of a single cell. This discipline involves spending a lot of time studying the complex molecular structures of a single molecule.
As a biologist, he or she studies the evolutionary processes that affect different living organisms such as humans, animals, and plants. The scientist's main responsibility is to find ways to improve the genetic properties of certain molecules to treat diseases or prevent them from reproducing.
Application of scientific techniques
While carrying out their daily tasks, biologists use various scientific techniques. Some of these include the preparation of DNA sequence analysis and cloning. They also perform other complex scientific procedures such as the use of gel electrophoresis and PCR.
Manufacturing
The work of a biologist involves the creation of research-grade materials. This individual may be responsible for creating various B2B products for the clinical market, such as in vitro diagnostic systems and instruments. These are systems and instruments that are used to diagnose diseases.
Presentation
A biologist must have the necessary skills to prepare data presentations, which are typically used for scientific meetings or to show the progress of a project. There are many reasons why a scientist might want to do this, such as starting a new project or demonstrating the progress of an existing one.
DNA study
A biologist is a scientist who studies the relationship between genes and living organisms. He or she is involved in the design and analysis of DNA constructs. This field involves finding patterns and similarities between living organisms.
Use of digital tools
A biologist uses software to construct models of living organisms and DNA. He or she also interacts with various digital tools to make their work easier.
Review
As science continues to evolve, biologists must keep up with the changes in the field. This is why they regularly review scientific journal articles and literature. They also need to keep up with the latest developments in their field to compete against their competitors.
Quality check
In the field of biology, certain quality standards are established. This means that a biologist has to ensure that the experiments that they perform are conducted according to these standards.
Prepare reports
A biologist is a scientist who is responsible for carrying out various studies and experiments on a daily basis. He or she is also responsible for presenting the findings of these studies and experiments to the scientific community.
Types of a Biologist
Biology Teacher: A biology teacher must have a bachelor's degree in order to teach secondary school students. They are also responsible for preparing educational inspections and other reports, communicating with parents and other groups, and contributing to the annual prospectus and handbooks of the school. In addition, they are expected to keep track of the various academic activities of the school.
Research Specialist: A research specialist is a person who conducts studies and experiments. He or she then compiles the findings of the study and prepares a report. These individuals work in various areas such as clinical and non-clinical laboratories. Biochemists are also responsible for developing new ideas on how life works. They help scientists understand the structure of molecules and develop new treatments for diseases.
Cellular Biologist: A cellular biologist is a specialist who studies the development of cells. He or she carries out experiments to learn more about the cell's development process and the molecular genetics of the cells. These experiments are then used to prepare a report of their findings.
What is the workplace/work environment of Biologist like?
As a biologist, one has to spend most of their working hours in various settings, such as laboratories, offices, and industrial areas. They have to follow safety procedures while examining specimens. They also have to deal with toxic chemicals.
Does Biologist require travelling?
Likely
As a biologist, one may have to travel to various parts of the country to collect specimens. This can be for various reasons. The specimens they collect are then used for experiments and studies.
Employment Shifts
Full Time
A biologist can expect to earn a full-time biologist salary. It can take years to develop a cure for a disease, and finding an effective treatment could take even longer. This biologist job is mainly research-based, and it does not come with flexible work arrangements.
Employment Nature
Permanent
Most biologists are employed by a company. If there are short-term projects or surveys to be conducted, they can be hired on a contract basis. This type of employment provides both a permanent and contractual basis. Aspirants can find biologist job opportunities through various recruitment websites such as Indeed.com and naukri.com.
Work Place
Office
A biologist can expect to work in various settings, such as universities, laboratories, pharmaceutical companies, and government agencies. They typically work around eight hours a day and 35 hours a week. Work hours may also be extended to meet the deadlines of their biologist job.
Presence in Geographical Area
Semi-urban, Urban
While rural areas provide minimal biologist job opportunities, urban areas are flourishing. Some of the major cities that have a huge populations and are developing rapidly include Delhi, Bengaluru, and Chennai. These cities offer numerous opportunities for biologists.
Time Pressure
Likely
Unlike other biologist careers, biologists do not have to work under a lot of pressure. They work in environments with air conditioning. In some cases, they may have to go outside to collect specimens. This can result in some time pressure, though this is rare in the profession.
Overtime Details
Depending on their specialization, biologists typically work up to nine hours a day. They do not have to deal with overtime issues, though they may be required to work long hours on certain projects due to deadlines.
Weekly Hours of Work
Min 45 Hours
In an office or laboratory, biologists typically work around eight hours a day. They do not work on rotation shifts. Their work hours start at around 6:30 am and end around mid-evening. They may extend their hours to meet deadlines.
How to become a Biologist?
What are the skills and qualities required to become a/an Biologist?
Communication Skills: Communication involves transferring knowledge from one place to another. This skill is very important for biologists as it allows them to communicate effectively with their colleagues and customers. In addition to being able to communicate effectively, it also helps businesses run more efficiently.
Interpersonal Management: Regardless of the profession, having good interpersonal skills is very important for employees. It allows them to maintain a positive working relationship with their colleagues and improve the company's performance. For instance, a biologist's role involves working with a team. Having good relations with his or her team members is very important to ensure that the scientist is able to remain productive and avoid conflicts.
Supervisory Skill: One of the most important skills that a person should have when it comes to improving their productivity and performance is the ability to manage their time and resources effectively. This can be done through the development of a strong understanding of the various requirements of a project or workforce.
Organizing Skills: Being able to organize yourself can help keep things in line. It can also help workers avoid getting distracted at work and focus on their tasks. Having this skill can help a person become more efficient in the office. For instance, in order to be successful in a field such as a biology, one has to have the necessary skills to plan, organize, and execute projects.
Project Management: The importance of project management is acknowledged by companies as it allows them to distribute their products and services efficiently. It ensures that their goals are met and that the projects are carried out according to the company's plans. As a biologist, you must be able to set priorities and work on multiple projects at the same time. You must be flexible to adapt to changes in the environment.
Which certifications and internships can be helpful in becoming Biologist?
Individuals may choose to pursue a career as a biologist by taking the following certification tests.
Internship Availability
Yes
For students interested in becoming a biologist, there are numerous internship opportunities in pharmaceutical and biotechnology companies. These organizations hire experienced individuals to help carry out studies related to the activities of their laboratories. One can find these opportunities through various online platforms such as naukri.com, Glassdoor, and indeed.com.
Career Path Progression for Biologist
Junior biologist: A junior biologist is responsible for analyzing the genetics of animals, plants, and humans. He or she also studies the relationship between these organisms and their genetic variation. This role involves collecting and studying samples from the field.
Senior biologist: As a Senior biologist, you are responsible for maintaining the proper storage and custody of samples. You also perform general lab duties to meet the standards of the organization. The goal of this position is to improve the technologies and formulations of products.
What is the job outlook for Biologist?
A biologist's career can lead to some of the most rewarding opportunities in the industry. There is a huge potential for biologist job growth in the next couple of years. The field focuses on the evolution of life and the human cycle. One of the most deadly diseases in the world, which was previously regarded as incurable, has been cured.
Due to the immense potential of biology, it has been able to create numerous job opportunities in various private and public sectors. As biologist, you can serve as a consultant and help other companies with their environmental issues.
Scientists in government agencies are involved in the search for the cure or treatment of diseases. They also work with students in academic institutions.
You might also be interested in
The question have been saved in answer later, you can access it from your profile anytime.
Access now
Report Question
Select your reason of reporting