Who is a Hardware Developer?
We're not in hardware for hardware's sake. We're in hardware to be able to express all our platform and productivity software in a way that's unique ~ Satya Nadella
A hardware developer is a professional who has studied computer science and has a great intellect for designing the parts of a computer and upgrading it. A hardware developer is a computer hardware engineer. He or she can do wonders for the computer and IT industry. He or she can develop the world's fastest central processing unit (CPU) for PCs. A hardware developer can develop portable storage devices to quickly transfer large amounts of data from one device to another. He or she can develop a color printer and other related devices.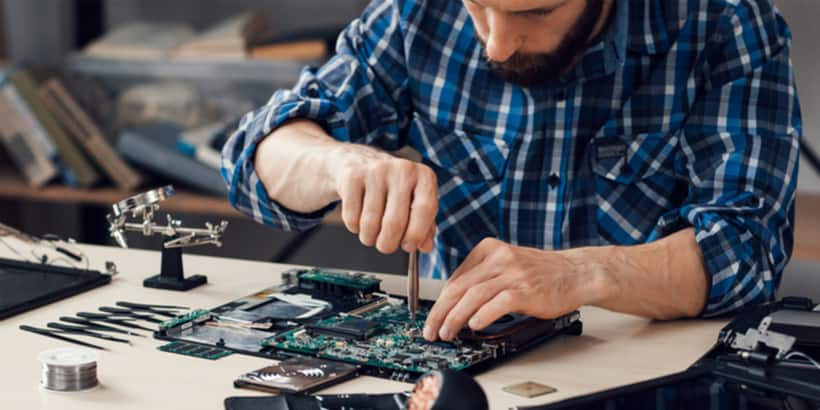 Hardware Developer in a Nutshell
The career of hardware developers is crucial for technological innovations in the computer industry. Hardware developer designs, develops, tests, and analyzes the functioning of hardware equipment such as circuit boards, motherboards, central processing units (CPUs), printers, monitors, keyboards. A hardware developer works full time in an office environment or research laboratories. He or she may require travel to worksites or plants. A hardware developer often requires to work with other engineers, nontechnical members and other departments such as finance, sales, marketing, and product development.
Quick Facts for Hardware Developer
Industry

Technology

Suitable for

Male, Female

It is suitable for everyone regardless of their gender. The candidates having an interest and curiosity to develop hardware equipment or know about its functionality should opt for this career.

Any special needs

Yes

It is suitable for candidates with special needs. Mostly jobs assigned in this career are desk jobs. Candidates with special needs can perform better in desk jobs as it requires less physical movement. The candidates must possess expertise in computer skills and knowledge of CADD (computer-aided-design-draft) software.
What is the role of Hardware Developer?
A hardware developer is responsible for developing new computer products. He or she understands the requirements and specifications of the product. A hardware developer keeps all the measures in mind while designing such as overall effectiveness, cost, reliability, and safety. A hardware developer ensures economical solutions to technical problems. A hardware developer researches, designs, develops, tests, and oversees the manufacturing and installation of hardware products. The hardware consists of computer chips, motherboard, circuit boards, computer systems, and all the other related equipment such as keyboards, monitors, CPUs (central processing units), modems, and printers. A hardware developer's work responsibilities are quite similar to electronic engineers. An electronic engineer designs and tests circuits for other electronic components. While a hardware developer does similar work for computer-related equipment. The rapid upgradation in technology and computer advancement is the result of the research, designing, and development efforts of these engineers and developers.
Technical support
A hardware developer provides technical support to all the other related departments such as sales, marketing, suppliers, engineers, and designers. He or she works with other team members throughout the product development and implementation process. A hardware developer updates his or her knowledge with the present advancements in computer technology.
Testing
A hardware developer is responsible for testing and verifying hardware and support peripherals. He or she ensures that they meet the specifications. He or she records and analyzes the test data. A hardware developer is responsible for monitoring the functioning of equipment and modifying it as per the requirements and specifications. He or she analyzes the information to plan the layout of types of computers and modifications in peripheral devices.
Developing Working Models
A hardware developer builds, tests, modifies the product prototypes studying the working models or theoretical models. He or she analyzes the user needs and recommends the appropriate hardware products. He or she works in collaboration with engineering staff and briefs them about the required specifications to evaluate the interface between software and hardware performance and operations requirements of the system.
Material Selection
A hardware developer selects the hardware material and ensures it compliances with the specifications and product requirements. He or she analyzes the system by storing, retrieving, and manipulating the data. He or she prepares a detailed report of functional specifications for documentation of the hardware development process and to support hardware introduction.
Types of a Hardware Developer
Robotics Engineer: A robotics engineer uses CADD (computer-aided-design-draft) software to create blueprints and schematics for robotic systems. A robotics engineer is responsible for developing software processes that dictate the functionality of robotics systems. He or she designs machines and mechanical systems that build the robots.
Mobile App Developer: A mobile app developer writes programmes in a mobile development environment using programming languages such as C, C++, c#, or Java. He or she determines which operating systems such as Google, Android, or Apple iOS, the mobile app will function and designs as per the operating platforms.
Computer Programmer: A computer programmer translates the project specifications from software and systems. He or she engineers those project specifications into a script of logical instructions that computers can interpret into functioning programs.
Computer Systems Analyst: A computer system analyst oversees both business and technology. A computer systems analyst analyzes the current computer systems and procedures. He or she recommends the strategic changes to increase productivity and reduce costs resulting in the accomplishment of goals.
What is the workplace/work environment of Hardware Developer like?
Most computer hardware engineers work in office buildings, laboratories, or industrial plants. Others may spend time at production sites, where they monitor or direct operations or solve onsite problems. Some engineers travel extensively to plants or worksites, both here and abroad.
Many engineers work a standard 40-hour week. At times, deadlines or design standards may bring extra pressure to a job, requiring engineers to work longer hours.
Does Hardware Developer require travelling?
Likely
The career may occasionally require traveling for attending meetings and conferences. Some hardware developers are required to travel extensively to worksites, and plants here and abroad.
Employment Shifts
Full Time
The career does not generate a part-time, hourly basis, on-call, or work from home type employment opportunities. The career demands a firm commitment to the work. The career generates full-time employment opportunities.
Employment Nature
Permanent
The career provides employment opportunities rather than employment on contractual terms.
Work Place
Office
Hardware developers generally work in offices
Presence in Geographical Area
Urban
There are no opportunities in rural areas due to the negligence of industrial development and lack of infrastructure. Semi-urban and urban areas provide alluring employment opportunities. A hardware developer can easily find good employment and numerous job opportunities in Bengaluru, Chennai, Pune, Mumbai, Ahmedabad, and New Delhi. These cities are the IT hubs that is why the demand of IT professionals is higher in these cities.
Time Pressure
Likely
Hardware developers are prone to face time pressure. Their work is quite uncertain in nature and might require them to work under unusual circumstances and odd working hours. Hardware developers usually work under a lot of time pressure.
Overtime Details
Typically, Hardware developers are required to work for 9 hours per day. But these working hours are generally expanded because of unattainable results and work pressure. Hence, Hardware developers are required to work for long hours facing stressful situations.
Weekly Hours of Work
Min 45 Hours
A hardware developer works in office buildings, laboratories, or plants. He or she works 8-9 hours a day and 45 hours a week. Sometimes work hours may stretch due to deadlines or work pressure.
How to become a Hardware Developer?
What are the skills and qualities required to become a/an Hardware Developer?
Analytical skills: A hardware developer analyses the equipment and modifies it as per the requirement of the specifications. He or she tests the equipment to ensure it is functioning well. He or she resolves the issues arising in production of hardware tools.
Creativity: A hardware developer requires creative skills to design the new equipment and give it a new updated look and style of information technology device. A hardware developer designs the hardware equipment using CADD (computer-aided-design-draft) software.
Critical Thinking: A hardware developer has to use logic and reasoning ability to determine goals, examine assumptions, identify strengths and weaknesses of the alternative solutions. A hardware developer requires to think out of the box to create technological innovations for the IT industry.
Problem-solving skills: A computer hardware developer has to identify the problem in the hardware equipment, and resolve it in the best possible way. A hardware developer has to ensure customer satisfaction. He or she analyzes the issues raised by customers or other team members and resolves it.
Communication skills: A hardware developer requires effective communication skills. He or she has to work with other engineers and non-technical team members. He or she has to communicate with them in written verbally. A hardware developer also has to make a report on the basis of analysis and document the hardware developing process.
Which certifications and internships can be helpful in becoming Hardware Developer?
Internship Availability
Yes
After successful completion of the academic course, the candidates are required to opt for internships in tech companies. This increases the chances of being hired at a permanent position and gives direct industrial exposure. One can learn a lot through internships than the classrooms. The candidates prepare themselves for other challenging roles through internships. An intern is required to assist in mechanical and electrical design. He or she is responsible for fixture design through CAD software. He or she is asked to test the electrical equipment and hardware products and analyze the results. An intern is involved in the designing of hardware equipment with compliance with the documented specifications. He or she is responsible for the documentation of the hardware development process. A hardware developer intern is also responsible for project coordination, financial tracking, and support assignments of special projects.
Career Path Progression for Hardware Developer
Early-Level
Computer Network Architects: A computer network architect designs and builds data communication networks such as LANs (Local Area Networks), WANs (Wide Area Networks), and Intranets. They build networks from small connections between two buildings to next-generation networking such as clouds that serve a large number of customers.
Computer Programmers: A computer programmer writes and tests code that enables computer applications and software programs to function effectively. A computer programmer converts the program designs created by software developers into instructions that computers can follow.
Mid-Level
Aerospace Engineer: An aerospace engineer is responsible for designing aircraft, spacecraft, satellites, and missiles. Aerospace engineers design primarily aircraft, spacecraft, satellites, and missiles. An aerospace engineer creates and tests prototypes to ensure these aircraft or spacecraft functions as per design.
Electrical and Electronics Engineer: A electrical and electronic engineer designs, develops, tests, and modifies the electric circuits. He or she oversees the manufacturing process of electrical equipment such as electric motors, radars, navigation systems, communications systems, and other power generation equipment. He or she develops electrical equipment such as portable music players and Global Positioning System (GPS) devices.
Mechanical Engineer: A mechanical engineer designs, develops, builds, and tests mechanical and thermal devices such as tools, machines, engines, and sensors.
Senior-Level
Network and Computer Systems Administrator: A network and computer systems administrator plays a crucial role in every organization. He or she holds the accountability of the day-to-day operations of the networks.
Computer and Information Research Scientists: The computer and information research scientist invents and designs new approaches to computing technology. He or she finds innovation in existing technology. Hardware developer studies and solves complex problems in computing for various industries such as business, medical, science, and other fields.
Computer and Information Systems Managers: A computer and information systems manager is also known as IT (Information Technology) manager or IT project manager. He or she plans, coordinates, or directs activities related to the computer. A computer and information systems manager is responsible for implementing computer systems to meet the information technology goals of an organization.
Software Developer: A software developer develops the software programmes and applications as per the specifications to perform a task on a computer system or electric device. Several software developers develop the underlying systems crucial for running the system and controlling networks.
What is the job outlook for Hardware Developer?
As per the report published in The Economic Times, it says the hirings in the information technology industry between October 2019-March 2020 stood at 47.54 percent according to Experis IT Employment Outlook Survey (EITEOS). The metro cities are the hub for tech talent. The tier two cities such as Jaipur, Chandigarh, Coimbatore, Ahmedabad, Nagpur, Bhubaneshwar, and Vishakapatnam are also providing alluring job opportunities to freshers and early career candidates with One to five years of experience.
The computer industry is more focused on technological innovation on software than on hardware. The scholars of computer science aspire to become a software engineer than a hardware developer or engineer. The employment for hardware developers in manufacturing industries is declining. But there is an increase in employment opportunities at computer consulting and hardware start-up companies. Nowadays the manufacturers outsource the hardware design from hardware start-up firms. The demand for hardware developers or hardware engineers is rising in the automobile and healthcare industries. A hardware developer is required to embed computer chips in new generation automobiles, household appliances, medical equipment, and other devices. There is strong competition in the job market. Employers prefer to hire candidates possessing a master's degree in computer engineering or electrical engineering. The candidates who hold a certification or more from the Accreditation Board for Engineering and Technology (ABET) stand out from all the other qualified candidates.
Frequently Asked Questions for Hardware Developer
Que. What is the average salary of a hardware developer in India?
Ans.
The average salary of a hardware developer is Rs. 65,000 per month.


Que. What is the average fee of a B.Tech in Computer Science?
Ans.
The average fee of B.Tech in computer science range from Rs 2 lakh to Rs. 10 lakh of the overall course of 4 years.
Que. What are the other bachelor degree programmes except B.Tech in computer science for hardware development?
Ans.
One could pursue either of the following bachelor's degree:
B.Sc. (Bachelor of Science) Computer Science
B.Tech. (Bachelor of Technology) Computer Engineering
B.E. (Bachelor of Engineering) Computer Engineering
B.Tech. (Bachelor of Engineering) Electrical Engineering
B.E. (Bachelor of Engineering) Electrical Engineering
Que. Is there any short term course for hardware development that one could opt after graduation in sociology?
Ans.
There are numerous short term courses offered by various institutions and colleges. You can enroll yourself in the National Institute of Electronics and Network Technology. National Institute of Electronics and Network Technology offers numerous short term diploma and certificate courses in hardware and networking. We have mentioned below the popular courses.
Certificate course in PC Hardware & Networking
Certificate Course in PC Assembly and Maintenance
Certificate Course in Repair & Maintenance of Electronic Products
Certificate Course in Mobile Repair and Maintenance
Certificate Course in Embedded System Design using PIC Microcontroller
Que. I am pursuing graduation in mechanical engineering. Am I eligible for opting for a career as a hardware developer?
Ans.
Yes, mechanical engineering is somehow related to hardware development. After graduation you can opt for a short term certificate course in PC hardware and networking. It will build strong grounds for the hardware developer career with respect to knowledge of information technology and skills. After that you can opt for internships in high-tech manufacturing firms.
You might also be interested in
The question have been saved in answer later, you can access it from your profile anytime.
Access now
Report Question
Select your reason of reporting