Who is a Industrial Designer?
Design is not just what it looks like and feels like. Design is how it works ~ Steve Jobs
Industrial Design (ID) is the technical practice of designing goods, machines, artifacts and services that millions of people across the world use on a daily basis. Usually, industrial designers focus on a product's exterior appearance, functionality, and manufacturability, but they are also engaged in many other activities during the manufacturing process. All of this eventually refers to the overall enduring value and interaction and end-user product or service. They design every item that you use within your home, workplace, school or public setting on a regular basis. Throughout the designing process, numerous decisions are made by industrial designers with the goal of improving your life by well-crafted designs. If you wish to be part of industrial design, and you are puzzled to follow your dream to be an industrial designer or which institute is better to pursue the course or what career options are there, then this article will be the solution to all these queries.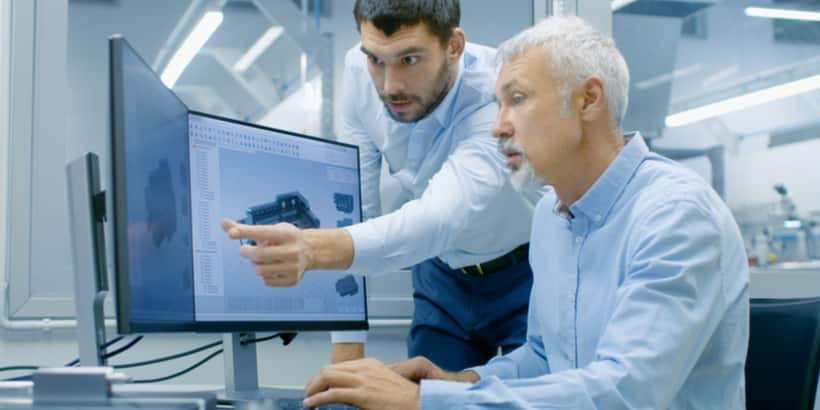 Industrial Designer in a Nutshell
The concepts for manufactured products such as cars, home appliances, electronics and toys are developed by industrial designers. They combine art, business and technology to produce daily goods that people need. They operate in a number of industries. Ironically, manufacturers employ only 29 per cent of industrial designers directly.
Quick Facts for Industrial Designer
Industry

Design

Suitable for

Male, Female, Others

An industrial designer's occupation is not gender-specific. Male, female and others may choose this as a profession for themselves. In India, industrial designers receive equal benefits because gender is insignificant in this profession.

Any special needs

Yes

A career as Industrial Designer suits everybody, even those with special needs. They may occasionally be required to visit events and schedule meetings with clients. People with bodily deformity can create products without even going anywhere, they need to have the aim to show the world that they can reach their dreams despite all the circumstances.
What is the role of Industrial Designer?
Industrial designers usually specialise in a specific group of products. Some design medical instruments while others operate on consumer electronic devices, for example, computers or mobile phones. Other designers design bicycles, furniture, and home accessories. They need to visualise how potential customers can use a product and validate different styles to see how each design appears and operates. They employ computer-aided design software to draw ideas because it is easy to make changes with the help of computer systems. If they operate for manufacturers, computer-aided industrial design software (CAID) may also be used to create specific machine-readable commands for other machines. Having a hands-on experience in Design Industrial software is required for efficient functioning in the career as Industrial Designer.
Create visual elements
The features of visual design are line, form, white space, length, meaning, colour and texture that describe the basic aesthetic elements of a design. The design principles, on the other hand, tell how well certain components should work together for the best results. Industrial designers create beautiful designs that convey information according to the products.
Types of a Industrial Designer
A career as Industrial Designer comes up with various other sub-disciplines. You can opt for a career as a transportation designer, tool designer or automobile designer. You need to fulfil the minimum Industrial Designer qualifications to opt for these roles.
Transportation Designer: Transportation designers are specialised industrial and commercial designers, who create designs for vehicles and products associated with transportation. Some of these individuals are more skilled, particularly when working with a specific business or firm and concentrating on specific niche areas. This could involve the design of an automotive concept, public transportation, interiors for aircraft as well. Such professionals ought to have a strong design background, and also detailed knowledge of the software programmes and computer-aided design programmes used to design systems.
Tool Designer: Tool designers focus on designing the initial prototypes of modern machinery used in industrial production. They use computer programs, concept drawings, engineering data and complex calculations to create complex devices. Tool manufacturers are engaged to design fixtures, dies and other factory equipment materials by major manufacturing firms and specialist machinery shops, either full-time or as contractors. They ought to have design program experience, and have outstanding problem-solving skills. Tool designers create preliminary sketches and use standard drafting equipment and materials to prepare model and technical drawings. They adjust tool designs to improve the life of the tool or performance.
Automobile Designer: Automobile designers, also regarded as automotive stylists, are professional industrial designers combining their technical knowledge with the creative skill to enhance the style, design, and aerodynamic design of vehicles. Automobile design is a discipline driven by creativity. A complete 'gearhead' who enjoys vehicles that moves down the street on four wheels will certainly become an automotive designer. Automobile designers are trained in vehicle and automobile part designs, drawings, and overall structure. This career also relies on a significant level of technical competence and attention to each and every detail.
What is the workplace/work environment of Industrial Designer like?
Are you searching for how to become industrial designer? No need to worry, keep scrolling down and read the entire article. In this section, we will discuss about the work environment of career Industrial Designer. The workplace would concentrate on the particular type of industry the designer works with. He or she researches to assess a target audience, to conduct market analysis, to identify priorities, to establish strategies and to set project expenditures. An industrial designer spends considerable time in the office setting. This is a normal job, and the employee likes to work in an office and, in general, in a healthy setting.
Does Industrial Designer require travelling?
Likely
Yes, the career as an industrial designer often involves travelling to meet the clients of the company. This occurs when he or she is expected to meet the company's customer. An industrial designer travels both globally and domestically regularly to provide guidance and supervision for major campaigns.
Employment Shifts
Full Time
For an industrial designer, work shifts are normally full time. An industrial designer does full-time work, but workload shifts vary. However, he or she appears to be working in the regular shift, which does not mean he or she should not be spending extra shifts. In general, an industrial designer works 40 to 45 hours a week, with extremely important tasks requiring additional shifts too.
Employment Nature
Contractual, Permanent
A career as industrial designer can be permanent or temporary in nature. An industrial designer needs to be employed within companies as part of a community. He or she communicates with colleagues about projects or connects with customers worldwide. An industrial designer will also need to be able to travel to meet customers and based on the geographic location of the customer. He or she may be employed for a certain period of time, but the individual is usually employed as permanent employees.
Work Place
Office
A career as industrial designer requires to be able to travel to meet customers and based on the geographic location of the customer. He or she may be employed for a certain period of time, but the individual is usually employed as permanent employees. An industrial designer focuses on the external appearance, functionality and manufacturing potential of a product. In the office environment, such operations are carried out. The work needs intellect and mental strength but not much physical labour.
Presence in Geographical Area
Urban
There are few opportunities for a career as industrial designer in rural areas. Thousands of businesses have moved online to harness the power of the internet to reach a wider audience. Most industrial designer jobs are in urban areas, as many companies are established in urban areas.
Time Pressure
Likely
An industrial designer performs activities for an organisation or individual within a given time-span. This career is one of India's emerging career opportunities which requires a lot of time and emotional toughness.
Overtime Details
In most organisations, an industrial designer works on a regular basis for nine hours a day. But when it comes to bigger projects he or she has to work harder. In these cases, an industrial designer will stretch the duration of the shifts to complete it in time for other activities that require further effort.
Weekly Hours of Work
Min 45 Hours
An industrial designer works about 45 hours a week, almost nine hours a day. An industrial designer's role comes under certain shifts, and an industrial designer may also work longer hours in various types of projects to fix the problem. Though he or she works nine to ten hours a day, it can be up to 15 hours at the time of major design projects.
How to become a Industrial Designer?
What are the skills and qualities required to become a/an Industrial Designer?
If you want to opt for a career as industrial designer, then you must possess skillsets of an industrial designer. A hands-on experience with design industrial software is crucial.
Drawing skills: Aspiring industrial designers must have the ability to draw. Candidates with considerable interest in the computer would not succeed in this profession, without drawing skill. A strategy and a development draft is truly the first step in the design process. To give life to their creativity, designers need to have drawing skills. Industrial designers could not transfer their artistic creativity to customers without the ability to draw. Industrial designers need significant drawing skills to offer a visual understanding of the product to a design team or customers.
Creativity: Creativity is the ability to think about a project or a specific problem in a particular way, new or substantially different, or the eagerness to use the analytical capacity to start experimenting with new technology. Creative thinking helps to solve difficult problems and perceive solutions to innovative ideas. Inclinations for all sorts of creative arts are basic skills that aspirants should acquire in order to become industrial designers. Students will need an underlying sense of creativity to become industrial designers. Artistry and creativity desire to turn the material into a magnificent piece of art.
Time Management: Efficient time management helps industrial designers to achieve more in a shorter time frame, enables students to understand and prepare things, reduce pressure, and enable them to focus, resulting in greater professional success. This skill will really help practitioners perform better at the time of work overload. The industrial design career requires the ability to conduct multi-tasks within a given timeframe to meet the needs and demands of the customers. Designers need to work overtime to complete the tasks within a specified time-span.
Which certifications and internships can be helpful in becoming Industrial Designer?
We have mentioned below certifications that individuals may opt who want to establish a career as Industrial Designer.
Internship Availability
Yes
An intern is a trainee who has registered for a short period with an organisation. Internships are recognised as the perfect way to gain exposure. Internships help to have the industry experience for the candidate. Internships also provide prospective candidates with the opportunity to apply the theoretical values they learned during their college days. A design career is an assurance of achievements and success. Interested and qualified applicants simply need to select the right school and concentrate on their skill sets, as these are major initiatives that help decide the future career in design. An internship in industrial design provides a chance to learn about product design, a discipline dedicated to creatively conveying ideas. An intern in industrial design helps with technical tasks such as making copy files simple and complicated, preparing papers and mailing documents, printing and stuffing.
What is the job outlook for Industrial Designer?
Industrial product design is returning to its origins on one hand where art, materials and the nature of the product are the primary focus. On the other hand architecture, technology is evolving where industrial design will continue to be charged with building the digital experience. There is a substantial amount of job security in this sector. Industrial designers, who are from a science background, often get opportunities with experience to join the management of the company in which they work. Moreover, also in difficult economic times, the job outlook of career industrial design is quite favourable. The employment of industrial designers is likely to develop in areas requiring a high degree of technical competence and sophistication in design. Products in these areas require thorough user specifications to be integrated into the design process to satisfy customer standards and ensure that the product is used reliably and pleasurably.
Frequently Asked Questions for Industrial Designer
Que. What does an industrial designer do?
Ans.
Industrial designers create designs for consumer items like vehicles, home appliances and games. They combine art, commerce and engineering to create goods that people use on a daily basis.
Que. Is industrial design an engineer?
Ans.
Industrial designers and industrial engineers are also interested in the production process but perform specific functions. Industrial designers design products that will be produced while industrial engineers are working to enhance the manufacturing process.
Que. Where do industrial designers work?
Ans.
Industrial designers work in a number of markets. While industrial designers usually work in offices, they may travel to test facilities, design centres, show sites for customers, homes or workplaces for consumers and locations where the product is produced.
Que. What is the difference between architecture and industrial design?
Ans.
Industrial designers produce consumer products, like games, accessories, and household appliances. On the other hand, architects are busy designing buildings which may require them to consider factors such as window placement, form, and materials.
Que. What is the future of industrial design?
Ans.
Industrial design becomes more and more nuanced and has a meaning that is far broader than it was in the past. Design is returning to its roots on one end of the spectrum where art, materials and the quality of the product is the main objective.
You might also be interested in
Questions related to Industrial Designer
Showing 1 out of 1 Questions
The question have been saved in answer later, you can access it from your profile anytime.
Access now
Report Question
Select your reason of reporting