Who is a Mechatronics Engineer?
One could travel around the world admiring the scenery but an engineer made it possible ~ Elon Musk
Due to rapid development and heavy industrialisation the world needed better forms of machinery. Which could carry out a large number of tasks swiftly as well as efficiently? Therefore, the field of mechatronics was invented. Mechatronics is a multidisciplinary field of engineering. It combines both electrical and mechanical systems, and also includes a combination of fields like robotics, electronics, computer, telecommunications, systems, control, and product engineering. Mechatronic engineers design, develop, maintain as well as manage the high-technology based engineering systems for the automation of several industrial tasks. Mechatronics engineers apply mechatronic or automated solutions to the transfer of material, components or finished goods. Not only that, they also apply advanced electronic control systems, which are usually computer-driven.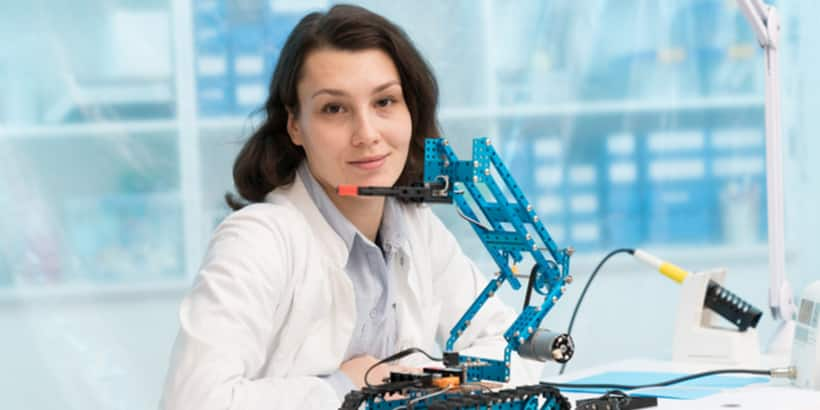 Mechatronics Engineer in a Nutshell
The career of a mechatronics engineer is filled with several career opportunities. Mechatronics engineers can earn a good amount of money in comparatively less time than other engineering fields. This enables them to live a healthy lifestyle.The career gives mechatronics engineers the chance to construct new products. Different kinds of job opportunities are available in the entertainment as well as the manufacturing industry. Most manufacturing companies have an entire team of several mechatronics engineers who are responsible for handling operations of different manufacturing units. The field of mechatronics engineering includes several disciplines therefore, the job opportunities are immense especially in a developing country like India.
Quick Facts for Mechatronics Engineer
Industry

Technology

Average Salary in India

₹32800

Suitable for

Male, Female, Others

An individual from any section or gender can get mechatronics engineering jobs and become a mechatronics engineer in India. It doesn't matter which gender he or she belongs to when it comes to taking up a job in the field of mechatronics engineering. Not only that but being a part of the engineering discipline in India is one of the most desired fields where an individual's gender is insignificant and mechatronics engineering scope is wide. Several new job opportunities are opening in the field of mechatronics engineering, therefore, making the field attractive for the students from all gender including women.

Any special needs

Yes

When it comes to mechatronics engineer jobs it is better to be physically fit for a better and efficient way of working. However, there is no hard and fast rule that it is compulsory to be physically fit in order to become a mechatronics engineer in India. As long as the disability doesn't come in the way of one's work they are good to go for mechatronics engineer's jobs.
What is the role of Mechatronics Engineer?
We've noticed how machines have replaced human labour in a lot of industries not just in our personal lives. This reduces cost as well as increases efficiency and precision in work. But, who makes these automated machines for these industries? The answer is a mechatronics engineer is responsible for this job. If you are someone who has always been inclined towards different machinery as well as been curious about their operation, you can join the field of mechatronics engineering and follow your passion. A Mechatronics engineer needs to fulfill quite a number of responsibilities. They are assigned with tasks that involve production as well as generation of several automated activities. It is their job to take care of any glitches and carry out the production efficiently. A mechatronics engineer also does cost analysis of the machinery in order to enhance them further and upgrade their systems.
Developing solutions
A mechatronics engineer needs to develop solutions for industrial problems using mechanical and electronic processes and computer technology. A mechatronics engineer needs to be innovative as well as cost-effective in developing solutions to industrial problems. His or her aim should be to give solutions to a problem that can improve efficiency in the production and manufacturing process thereby, saving money and contributing to a larger profit share for the company.
Integrating technology
Mechatronics engineering, as the word suggests is a multidisciplinary field of engineering. A mechatronics engineer designs and builds completely new products by integrating various technologies like mechanical, electrical, robotics, mechatronics examples include, including developing robotic vehicles for underwater exploration. He or she combines the use of different engineering fields in order to give better output in terms of automated machinery.
Testing
Any company cannot afford to stop the manufacturing of their products. Therefore, a mechatronics engineer takes care of all the machinery that is used as the part of production. He or she not only builds the machinery but also conducts several tests in order to ensure smooth factory production lines. A mechatronics engineer also tries to introduce automation to improve the existing processes.
Optimising
Several new technologies have evolved over time and mechatronics engineering has played a major role in not just bringing up new industry solutions but also by improving the existing technologies. A mechatronics engineer aims at maintaining and improving the previous industrial and manufacturing processes and designs, few mechatronics examples are, robotic lawn mowers and robot floor cleaners. These are forms of improving the existing technologies in the field of mechatronics engineering.
Application of technology
A mechatronic engineer applies advanced control systems, which are usually computer-driven. They apply electronic and mechanical processes and use computers to complete tasks where the use of human labour may be dangerous for example, underwater exploration, mining or forestry.
Budgeting
A mechatronics engineer needs to study the feasibility, cost implications and performance benefits of new mechatronic equipment. They carry out modelling, simulation and analysis of complex mechanical, electronic or other engineering systems using computers. This all is important because mechatronics engineers try to build machinery which is cost-efficient.
Types of a Mechatronics Engineer
Automation Engineer: An automation engineer is responsible for designing, programming, simulating and testing automated machinery and processes in order to complete exact tasks. Automation engineers are typically employed in industries such as car manufacturing or food processing plants, where robots or machines are used to perform specific functions. He or she makes sure that the production process is taking place seamlessly.
Robotics Engineer: A robotics engineer creates applications or autonomous machines for various kinds of industries such as mining, manufacturing, automotive, services and more. Robotics engineering is a discipline of engineering which revolves around building machines and equipment that are capable of carrying out human actions.
Instrumentation engineer: Instrumentation engineers are responsible for carrying out several responsibilities like planning, installing, monitoring and maintaining the control systems as well as the machinery within the manufacturing environments of a company or an organisation. Instrumentation engineers typically work with control processes that use sensors to provide feedback about the machinery being used. They play a major role in the seamless operation of manufacturing units of different companies.
Troubleshooting Engineer: The job of a troubleshooting engineer is to research and identify the solutions to different software and hardware issues. The troubleshooting engineer diagnoses and troubleshoots several technical issues, including account setup, network configuration and other issues that arise. A troubleshooting engineer aims at asking customers targeted questions to quickly understand the root of the problem.
What is the workplace/work environment of Mechatronics Engineer like?
The work environment depends on the designation of the individual. Mechatronics technicians and engineers work in a laboratory set up, offices or on-site manufacturing plants. The goal of a mechatronics engineer is to produce safe and efficient automated equipment for the company. It is the technicians who maintain the machinery, but the mechatronics engineers are the ones who are more concerned with design and development of components and products.
Does Mechatronics Engineer require travelling?
Likely
A mechatronics engineer works in both, in an office set-up as well as at the manufacturing unit. Therefore, he or she has to keep travelling to the plant in order to check the proper functioning of the machinery half the time. The other half of his or her time is spent working in laboratories or offices so that he or she can make plans and designs for the next assigned project.
Employment Shifts
Full Time
Mechatronics engineers generally work full-time at labs or factories, testing and repairing equipment.
Employment Nature
Contractual, Permanent
If an individual fresh out of college is hired as a mechatronics engineer in some firm then his or her job is permanent in nature. But if after gaining some experience a portfolio manager begins to work on his own or as a freelancer then the work is given to him on a contractual basis. Most mechatronics engineers work on a permanent basis as it provides them the opportunity to work on bigger projects and have significant job growth.
Work Place
Laboratory, Office
A mechatronics engineer works in an office, laboratory, or in the manufacturing plant. His or her job involves researching, conducting tests, planning, designing as well as troubleshooting.
Presence in Geographical Area
A mechatronics engineer has to work in urban as well as semi urban areas. Manufacturing units are majorly established in semi-urban areas away from heavy population. A mechatronics engineer works for multinational companies who have their office majorly in urban areas. Therefore, the candidate can be employed to work in any of these areas depending on the requirement as well as the task assigned to the candidate.
Time Pressure
Likely
Time pressure is considered moderate in the case of a mechatronics engineer. A mechatronics engineer has to work for a minimum of eight hours a day. The nature of work is full time. A mechatronics engineer may have to work for extra hours, sometimes overnight depending on the workload and client's needs.
Overtime Details
Generally, they are required to work as per their scheduled timings. However, depending on the situation, they may be required to work for long hours. They are required to work for about 40 hours a week. A mechatronics engineer may have to work for extra hours depending on the workload or deadlines.
Weekly Hours of Work
Min 40 Hours
A mechatronics engineer has to work for a minimum of eight hours a day. The nature of work is full time. A mechatronics engineer may have to work for extra hours, sometimes overnight depending on the workload and client's needs.
How to become a Mechatronics Engineer?
What are the skills and qualities required to become a/an Mechatronics Engineer?
Innovative: It is essential for an aspiring mechatronics engineer to be innovative. The work involves creation of machines and technology which can result in giving maximum output with minimum input. In order to be able to do so a mechatronics engineer needs to come up with innovative ideas and solutions. Innovative minds can create new machinery which is not just cost effective but also efficient. Not only that innovation can also lead to the modification of the existing machinery in order to give better results.
Teamwork: Mechatronics engineer works with a team of people in order to carry out the task in hand. Therefore, it is essential for an aspiring mechatronics engineer to be able to work in teams in order to achieve the desired goal. Not only that, but the ability to work in teams also fosters friendly environments between the team members. This helps in carrying out the task with cooperation and support.
Practical thinking: The field of mechatronics engineering requires engineers to meet several deadlines. Therefore, it is essential that they carry out their work with a very practical approach in mind. A practical person focuses on carrying out concrete actions, and he or she tends to achieve clearly useful objectives with more or less immediate reinforcement.
Attention to detail: It is essential that an individual in the field of mechatronics give attention to all kinds of details. In this field, even the smallest of mistakes can cause major losses. Therefore, detail-oriented employees are required for this field as they not just reduce the company's chances of paying for costly blunders the companies also end up saving a lot of time for the company.
Decision-making skills: It is essential for a mechatronics engineer to be decisive in nature. They work with tight schedules and deadlines therefore, being decisive is the key to efficiency. In order to effectively achieve a goal, one needs to take decisions. However, there's a difference between making a poor choice or deciding to delay or carry out a certain task. A decisive person is the one who knows this difference.
Which certifications and internships can be helpful in becoming Mechatronics Engineer?
Internship Availability
The best way of gaining real-world experience in an individual's career choice is going for internships. They provide a candidate with an opportunity to apply theoretical knowledge in practical use. Not only that internships also enable the candidate to make connections in the field for future use. If he or she performs well during the internship several companies or organisations could also hire the candidate on a full-time basis. In the field of mechatronics engineering, a six-month internship is compulsory. The candidate can get an internship either through an online medium or he or she could also contact the organisation of choice directly. Several companies in India like ITC, Hindustan Unilever, Dabur offer summer internship opportunities to students. One could apply for these internships and gain some real-world experience in the world of mechatronics engineering.
Career Path Progression for Mechatronics Engineer
Mechatronics Trainee: A student after obtaining his or her bachelor's degree in the field of mechatronics engineering is first hired at the position of a trainee. During this time the individual is supposed to learn all the important functions and their applications in the work. The trainee is given daily or weekly targets by his or her supervisor. The training period generally lasts between six months to a year depending on the job position as well as the organisation an individual is working for.
Mechatronics Engineer: The job of a mechatronics engineer is to plan and design machinery of the required field. He or she works with a team of people under the supervision of a supervisor who takes care of the productivity of the entire team. A mechatronics engineer makes sure that the machinery has no defaults and they carry out tests to ensure efficient functioning.
Supervisor: A supervisor is responsible for the actions and productivity of small groups of engineers working for the company or the organisation. A supervisor has typical managerial roles, responsibilities and powers. He or she also takes care of issues from the side of employees under their supervision. A mechatronics engineer typically takes one to three years to reach the position of a supervisor.
Researcher: A researcher is in charge of originating and developing programme ideas, plans, drawing on his or her knowledge and getting the knowledge and an understanding of industrial needs. After carrying out proper research a mechatronics engineer presents his or her findings to the decision-makers of their company or organisation. His or her job is very crucial for a company in order to have cost-effective machinery.
Lecturer: An individual who has done a Ph.D in the field of mechatronics engineering has the option of becoming a professor or a lecturer in several colleges and universities. If a candidate has an interest in the field of education then this is also a possible career path for them.
Mechatronics Engineer Jobs and Salaries
What is the job outlook for Mechatronics Engineer?
The field of portfolio management is expected to grow by five per cent by the year 2028 in terms of employment generation. The world is increasingly becoming more and more dependent on machines for carrying out several tasks. Similarly, big industries like manufacturing units need the machinery of bigger size, efficiency as well as durability in order to get their manufacturing process run in place. Therefore, an individual aspiring to become a mechatronics engineer has several job growth opportunities. One needs to work hard in order to cimb the designation ladder. An individual takes two to four years from the post of an associate engineer to reach the designation of an executive engineer.
Due to industrialisation and the country's development the job market scenario for a mechatronics engineer has a positive outlook. The industries need mechatronics engineers for the proper and efficient functioning of their automation units. Not only that, but mechatronics engineers are also required to build more innovative and cost-effective machinery to reduce human labour especially in dangerous areas like mining, underwater and other such areas. The best career opportunities for mechatronics engineers are available in countries like the United States of America, Australia, United Kingdom and Japan. New job opportunities are expected to open in developing nations like India at the rate of one per cent every year.
Frequently Asked Questions for Mechatronics Engineer
Que. Is mechatronics engineering in demand or does it have a future?
Ans.
Mechatronics is one of those engineering disciplines which is in demand as well as whose future is very bright by the virtue of the nature of the field. It is already famous, and will continue to remain so in the coming years. Mechatronics is the field of study integrating mechanical and electronics principles onto a single device and the results are beneficial for several industries.
Que. Which is better robotics or mechatronics?
Ans.
Robotics is considered as a very significant part of the mechatronics field. To answer the question which is better, mechatronics is a field that will give the students more general background knowledge, which in all case scenarios is considered good for the career, even if one is just a hobbyist. According to experts, mechatronics engineering is better not just over robotics but over any other engineering field.
Que. Does IIT offer a course in mechatronics at the bachelor level?
Ans.
No, IIT does not provide a bachelor degree in the field of mechatronics. However, IIT Kanpur offers a master's degree in mechatronics, one could go for that after completing his or her graduation.
Que. Is the mechatronics degree worth the effort?
Ans.
Mechatronics degree will give the candidate a much better chance of getting into certain jobs because of what mechatronics essentially is. One will have experience in other branches of engineering so you'll be a lot more valuable to certain companies. Mechatronics is a very useful degree in terms of finding different job opportunities.
Que. Does mechatronics have coding
Ans.
Java is one of the most influential programming languages because of its various advantages. It is object-oriented, robust, secure as well as versatile. For a Mechatronic engineer, working with systems such as Lego NXT brick for example is made possible by coding in Java.
You might also be interested in
The question have been saved in answer later, you can access it from your profile anytime.
Access now
Report Question
Select your reason of reporting