Who is a Occupational Therapist?
I've learned that people will forget what you said, people will forget what you did, but people will never forget how you made them feel - Maya Angelou
Do you wish to be someone of help to the people with disabilities? Or do you think you can bring about a difference in their life? You can do so. Simply by becoming an occupational therapist. People with disabilities which are permanent in nature as well as the ones with temporary disabilities need the help of an occupational therapist in order to make them able enough for doing their day to day activities without taking anyone's help. The job requires a positive attitude along with a lot of hard work, and if you think you can do it then it's a wise career choice for you as the future prospects seem bright for an occupational therapist.
Occupational therapists are knowledgeable healthcare professionals who are responsible for working with patients with permanent or temporary disabilities to perform daily tasks independently with or without the use of assistive equipment. Occupational therapists may find employment in hospitals, private practices, physician offices, elementary or secondary schools, nursing homes, and home healthcare services. Occupational therapists are an essential part of the healthcare industry. There are patients with permanent disabilities that require help to perform their daily tasks. The occupational therapist guides how to effectively use such equipment such as leg braces, wheelchairs, and eating aids. The toddlers and infants under risk of having a developmental delay or who have, also need early intervention therapy. Therapists also work in school settings or educational settings to help children with disabilities. They evaluate the abilities to disable children and modify school equipment to accommodate. It becomes easier for children with disabilities to participate in school activities with the help of a therapist.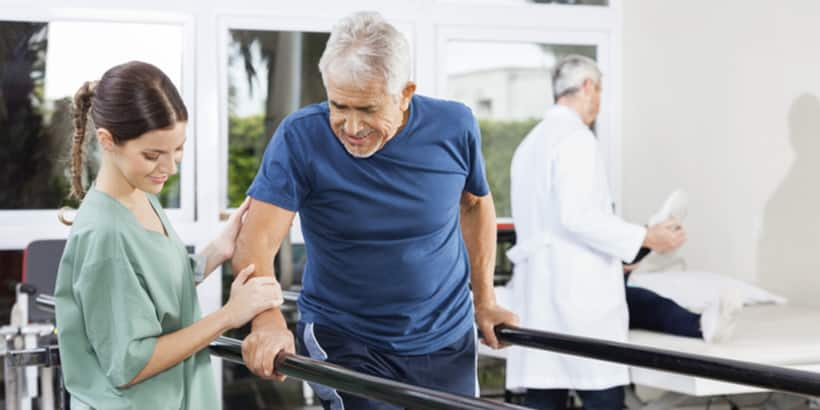 Occupational Therapist in a Nutshell
An individual who is specially abled can also become an occupational therapist. The career comes in the category of social service and counselling. The contribution of occupational therapists to society is great as it makes everyday life easy for specially-abled people whether it is teaching dressing to a stroke victim or walking with the help of a walker to a person who had a hip replacement.
Quick Facts for Occupational Therapist
Industry

Healthcare

Suitable for

Male, Female, Others

The career is suitable for both men and women regardless of their gender. The career is aimed at providing self-motivation to individuals with limited abilities and make them feel as normal as any other person.

Any special needs

Yes

The career is not suitable for specially-abled individuals. As it is itself a supportive career that provides support to specially-abled people through guidance and counseling. An occupational therapist helps people with limited abilities, illnesses, or injuries to make use of special equipment to make them comfortable while doing any other activities.
What is the role of Occupational Therapist?
Occupation therapists work in various settings. Their work varies depending on the workplace. Occupation therapists who work in school provide a helping hand to specially-abled students. An occupational therapist modifies the classroom equipment to accommodate specially-abled students. They evaluate the abilities of specially-abled students. Therapists work with elderly patients and provide the essential equipment and guidance that helps them to lead an independent life. Therapists provide recommendations to improve everyday life. Occupation therapists work with the patients and help them create a functional work environment for them. They collaborate with the employer for effective changes in the work environment and schedule.
Patients are having serious mental disturbances, development disabilities, mental illness, or emotional problems. Occupation therapists who work in such mental settings teach the patients skills. Occupation therapists make them learn managing time, using public transportation, budgeting, or household chores to busy themselves with daily life activities so they get least involved in alcoholism or drug abuse. It somehow also helps to cope up with depression and anxiety. Therapists are also responsible for providing early intervention therapy to newborns, infants, or toddlers who are more likely at risk of developmental delays. Occupational therapists also work in healthcare settings such as hospitals or other facilities. They work with patients having chronic conditions such as diabetes or any organ transplant. They help patients in recovery by rehabilitating them.
Review medical history
An occupational therapist reviews a patient's history, asks questions to the patient to know about the developments or improvements in his or her condition. An occupational evaluates a patient's condition and needs. Medical history can include details about diseases, allergies, procedures, immunizations, physical examinations and medical reports. It also might involve information on taking medicines and habits of health, like nutrition and lifestyle.
Plan treatments
An occupational therapist is responsible for determining the treatment, and planning it. He or she develops a treatment plan for patients, determining their specific goals and activities to help patients to reach their goals. Treatment programs exist for a number of different reasons related to health care. Treatment plans will have guidance about how best to implement the care. Treatment plans lead to continuous care taking into account past concerns and treatment of an individual, and also the present situation.
Demonstration
An occupational therapist is responsible for teaching or demonstrating the exercise to patients to relieve pain and improve muscle movements. Physical activity or exercise will enhance health and reduce the risk of many illnesses. Exercise and physical activity can bring health benefits instantly and even in the long term. Above everything else, daily exercise will enhance the quality of life.
Evaluation
An occupational therapist is responsible for educating patients' family and employer to accommodate and care for the patient. He or she is responsible for recommending special equipment such as a wheelchair, walker, and eating aids. An occupational therapist also instructs patients on how to use it.
Educate
An occupational therapist educates patients' family members and employers about their special needs or requirements. The education of patients implies that the patients have been well educated of their own health. This may include educating them about the health consequences of their illness, explaining their symptoms, working over different effective treatments or trying to figure out ways to avoid degradation of their condition.
Types of a Occupational Therapist
Athletic Trainers: Athletic trainers are the healthcare professionals who provide training under the direction or in a collaboration with a physician. An athletic trainer provides primary care in case of injury or illness. An athletic trainer is responsible for wellness, emergent care, promotion and education, examination and clinical diagnosis, therapeutic intervention, and rehabilitation of injuries and medical conditions.
Rehabilitation Counselor: A rehabilitation counselor is responsible for providing healthcare and counseling to patients who are under rehabs such as patients of drug abuse or accident. A rehabilitation counselor trains patients to assist them in job placement to evaluate their medical reports, and provides help to develop skills essential to living independently. The purpose of rehabilitation counselors is to guide their patients so that they can live more independent lives.
Speech pathologists and audiologists: An audiologist is a hearing professional responsible for providing training and treatment to the patients having such a hearing disability. Similarly, the speech pathologist is a professional who treats speech and swallowing problems in children and adults.
What is the workplace/work environment of Occupational Therapist like?
Those who like to be a helping hand or help others to lead their daily life should opt for this career. The career involves empathy and compassion to contribute to society. Occupational therapists work in academic institutions and provide help to students who have disabilities or behavioral problems. Occupational therapists also work with old people and stay with them to make their daily life easy. Occupational therapists help in the recovery of patients with stroke or Alzheimer's disease. While some occupational therapists choose to work with victims of accidents. They help them regain the balance of their body, progression in movements, and all the other skills. They also work with patients of mental illness. The other specialties in the career of an occupational therapist are to provide training to workers to use correct ergonomics, training old drivers, help people with low vision, making home and workplaces more accessible, and promoting health and wellness.
Does Occupational Therapist require travelling?
Likely
The occupational therapist career may occasionally require traveling. The career may require travel to the patient's home or workplace in emergencies. The occupational therapist works full time in an office setting, clinics, school, hospital, healthcare facilities, and other workplaces.
Employment Shifts
Full Time, Part Time
The career provides both full time and part-time employment. Around 30 percent of occupational therapists work part-time. The career requires long term commitment. It is not suitable for candidates who are looking for work from home or hourly basis career opportunities.
Employment Nature
Contractual, Permanent
The occupational therapist career offers both contractual and permanent employment. The duration of the contractual employment depends on the employer or company. It may be for six months, a year, or two years.
Work Place
An occupational therapist works more than 40 hours a week. He or she works in academic institutions such as schools and colleges to provide help to students with several illnesses, injuries, or permanent disabilities. An occupational therapist works in hospitals, clinics, healthcare facilities, old age homes, rehabilitation centers.
Presence in Geographical Area
Urban
There are flourishing opportunities for a career in urban cities while there are negligible opportunities in rural areas.
Time Pressure
Not Likely
Occupational therapists generally work in a set schedule and the working conditions are quite stable. There are rare occasions when occupational therapists are required to survive conflict situations where the clients might put challenging conditions. In such cases, there might occur a little time pressure. However, during adverse situations, occupational therapists are expected to work under double shifts which causes time pressure.
Overtime Details
Since most of the patients visit the clinic in the day time, hence their work is scheduled in the day-time. They work for more than 40 hours a week. Occasionally during end months or weekends, they might be required to put some extra hours into work and practise over time.
Weekly Hours of Work
Min 45 Hours
The occupational therapist works full time or part-time. They work more than 45 hours a week. Their work shift generally starts from the morning and ends at mid-evening.
How to become a Occupational Therapist?
What are the skills and qualities required to become a/an Occupational Therapist?
Communication skills: Communication skills are important to properly interact with a broad spectrum of people while trying to maintain eye contact with the audience, display a varied vocabulary and adjust the dialect to the listener, maintain attention, communicate your ideas in a proper way, write clearly and accurately, and work in a team properly. An occupational therapist should possess excellent communication skills. He or she has to interact with multiple patients and their families on a daily basis. An occupational therapist has to describe the developments and treatments for the health of patients.
Compassion: Compassion refers to the cares for the others, and acts with kindness, helpfulness, and concern toward each other. Compassion, as compared to empathy, entails understanding sincere feelings about the suffering of others. Compassion is a delicate skill with significant benefits. An occupational therapist should be compassionate about his or her profession. Occupational therapists must be aware of the fact that the prime objective of their profession is to improve the daily lives of others.
Flexibility: Workplace flexibility helps managers and workers to manage work environments that match their needs. This helps the employee maintain a work and personal life balance and can allow businesses to strengthen their operational efficiency and productivity. An occupational therapist must understand that each patient does not have the same illness or disability. Therefore, the treatment for each patient would not be the same. An occupational therapist must be creative to plan the treatment and use adaptive devices as per the patients' requirements.
Interpersonal management: Interpersonal competencies are the abilities that individuals use to communicate with one another. They require interacting, developing, and maintaining relationships with everyone. Interpersonal skills help you to manage everyday conversations, interactions, and differences with all other individuals in the work environment. Occupational therapists require to spend most of the time teaching and describing the therapies to patients that will improve their lives. Occupational therapists are required to build up the trust and respect of their patients to treat them.
Patience: Patience is one of the variables that play a prominent role in successes to contribute significantly. Patience is a core component of organizational achievement. Employees have to experience some cases multiple times that might need patience. Like, due to the seriousness of some issues, people, therefore, need to operate a long time. It takes time for the recovery of illnesses, injuries, or disabilities. An occupational therapist must be patient to record developments in the health conditions of patients and treat it using alternative methods.
Writing skills: Effective organizational writing ability benefits the business in many ways. This opens up whole new avenues and helps you improve your career and work for your targets. Again, writing skills allow you to convey yourself, help you to become stronger and therefore more descriptive, and encourage you to stay at the forefront. An occupational therapist must be able to communicate in writing also. An occupational therapist requires to write treatment procedures or therapies to communicate it with the other people of the medical team overseeing the patient.
Which certifications and internships can be helpful in becoming Occupational Therapist?
Internship Availability
Yes
The candidates can find internship opportunities through various recruitment websites where recruiters around the globe post the vacancies and requirements for a well-suited candidate. Indeed.com, Glassdoor, Internshala, monster.com are popular recruitment websites. Apart from this, candidates can also visit the official website of the companies. An intern works under the supervision of an assigned teacher, social worker, or occupational therapist. They learn skills and therapies required to teach people with limited abilities to improve their life skills. An intern may require to administer the screenings and assessment to make recommendations for progress. An intern may be responsible for preparing reports and planning occupational therapy intervention.
Career Path Progression for Occupational Therapist
Occupational Therapy Assistant: An occupational therapy assistant is responsible for treating patients who have limited abilities, victims of stroke, or illnesses. The occupational therapist assistant works under the supervision of an occupational therapist. Occupational therapist assistant job description generally is to assist patients in performing the exercise as specified in the treatment plan.
Occupational Therapist: An Occupational therapist is responsible for providing assessment and therapeutic programmes for people with limited abilities to make them recover fast and lead independent lives.
Rehabilitation Counsellor: A rehabilitation counselor is responsible for helping people overcome emotional and physical impairments. A rehabilitation counselor advises the patients on improving the skills, involving in other activities to overcome depression or other emotional disorders.
Research Assistant: A research assistant provides assistants to research specialists in discovering new therapeutic methods and treatments to treat illness, injuries, and help people with limited abilities to lead an independent life.
Academician: An academician or a professor works in classroom settings. He or she is responsible for teaching skills and therapies to scholars of occupational therapy required to treat patients.
Supervisor: An occupational therapy supervisor is responsible for overseeing the delivery of occupational therapy to patients. An occupational therapy supervisor guides the occupational therapy staff and monitors their performance.
What is the job outlook for Occupational Therapist?
Healthcare sector keeps evolving, and so do occupational therapists. We recognize new primary healthcare approaches and resources, and discuss the specific challenges of incorporating occupational therapy into primary healthcare settings. There is an expected 23 per cent job growth for occupational therapists in the next five years. Around 7000 more jobs will be created in the next five years for occupational therapists. On average there will be the creation of 1400 jobs each year. The ageing population certainly drives the demand, but this is not the single most important reason. Nearly half of occupational therapists function in clinics and departments of occupational therapy, offering rehabilitation care to disabled people with stroke, diabetes, Alzheimer's as well as other long-term disorders.
Occupational therapy should be seen as a model practice for solving current and future social problems, essential to the growth of society. The career mainly helps people get involved in daily life activities. There is less competition in the field of occupational therapists. The demand for occupational therapists is higher. The profession of physiotherapist has somehow overshadowed the occupational therapists. Occupational therapist's rising demand and scale is evident. At almost the same time, however, there has been so much stereotypical thinking that the public does not recognize the importance of this particular career is entirely different from other healthcare careers, even though public awareness campaigns have been organized as required.
Frequently Asked Questions for Occupational Therapist
Que. What is the average salary of an occupational therapist?
Ans.
The average salary of an occupational therapist is Rs.361,368 per annum.
Que. What are the specializations in occupational therapy?
Ans.
There are several specializations in occupational therapy. We have mentioned the popular specializations in occupational therapy such as pediatrics, adult rehabilitation, hand therapy, vision rehabilitation, ergonomics, community consultation, driver rehabilitation, neurological, psychiatric, and industrial rehabilitation.
Que. Does it require certification to practice occupational therapy?
Ans.
The occupational therapists are required to get themselves registered under the AIOTA (All India Occupational Therapists' Association) to get the certification. Certification is required for practicing occupational therapy.
Que. How many institutes are there that provide academic programmes for occupational therapy?
Ans.
There are 25 institutes recognized by AIOTA (All India Occupational Therapists' Association) that offer undergraduate level programmes in occupational therapy. Some of those institutes offer postgraduate programmes also.
Que. Describe the pediatric occupational therapist job description.
Ans.
The pediatric occupational therapist job description focuses on helping kids learn the skills they need to build into responsive, mature individuals. Physical disability, illnesses, as well as a number of other problems can adversely affect the ability of a child to perform typical activities or usually advance through the social or cognitive stages of development.
Que. Describe the mental health occupational therapist job description.
Ans.
The mental health occupational therapist job description is mainly based on helping people to actively engage in productive careers across a range of skills and knowledge like skill growth, developing healthy behaviors and routines, clear objectives for treatment, applying cognitive-behavioral strategies, and considering the various neural factors.
Que. Describe the physical therapist job description.
Ans.
Physical therapist job description is to assist individuals with severe illnesses and diseases to gain back movement and control their discomfort. They help identify the underlying causes of the pain, advise patients and collaborate with them to develop a recovery plan.
Que. Describe the psychiatric occupational therapist job description.
Ans.
A psychiatric occupational therapist job description is to support people with mental health problems to develop their capacity to adapt in terms of work, recreation, self-care, activity, social interactions.
You might also be interested in
Questions related to Occupational Therapist
Showing 2 out of 2 Questions
9 Views
is neet necessary for forensic science and occupational therapist
hey,
no NEEt is not required for occupational therapist , the basic requirement to be an occupational therapist is candidate must have passed 10+2 from recognised board with the subjects having chemistry, biology , physics and english with a minimum aggregate of 45 to 50 percent marks and same for forensic science , for forensic science you are supposed to clear the entrance exam conducted by university.
hope this helps!
6 Views
can occupational therapist add dr to their name
Hello student no Dr title is not for occupational therapist it's for person who hold MBBS degree or BDS degree from any recognized medical college person who pursue doctorate degree/PhD can also put Dr before their name but for occupational therapist it's not legal.
Feel free to comment if you have any doubt
Good luck
The question have been saved in answer later, you can access it from your profile anytime.
Access now
Report Question
Select your reason of reporting