Who is a Physiotherapist?
Physical therapists work with you today so that you can do it tomorrow on your own ~ Anonymous
In career as physiotherapist, individuals help people affected by injury, illness, or disability through movement and exercise, manual therapy, education, and advice. Several people go through some unforeseen times in their lives. It can affect their physical ability to do several things from day to day tasks. This can either happen due to old age or due to accidents. Do you wish to have the capability to help these people through professional means? Being a physiotherapist can be a possible career choice for you. You can help in restoring someone's ability to walk or to move, being able to function properly, as well as promoting health and fitness. A career in physiotherapy can bring about immense mental satisfaction. In the career as physiotherapist, individuals are required to maintain close physical contact with their patients; they must not shy away from such closeness, or be unwilling to demonstrate exercise methodology. Students can study physiotherapy degree, such as Bachelor of Physiotherapy to become physiotherapists. Compassion, empathy, friendliness, good communication, and patience are a must. Here, in this article, we will discuss the details of physiotherapist career, such as how to become a physiotherapist after 12, physiotherapy jobs, salary of physiotherapist in India, physiotherapy degree, how to become a physiotherapist.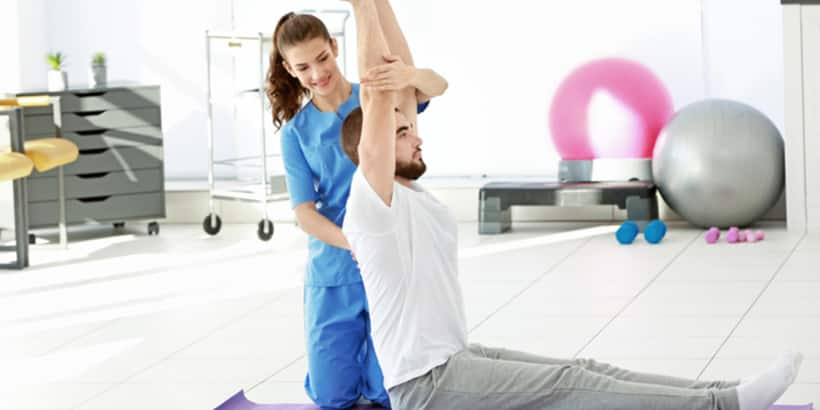 Physiotherapist in a Nutshell
Job is quite challenging for a physiotherapist but is profitable too. Moreover, they are qualified to perform a physical examination and conduct assessments to detect a diagnosis process. As a physiotherapist one can work in nursing homes, hospitals, health centres, polyclinics, medical colleges, research institutions or even have their own practice. Students can pursue Physiotherapy courses to become physiotherapists. Individuals who opt for a career as a physiotherapist can also have their own clinic or they could attend to their patients by visiting them at their residence.
Quick Facts for Physiotherapist
Industry

Healthcare

Suitable for

Male, Female

The career as physiotherapist, is considered to be a feminine profession. Although the female-dominated professions in health care are not as powerful as the male-dominated medical profession. Research also suggests that the key factor in shaping the discrepancies in pay, status, and power between medicine and the female-dominated professions is gender.
Table of Contents for Physiotherapist
What is the role of Physiotherapist?
A physiotherapy career is a treatment to restore, maintain, and make the most of a patient's mobility, function, and well-being. Physiotherapy helps through physical rehabilitation, injury prevention, and health and fitness. In the career of a physiotherapist, professionals get you involved in your own recovery.
Assessing patients
As a physiotherapist, it is important that a person has a full understanding of his or her patient's medical history which includes an examination of strength, reflexes, sensation, movement patterns, and as well as pain patterns and also makes assessments of patients' current physical conditions.
Design treatment plans
Formulating treatment plans to address the conditions and needs of patients. It is one of the powerful appliances that helps in engaging the patient for their treatment. A treatment plan should include personal information about the client, diagnosis, and the basic outline of the ongoing treatment.
Movement techniques
Conducting complex mobilization techniques that can help the patient correct his or her difficulty/disability in mobilizing. If the therapist notices the change in the motion of the client he/she would suggest the clients a number of exercises so that it can help in improving the range of their motion.
Assisting
A physiotherapist assesses trauma patients with how to walk again and get back to lead a normal life. They help the patients in recovering from deep wounds using plenty of different techniques including stretches, occupational therapies, and exercises.
Patient education
Educating patients, family members, and the community on how to prevent injuries and live a healthy lifestyle. Physiotherapists should know the patient's history, it is one of the important aspects of the process. Collected Information helps in clinical decision making for the patient.
Referring patients
A physiotherapist may refer to his/her patients to doctors and other medical practitioners. Physiotherapists use many different techniques to help their patients in recovering from mental illness, if not fulfilled, they refer the patient to some other specialist.
Planning and organising
A physiotherapist has to plan as well as organise physiotherapy and fitness programs. Physiotherapists have a lot of patients, they need to give space and time to every patient and plan things accordingly.
Types of a Physiotherapist
When it comes to the career as physiotherapist, there are several options to choose from. Some of the career options after physiotherapy degrees are mentioned below:
Musculoskeletal physiotherapist: As a musculoskeletal physiotherapist, you're required to treat issues such as strains, sprains, back pain as well as posture problems. They are required to diagnose the patients with appropriate technical equipment and tests while proceeding along with the treatment. Musculoskeletal physiotherapists are responsible for managing the postoperative medication and ensuring the patients are not infected.
Cardiorespiratory physiotherapist: The physiotherapist whose therapy aims at preventing or improving the symptoms of conditions including asthma, chronic bronchitis, and other cardio-respiratory disorders. They are required to design, coordinate, and deliver an effective and efficient Physiotherapy Cardio-Respiratory Service, in collaboration with the other ward seniors, based on the assessment of needs. To work with these seniors to ensure all hospital cardio-respiratory patients are seen in a timely manner as set out by the departmental policies.
Neurological physiotherapist: The physiotherapist who targets disorders affecting the nervous system, including Parkinson's, strokes, and brain injuries. They are required to provide physiotherapy input into the management of clients with highly complex needs, to monitor, evaluate, and modify treatment in order to measure progress and ensure the effectiveness of the intervention, to provide physiotherapy input into the comprehensive interdisciplinary assessment
Geriatric physiotherapist: They are the one who focuses on the complex movement needs of older adults. They help elderly patients achieve or maintain high levels of physical health as they age by focusing on problems such as arthritis, osteoporosis, Alzheimer's disease, and joint soreness.
Pediatric physiotherapist: They are responsible for rehabilitating children after diseases or injuries. They are required to assess and treat infants, children, and teenagers with developmental, congenital, and neuromuscular disorders as well as those recovering from injury, use special instruments and qualitative and quantitative assessment methods, including standardized tests, to analyze and diagnose the nature and extent of impairments. They are also responsible for treating children with poor coordination, developmental delays, cerebral palsy, down syndrome, autism, and many other diagnoses, working with family members to recognize and change behaviour patterns that impede progress and explain techniques to use at home
Sports physiotherapist: The physiotherapist works to reduce pain and reintroduce a range of movement after sports injuries. They perform all standard duties of a Sports Physiotherapist for outpatient care according to proper current ethical and industry standards. They also design and deliver tailored treatments and programs, including return-to-play preparation, exercise testing, etc. They effectively communicate and collaborate with the rest of the team to ensure complete and quality treatment for each patient. They are also required to bring in new clients to the Center and cultivate relationships with partner doctors, coaches, sports clubs, federations, etc. they are also responsible for professionally representing the centre at sporting, arts, and other networking events.
Women's health specialist: The physiotherapist who focuses on treating conditions related to the female reproductive system, childbirth, prenatal and postnatal care. The role of the Women's Health Specialist is responsible for expert treatment of complex medical diagnostics tests and services to both healthcare professionals as well as diverse laboratory customers. The women's healthcare specialist utilizes their healthcare knowledge to develop sales plans in order to achieve financial goals and business objectives.
Rehabilitation and pain management specialist: These physiotherapists are responsible for introducing exercises to reduce and manage pain following surgery, injury, or illness. Their major responsibilities include providing direct patient care, assessing the patient and gathering information about the patient's medical history to help make a diagnosis about the cause of the pain. In addition to a physical examination, the specialist also assesses the patient's neurological status by assessing capabilities such as sensation, reflexes, balance, gait, muscle strength, and muscle tone.
What is the workplace/work environment of Physiotherapist like?
In their career as physiotherapists, individuals work in hospitals, outpatient clinics, rehabilitation centres, and private offices that have specially equipped facilities. Individuals who opt for a career as a physiotherapist have a physically demanding job because, often, they have to stoop, kneel, crouch, lift, and stand for extended periods.
Does Physiotherapist require travelling?
Not Likely
In career as physiotherapist, individuals may or may not have to travel. It depends on who he/she works for, if one is a sports physiotherapist then they'll have to travel along with the sports team wherever they go. But, if one is working in a hospital or has a private clinic then it doesn't involve traveling. However, one may travel in order to meet client requirements but that's not something that happens on a regular basis.
Employment Shifts
Full Time
It is a full-time job. In the career of physiotherapists, individuals may have to work on weekends or in the evenings depending on the patient's requirement. Individuals who opt for a career as a physiotherapist need to be physically present with the patient in order to help them recover. So, there is no scope for working from home.
Employment Nature
Permanent
In the career as physiotherapists, an individual's employment is permanent most of the time. However, in the case of a sports physiotherapist, the employment may be contractual in nature. In career as physiotherapist, individuals after gaining experience of a couple of years start working on their own and become their own bosses.
Presence in Geographical Area
Rural, Semi-urban, Urban
In ideal situations, in the career as physiotherapist, one must be available in all kinds of geographical locations. But, they are majorly clustered in urban settings. The reason being higher pay as well as higher demand. There is still a significant number of physiotherapists in semi-urban locations but when it comes to rural areas there's hardly any presence. People don't want to work in rural settings because of lifestyle reasons as well as the pay is quite low.
Time Pressure
Likely
Time pressure is moderate in the career as physiotherapist. Individuals who opt for a career as a physiotherapist work on weekends as well as in the evening hours. A lot of physiotherapists also do part-time work. In career as physiotherapist, individuals operate approximately forty-five hours a week while physiotherapists who are self-employed work more than this per week. So the time pressure for physiotherapists is more when working independently.
Overtime Details
In career as physiotherapist, individuals work about eight to nine hours per day and up to twelve hours when required. While several physiotherapists work independently, some individuals work for reputed companies or medical institutions as part of a team.
Weekly Hours of Work
Min 36 Hours
Individuals who opt for a career as a physiotherapist generally work 36-38 hours per week, which may include evenings and weekends. As a physiotherapist, one will be based in a hospital, healthcare center or if he/she is a solo practitioner then the work hours depend on client requirements. As a sports physiotherapist, one will often work at the weekends, when sports fixtures are on.
How to become a Physiotherapist?
What are the skills and qualities required to become a/an Physiotherapist?
Do you want to know what are the physiotherapist requirements? So, in this section, we will be answering the most commonly asked question that how to become a physiotherapist. In order to make a career as physiotherapist one must possess some skills. Some skills that are important for a physiotherapy career are mentioned below:
Communication Skills: In order to have a career as physiotherapist, one must be able to communicate well. Physiotherapists need to give clear instructions and form trusting relationships with patients to encourage them to work towards recovery. They may also need to explain complex medical issues in ways that patients can easily understand. They also have to communicate clearly with other healthcare workers, relatives, and carers.
Teamwork: Teamwork would be when employees merge their people with different skills to achieve those goals. Effective teamwork skills are particularly important to involve supporting and encouraging, convincing, collaborating freely and voluntarily, becoming an active participant, being versatile, and showing dedication in a career as physiotherapist. A physiotherapist must be a team player. Individuals who opt for a career as a physiotherapist will have to work with healthcare professionals who belong to other fields such as doctors, nurses as well as occupational therapists. They need to work together in order to make treatment plans for the patient.
Time Management: Time is the most valuable asset in the career as physiotherapist and it takes intense planning to resolve issues, optimize the practice and maintain a consistent quality of patient care. The purpose of time management is to have ample opportunity for therapists to treat patients, to enhance the functioning of the clinic and physiotherapy services and to attend to several other activities that would have been profitable to the profession. For a physiotherapist's job, it is important that one is good with management and organising skills. They need to keep track of appointments. Physiotherapists also need to effectively document each patient's target and progress.
Problem-Solving Ability: Ability to adapt, management skills and problem recognition have always been components of the problem-solving skills which a physiotherapist needs to ensure that patients are treated in a proper way and none of them is left unchecked. An aspiring physiotherapist must have problem-solving ability. In a career as physiotherapist, individuals will need to use their knowledge to develop treatment plans and exercises to best improve patients' health.
Patience: For most people who are employed in the health insurance industry, patience is a key skill, although it is crucial for people trying to build a career as physiotherapist. Many patients who would go to a physiotherapist for therapy must aware of the fact that it is a long process which implies that it requires patience for both the patients and the physiotherapist. Individuals who opt for a career as a physiotherapist must be patient with their patients. Not all of them will recover according to the plan.
Motivational Skills: There are multiple factors why motivation or inspiration for the employees is essential especially when it comes to a career as physiotherapist. Primarily as it helps to provide confidence to the patients. Motivated people can recover really fast after an accident or a major surgery. Physiotherapists can really motivate people to recover soon and live a healthy life. A physiotherapist must be encouraging in nature. In career as physiotherapist, individuals need to encourage patients to be positive and patient and empathise with their frustrations.
Physical Strength: Physical strength is a human's ability to use the muscles to apply pressure on material objects. The physical therapist also makes use of the muscle strength rating scale to identify how well a muscle or group of muscles functions. Many of these tests can measure motion, posture, stability, flexibility, endurance, and energy even for all of these, they need to work with several machines. Physiotherapy career often involves physical work and a physiotherapist will need to lead by example by living a healthy lifestyle and keeping fit.
Popular Online Medicine Courses and Certifications
Which certifications and internships can be helpful in becoming Physiotherapist?
We have mentioned below various certifications that Physiotherapists can opt to upgrade their skills.
Internship Availability
Yes
An internship is an integral part of the physiotherapy career. It helps the individual in having practical work experience. A physiotherapist intern performs routine physical therapy treatments according to patient treatment plans under the direction of a licensed physical therapist. A physical therapist intern evaluates and treats patients with a wide variety of disabilities in the in-patient as well as out-patient settings. The internship is compulsory in the physiotherapy career. It is six months long in duration. It is followed by a bachelor's in Physiotherapy. An internship helps in making contacts in the industry. It will help the individual in the long run.
What is the job outlook for Physiotherapist?
As various health centres, fitness centres, wellness centres, and spas are coming up in a big way, the prospects of a physiotherapy career path seem positive. Major recruiters are hospitals that try to offer alternative medical services and physiotherapy career is one of the most suitable and successful alternative methods to cure various ailments. Candidates with excellent research skills can opt for research and development works in various pharmaceutical companies and institutional laboratories located in the USA, UK, Canada, and European countries. Aspirants willing to opt for teaching have the option of teaching at various universities abroad. Then there are schools for mentally retarded and physically disabled children, defence medical establishments, and rehabilitation centres for the handicapped which offer attractive venues for Indian students with a qualification in physiotherapy degree.
Student Also Liked:
Frequently Asked Questions for Physiotherapist
Que. Can a physiotherapist diagnose?
Ans.
Diagnosis. Both physiotherapists and doctors are able to diagnose your injury. Like doctors, physiotherapists are "first contact" practitioners so they do not need a referral from a doctor in order to examine, diagnose and treat injuries.
Que. What is the future of physiotherapy?
Ans.
There is a very good scope in physiotherapy in the upcoming years. Physiotherapy career path can lead to a variety of interesting and challenging jobs in the healthcare system. In career as physiotherapist, individuals get specialisations in the areas such as Pediatrics, geriatrics, neurology, cardiorespiratory, and Orthopedics.
Que. Which country is best for a physiotherapist?
Ans.
The demand has increased significantly over the years, but when it comes to the best country for Physiotherapists, the answer is arguably the 'Land of Endless Opportunities', Canada.
Que. What are the best colleges to make a career as physiotherapist?
Ans.
The best colleges to make a career as physiotherapist are:
Christian medical college - [CMC], Vellore
Madras medical college - [MMC], Chennai
M.S. Ramaiah Medical College, Bangalore
Sri Ramachandra University, Chennai
Seth GS medical college - [GSMC], Mumbai
Institute of Postgraduate Medical Education and Research - [IPGMER], Kolkata
Manipal University - [MU], Manipal
Hamdard Institute of medical sciences and research - [HIMSR], New Delhi
You might also be interested in
Questions related to Physiotherapist
Showing 1 out of 1 Questions
The question have been saved in answer later, you can access it from your profile anytime.
Access now
Report Question
Select your reason of reporting