Who is a Coal Engineer?
Coal engineers are responsible for designing and building mines that are safe to operate. They also consider the various safety measures that are required to extract valuable minerals from the ground.
These engineers are responsible for extracting various types of minerals such as gold, copper, and coal for various industrial uses. They often work in remote areas. In addition to working in mines, mining engineers also have to perform various tasks in sand and gravel operations.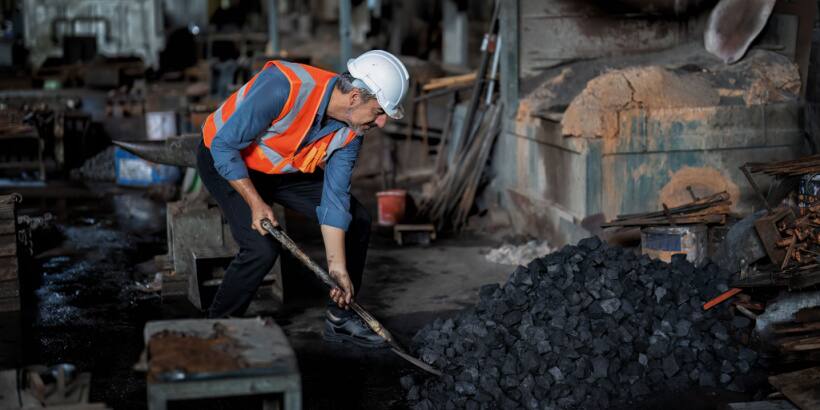 Coal Engineer in a Nutshell
Coal engineers are responsible for identifying and managing the sites where minerals can be extracted. They also oversee the construction of mines. As a coal engineer, he or she is responsible for ensuring that the extraction methods are safe.
Quick Facts for Coal Engineer
Industry

Construction

Suitable for

Male, Female

Regardless of one's gender, a career in coal engineering is suitable for everyone. This field is typically dominated by men. There is no gender-specific restriction that prevents women from pursuing this type of job. In addition, working in this field can be very challenging and involves handling harsh environmental conditions.

Any special needs

Yes

Individuals with special needs should not pursue a career in the field of coal engineering. This discipline involves working in the field of geology and mining. In order to perform well in the field, an individual should have the necessary physical fitness to handle harsh weather conditions.
What is the role of Coal Engineer?
Coal engineers are responsible for planning and designing mines that are safe to operate. They also have to consider the various environmental factors when it comes to developing a mine. This field of study requires that the engineer has the necessary skills and knowledge to extract valuable metals.
These engineers work together with other coal experts to evaluate new deposits. They also develop new equipment and processes to extract valuable metals. A coal engineer is responsible for coming up with effective methods to extract minerals efficiently.
Planning
Coal engineers are responsible for identifying and planning for the development of mineral deposits that have a high probability of being enriched. They also consider the various environmental factors when carrying out their activities.
Designing Mines
Coal engineers are responsible for carrying out exploratory drilling operations. They also design underground and open-pit mining operations.
Types of a Coal Engineer
There are various sub-disciplines in which a coal engineer can excel. If you are looking for a different type of career, below are some alternatives that are suitable for you.
Geologist - A geologist is a field of study that focuses on the study of rocks in the environment. This individual stays involved in the study of various natural phenomena such as the formation of rivers and volcanoes. If you are not interested in becoming a coal engineer or mining engineer, then a geologist is a good alternative.
Petroleum Engineer - A petroleum engineer is a specialist who specializes in the extraction and drilling of natural gas and oil from a well. He or she is also responsible for overseeing the operations of the drilling team. He or she is also responsible for developing new techniques and tools. This discipline is one of the main sub-disciplines of a coal engineer's career.
Mining Engineer - A mining engineer is a professional who is responsible for overseeing the extraction of minerals from the ground. He or she is also responsible for analyzing the effects of mining structures on the environment.
Geothermal Engineer - A geothermal engineer is a person who specializes in analyzing and processing the energy produced by geothermal sources. These energy sources can be grouped together with other renewable energy sources such as wind and solar power.
What is the workplace/work environment of Coal Engineer like?
As a coal engineer, you can find opportunities in remote locations. You can face various challenges while working on a project, and an experienced engineer can provide consultancy services after establishing a network of contacts within the industry. You can also work in an office setting.
As a coal engineer, you can find opportunities in various areas such as construction, quarrying, and tunneling. In this field, you'll often travel to remote regions to identify potential sites and develop a plan that addresses the safety of workers. Several of these engineers are also required to travel overseas.
Does Coal Engineer require travelling?
Likely
Coal engineers need to travel to remote locations to identify and design mines that are equipped with the necessary equipment and safety measures. They also need to consider environmental factors when developing their projects.
Employment Shifts
Full Time, Part Time
Coal engineers are required to work full-time. Other positions such as part-time, on-call, and work from home are typically not available in this field.
Employment Nature
Contractual, Permanent
As a coal engineer, you can find employment opportunities on both permanent and contractual terms. The terms and conditions of these contracts vary depending on the requirements of the organization. For instance, a coal engineer can be hired for a fixed period of time.
Work Place
On-Field, Office
Coal engineers are responsible for searching for and identifying areas with unground minerals. They are also responsible for monitoring the activities of drilling companies in order to design mines.
Presence in Geographical Area
Semi-urban, Urban
In addition to Kolkata and Hyderabad, other cities such as Jaipur and Delhi also offer attractive career opportunities for coal engineers. In Kolkata and Hyderabad, an experienced coal engineer can earn over 60 per cent more than the national average.
Time Pressure
Likely
As a coal engineer, you must constantly be working under pressure. Sometimes, this can lead to situations where the lives of workers are endangered. This is why it is important that you take the necessary steps to ensure that the work gets done in a safe and timely manner.
Overtime Details
As a coal engineer, you may be required to work long hours to ensure that the project is completed successfully.
Weekly Hours of Work
As a coal engineer, one typically works for eight to nine hours per shift. In certain cases, such as when a mining site is located in remote regions, an engineer may spend up to three months working there. After three months, the employee gets two weeks off.
How to become a Coal Engineer?
What are the skills and qualities required to become a/an Coal Engineer?
If you are interested in becoming a coal engineer, then this career path is for you. It offers you the opportunity to explore different regions and experience different types of geology and mining. Besides being able to work in a variety of fields, you also need to acquire the necessary skills to become a successful coal engineer.
In order to become a successful mining engineer, one must acquire various skills. These include analytical and technical abilities.
Teamwork: In order to function efficiently, a coal engineer must coordinate with other engineers. This includes other technical and professional experts such as geologists and geotechnical engineers.
Communication Skills: One of the most important skills that a mining engineer must acquire is communication skills. This is because, a coal engineer, he or she is expected to interact with construction workers in order to avoid miscommunications that could lead to further damage.
Analytical skills: In addition to technical abilities, a mining engineer also needs to consider the wider implications of his or her work when it comes to environmental issues. This includes planning and analyzing environmental projects.
Problem Solving Ability: In order to be successful in this field, a coal engineer must have the necessary skills to tackle complex projects. These include planning and analyzing mines, working on environmental projects, and mineral processing.
Which certifications and internships can be helpful in becoming Coal Engineer?
Individuals who are interested in becoming a coal engineer or a mining engineer can take advantage of the various certification courses that are available.
Internship Availability
Yes
An internship in the coal engineering field is a must for anyone interested in becoming a coal engineer. It provides them with the necessary knowledge to operate efficiently in the industry. There are various risks involved in the design and extraction of minerals from mines, and the safety of workers is the most important aspect of the job.
Various organizations and training programs are available for candidates who are interested in becoming coal engineers. These programs are designed to provide them with the necessary training.
What is the job outlook for Coal Engineer?
A comprehensive research study has been conducted on the various aspects of the coal engineer job market to find out what factors will drive the demand for this profession in the next few years. According to experts, the number of jobs in this field will grow by seven per cent in the next five years.
Due to the tight competition in the field of coal engineering, many candidates are not able to secure the jobs they are looking for. The average salary that these professionals receive is higher than that of other similar professions.
You might also be interested in
The question have been saved in answer later, you can access it from your profile anytime.
Access now
Report Question
Select your reason of reporting