Who is a Accessory Designer?
Don't be into trends. Don't make fashion own you, but you decide what you are, what you want to express by the way you dress and the way to live ~ Gianni Versace
An accessory designer is a professional who creates attractive designs and works on the functionality of the accessory. Individuals who opt for a career as accessory designers design accessory such as bags, belts, scarves, handbags and many other items. There is a lot of research that goes into the design of accessories. It is important for accessory designers to have knowledge about the past, current and possible trends. Only by understanding the pattern and the consumer behaviour an accessory designer will be able to create designs which will be liked by the consumers. Predicting what type of designs will be in demand, can help the designer to go a long way ahead. Individuals who opt for a career as an accessory designer mostly work with materials such as different types of metals, leather, and cloth; designing bags, clothes, belts, shoes and many other items.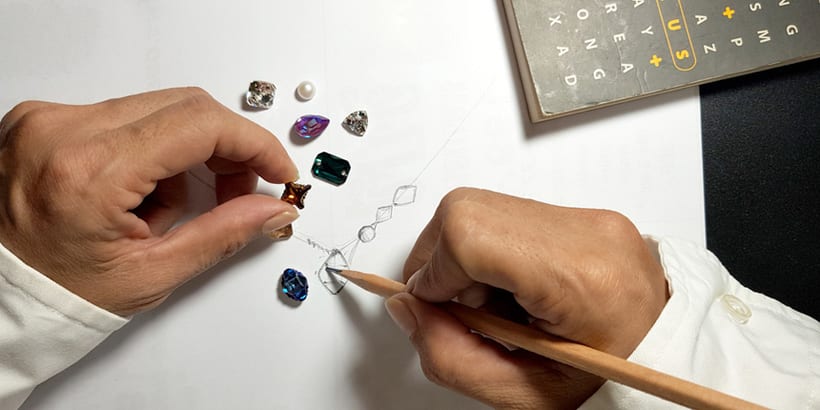 Accessory Designer in a Nutshell
Individuals who opt for a career as accessory designers generally help in making fashion statements and those who enjoy creating quirky items, can make a name for themselves as fashion designers. Accessory designers help in creating eccentric as well as regular items. They research, design and create items that complement the overall look of a person.
Quick Facts for Accessory Designer
Industry

Fashion

Suitable for

Male, Female, Others

Individuals can take up a career as accessory designers, it is not gender-specific. Males, women, and others can choose a career as accessory designers. Male and female accessories designer in India enjoy equal benefits because gender is insignificant in this career. The fashion industry is perhaps one industry that is gender fluid. It does not matter which gender you belong to as long as the person has the talent to make it big in the industry. In fact, when it comes to breaking gender stereotypes, it is mostly the fashion industry that leads. The fashion industry is one of the most accommodating industries irrespective of gender.

Any special needs

Yes

Everyone, including those with physical disabilities, is appropriate for individuals who opt for a career as accessory designers. Many accessory designers work on desks in office settings. The career as accessory designers is well suited to everyone, even those with special needs. They should have the desire to show the world that in all conditions, they can accomplish their goals. Accessory designing is suitable for candidates with special needs as long as the disability does not prove to be a hindrance while working. On the contrary, there has been a steady rise of designers who are specially-abled but have the talent and the will to make it big. If creativity is there, then there is nothing that can stop the individual to achieve success.
What is the role of Accessory Designer?
Here in this article, we have mentioned all details to know how to become an accessories designer and also an accessories designer in India. Individuals who opt for a career as an accessory designer study trends, create ideas, make sketches, carry out experiments and then generally come out with an idea which becomes a trend. They study patterns, textiles, types of clothing to keep up with the latest fashion trends. Understanding human nature is also an important aspect of being an accessory designer.
Study trends
It is important for accessory designers to study design trends so that they can predict what future trends will be like and design accessories accordingly.
Create ideas
Accessory designers also create design ideas for accessories, they feel it would be a hit with the people. A lot of research and brainstorming takes place before creating an idea.
Research work
There is a lot of research work that takes place before designing something. Things like consumers' preferences, buying habits, likes and dislikes have to be known well-before zeroing on a design.
Study of patterns and textiles
Individuals who opt for a career as accessory designers often study the types of materials and different types of patterns that appeal to the consumers. Based on such studies accessory designers create items that appeal to the masses.
Understanding human nature
Understanding human nature forms an important part of an accessory designer's job profile. How a person reacts to a particular pattern or a colour scheme is of great importance as it can be the difference between popular and a failed design.
Types of a Accessory Designer
There are several career options for people who are interested in becoming accessory designers. One can become a jewelry and accessory designer, footwear/shoe designer and leather accessory designer among several other options. Before a person decides on a career it is important to have a good portfolio. Individuals who opt for a career as accessory designers who is just starting out in the industry needs to have a good accessory design portfolio. It is a way to showcase your skills to the big players in the fashion industry. If a person has a good portfolio, then his or her chances of joining a big brand is more. Some of the popular career options for accessory designers are given below.
Jewellery designers: Jewelry and accessory designer are professionals who use various materials such as gems, stones, and crystals to create accessories for ears, neck, wrists, and hands, fingers, ankles, and toes. Their creations add beauty to the clothes worn by people and complement the dresses.
Footwear/Shoe designer: Shoe or footwear designers come under the category of fashion designers who specialise in creating original footwear. They sketch design and create shoes using particular materials and patterns. They use various principles and techniques of the art design to create footwear that stands out.
Fashion designer: Fashion designer design clothing and accessories as well. Fashion designer careers include creating designs with such patterns and colours, that leave their mark in the minds and receive admiration from all. The outfits people wear on any occasion and the accessory to complement these outfits are created by fashion designers. A career as fashion designers makes every effort to design clothes that are functional and aesthetically pleasing at the same time.
Leather Accessory Designer: Even in present times, there is a huge demand for leather accessories. Hence, knowing leather design is extremely important. Leather accessories are in huge demand all over the world, because of which there is a massive demand for leather designers as well. A leather accessory designer creates accessories, such as bags, pouches belts out of the leather material. A leather designer generally assists other design teams by observing and participating in creating a leather accessory collection.
Men and Women's accessory designer: Men and women accessory designers work in the fashion industry creating accessories such as bags, belts, scarves, mufflers and other fashion items that complement various attires. Some of these accessories designers also create shoes, eyewear, jewellery, and other items. In order to keep up with the demand and a step ahead, they also study trends and fashion patterns.
Costume Designer: A career as costume designer involves him or her to design clothing and accessories as well. A costume designer does research, design, sew and purchase costumes and accessories worn by actors. He or she makes sure that the accessories and costumes reflect the story being told and reflect the personality of each character, culture, age, position and relationships.
What is the workplace/work environment of Accessory Designer like?
Individuals who opt for a career as accessory designers are a part of the fashion industry and usually work for manufacturers, department stores and online retailers. Some of the accessory designers have their own businesses and work out of their own design studios. Freelance accessory designers also work in small studios or workshops. A majority of accessory designers are based out of metropolitan cities, as the demand for quirky fashion accessories is more at such places.
Does Accessory Designer require travelling?
Not Likely
Travelling is not mandatory for accessory designing, however, a number of accessory designers travel to get to places either for design inspiration or try to understand the consumer better. Travelling can either be self-financed if done for one's own needs or it can be financed by the company if the need arises. Meeting and understanding the wants of the people should be a high-priority task for accessory designers.
Employment Shifts
Full Time, Part Time
Individuals who opt for a career as an accessory designer work on freelance basis work according to their own timmings as they do not have fixed work hours. Whereas, full-time accessory designers work the usual eight to nine hours a day with weekends off. Some designers also work on an hourly basis or work from home. These designers are usually consultants or work on a freelance basis.
Employment Nature
Contractual, Permanent
The nature of the employment of an accessory designer can be either contractual if he/she is working on a freelance/hourly/part-time basis. Those working full-time have permanent employment.
Work Place
Home Office, Private Offices Factory, Craft or space station
Depending on the nature of work and employment, accessory designers can either work in a workshop setting. Design studios and workshops constitute the workspace of an accessory designer. These workspaces include the machinery and depending on the size of the workshop or the design studio, houses raw materials as well. Design workshops or studios include equipment that is best suited for design work. These workshops generally contain all the necessary items needed to create an accessory. These items can be in the form of small machinery, workbenches, computer equipment, and whiteboards.
Presence in Geographical Area
Semi-urban, Urban
Metro cities such as Mumbai, New Delhi, Bengaluru, Ahmedabad, Pune, Kolkata, Hyderabad, and Chennai can be termed as hubs for accessory designers in India. There is a huge demand for accessory designers in these cities. Some of these cities also have the top design colleges in the country such as NID and NIFT. So there is not only a great opportunity to learn but also to work in these cities. Procuring raw materials of high quality is often difficult in small cities, but is easy in metro cities. So, taking everything into consideration; learning opportunities, work opportunities and availability of resources these metro cities are hubs of accessory designers in India
Time Pressure
Not Likely
As an accessory designer, there is a paucity of time only when there is a big project, and it needs to be done on an immediate basis.
Overtime Details
Individuals who opt for a career as an accessory designer work overtime, if there is a project to be completed or products need to be finalized and completed for client, collections or for fashion shows, then accessory designers tend to work overtime.
Weekly Hours of Work
Min 45 Hours
Work hours can increase depending on the nature of the work or the project. If there is a deadline to be met or an order has to be completed for a designer or a company, accessory designers sometimes work extra hours and even during the weekends. Suppose a fashion show is taking place during the weekend, where the accessory by the individuals who opt for a career as an accessory designer is being showcased then the designer has to work on the weekends as well.
How to become a Accessory Designer?
What are the skills and qualities required to become a/an Accessory Designer?
Creating lifestyle accessory design is not an easy task. There are several skills which an individual needs to have if he or she wants to become a successful accessory designer. Apart from designing skills the individual needs to have a good eye for detail, knowledge about the trends, needs to have tailoring skills and an exceptional understanding of colours. When it comes to how to become an accessory designer, the first thing that they should know about is the skills required to become an accessory designer. Some of the essential skills we have mentioned below.:
Eye for Detail: The job role of an accessory designer requires the individual to be detail-oriented as their creations ideally should have extremely fine details. These details will help the accessory to stand out from the rest. An eye for detail comes with keen observation skills. So, an accessory designer must have keen observation skills as well.
Excellent Designing Skills: It goes without saying that an accessory designer should have excellent designing skills. The ability to make something tangible out of a sketch requires excellent designing skills. It is an aspect one simply cannot just ignore. Individuals who opt for a career as accessory designers might have the idea and the understanding of the market and the human behaviour, but if that idea is not converted into something tangible then it would not do any good and will defeat the purpose altogether. In simple words, in order to be successful in product popularity, one must possess excellent designing skills.
Knowledge About Accessory Trends: No matter how beautiful the creation or the accessory might be, if it is not popular or liked by the target audience, then it would not do any good to the accessory designer. It is essential for the individuals who opt for a career as an accessory designer to have a thorough knowledge of the accessory trends doing rounds in the market. It is important for the designer to tap into these trends and create something which will be liked and bought by the customers. It is the duty of accessory designers to be up to date with the latest fashion trends in order to satisfy the customers.
Skills in Sewing, Cutting, and Stitching: Quite often accessory designers will have to work with fabric and textiles which will require sewing, cutting and stitching, hence, it is important for accessory designers to master these skills. A wrong cut here and a weak stitch there can make a huge difference in the overall design and stick out like a sore thumb. An accessory designer's technical skills such as sewing, cutting and stitching complement well with the creative skills and will help the designer to scale new heights.
Understanding the Theory of Colour: Fashion is all about being colourful. The right colour combination will either help in making the dress and the accessory looks vibrant or it will stick out like a sore thumb. Having the knowledge of the theory of colours helps accessory designers to use the right colours on their creations which will enhance the look of the dress.
Business Sense: A number of accessory designers work on a freelance basis or have their own studios. Hence, it is important for them to have a sharp business sense. A complete understanding of important business aspects such as finance, sales, and marketing are areas that are essential to master in order to make a name in the fashion industry. Creativity might be important in the fashion industry, but if the individuals who opt for a career as accessory designers do not have good business sense, then he/she tends to close down the shop sooner or later. It might come up as a surprise (or not), but a majority of talented designers end up being bankrupt or have to close their practice as they have absolutely nil business sense.
Competitive Spirit: It is important for a fashion designer to continuously create innovative designs, which in turn will be become trends. In order to inculcate this, one has to be fiercely competitive. A competitive spirit will egg-on the designer to create original designs that are inventive and trendy. It is important for a designer to remain motivated at all times. If there is an absence of motivation, an accessory designer will never be able to create something unique.
Transform your Career with Popular Online Design Courses and Certifications
Which certifications and internships can be helpful in becoming Accessory Designer?
Are you planning to opt for a career as accessory designer? We have a list of certification courses that you may opt to upgrade your skills and knowledge.
Internship Availability
Yes
Those who are interested in working as accessory designers can seek internships during their initial phase. There are plenty of internships available under big fashion houses, brands and designers who are on a lookout for interns. A majority of fashion accessory design interns work on private projects. Most of the interns often use this platform to learn, understand and adapt to the basics of the fashion industry. These internships can also be used to make contacts in the industry. Just like regular accessory designers, interns can work design studios, workshops. Most of the time, an accessory design intern is required to work from studios or workshops. Fashion accessory design interns don't have the option to work from home. Interns often do primary research and surveys to understand the target group. Interns also tend to assist the lead designer in creating designs.
Career Path Progression for Accessory Designer
An accessory designer usually starts as a fashion accessory design intern and then goes on to join a design firm or a company on a permanent basis as an assistant accessory designer. After a couple of years of experience, the lifestyle accessory designer gets promoted as a lead accessory designer. There are also a number of freelance accessory designer jobs that the individual can take up and later on create his or her own clientele.
List of jobs according to progression
Design interns: To begin with, design interns are often asked to search for new markets for a design. Creating prototypes of designs, selecting the fabrics, designs and colour scheme are form a part of a design intern's job profile. Certain companies or design houses also depute interns to choose a theme or a design for specific collections. Software such as CAD (Computer-Aided Design) is also used by interns to create designs. Design interns are also attending fashion shows to get a look and feel of the fashion industry. Certain interns are also required to manage the production of specific pieces.
Assistant Accessory Designer: Assistant accessory designers are required to do multiple functions. Assistant accessory designers are often required to work with the lead designer and the product designer for certain inputs. Lifestyle accessory designers also conduct surveys to have a thorough understanding of trends popular with the consumers and also grasp the competitor's product. It is also the duty of the Assistant Accessory Designer to develop product design guidelines. If working for a company, an assistant accessory designer will be required to meet business goals. Sometimes assistant accessory designers are also required to collect feedback from the customers.
Lead Accessory Designer: Lead accessory designers are overall in charge of the design of the product and its utility. Often lead designers are required to anticipate and designs that have the possibility of being a hit among the users. Lead accessory designers are often required to decide the theme of a particular collection. They also work with other teams and accessory designers to create a prototype design. Often it is the lead designer who showcases or presents the idea to the directors of a company in order to create a prototype design. They often, visit various manufacturers or trade shows to get fabric samples. Ultimately it is a lead accessory designer who has the final say when it comes to the design element of a product.
What is the job outlook for Accessory Designer?
With people getting increasingly fashion conscious and with the rise in the spending power of the masses (especially the youth), there is a great demand for talented accessory designers across the world. There are several accessory designer jobs all over the world. Individuals who opt for a career as accessory designers can work with export houses, retail chains jewellery houses, leather companies as lead accessory designers. There are also a lot of freelance accessories design jobs, which are availed by a lot of design companies. Once a designer has built himself or herself some reputation, then there will be no dearth of freelance opportunities. The market for individuals who opt for a career as an accessory designer is hot and this is the right time to pursue this career. These days almost every other major city is having its own fashion shows; accessory designers are required for designing accessories for such fashion shows. As there is a good amount of versatility involved, the scope for an accessory designer is limitless. The demand for quirky fashion accessory designers is huge in India as well as abroad.
Student Also Liked:
Frequently Asked Questions for Accessory Designer
Que. What is the salary of an accessory designer?
Ans.
An entry-level accessories designer salary can be anything between Rs. two lakh to Rs four lakh, depending on the place of employment, company profile, and the skills of the designer. For a mid-level position, the salary can be anything between Rs. Four lakh to Rs. Six lakh again depending on the place of the employment, company profile, skills of the designer and the experience. At the top level, accessory designers earn anything between Rs. Eight lakh and above.
Those who are freelancers, their earnings vary greatly as it depends on the experience of the designer, type of client and the work requirement.
Que. What is considered as an accessory?
Ans.
Items such as jewellery, gloves, handbags, hats, belts, scarves, watches, sunglasses, pins, stockings, bow ties, leggings, ties, suspenders, and tights. Accessories add color, style, and class to an outfit, and create a certain look, but they may also have practical functions.
Que. What is the importance of fashion accessory design?
Ans.
Accessories give more importance to a person's personal style, taste, and preferences. Accessories also offer unlimited opportunities for clothes and help an individual to wear the best of each item. Clothes take up more space physically in your closet and clothes, but accessories are important details to complete each appearance.
Que. What is accessory design in NIFT?
Ans.
Accessory Design is a 4-year undergraduate Fashion and Interior Design course. Accessory Design is a supportive activity of fashion; it has to do with apparel and apparel-based products. The discipline also includes a design with items like jewelry, shoes, footwear, or bags.
Que. What is the meaning of clothing accessories?
Ans.
Accessories are items of equipment that are not usually essential, but which can be used with or added to something else in order to make it more efficient, useful, or decorative. Accessories are articles such as belts and scarves which you wear or carry but which are not part of your main clothing.
You might also be interested in
The question have been saved in answer later, you can access it from your profile anytime.
Access now
Report Question
Select your reason of reporting