Who is a Laboratory Technician?
A lab technician is as important in a lab as a remote to a TV ~ Anonymous
A doctor may have the knowledge to carry out cardiac surgery but even they need assistance around several equipment. A medical or a scientific laboratory requires a lab expert who can navigate through all the complex equipment either used in conducting research or a surgery. If you wish to be a part of the lab technician career where you can contribute in your way becoming a laboratory technician is a possible career choice. Laboratory technician jobs are the backbone of a scientific research lab. Their work is almost entirely laboratory-based and technicians may work alone or as part of a team of scientific staff. Individuals who opt for a career as laboratory technicians can work in most areas of science including forensics, health, and manufacturing. The area a laboratory technician works in will largely dictate the work they do. If they're in a medical environment, the laboratory assistant might be analysing body fluids or tissues, conducting blood tests, and examining cells. If they work for a food and drink manufacturer, these lab experts might be testing food and drink samples to detect contamination or ensure quality. Here we will be providing you with how to be lab technician and what is lab technician.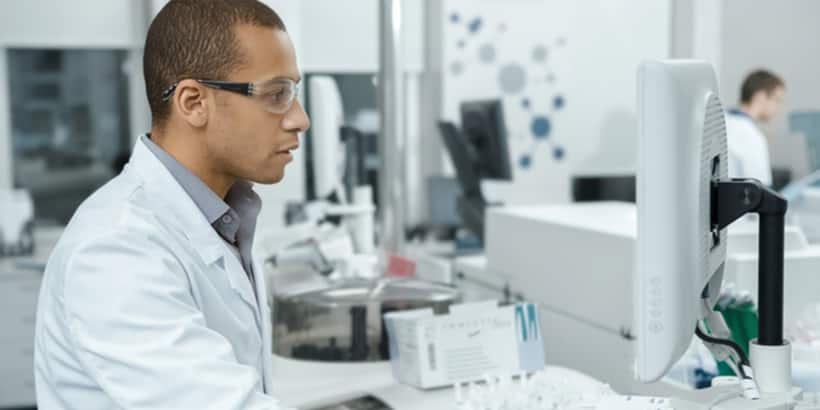 Laboratory Technician in a Nutshell
Individuals who opt for a career as laboratory technicians collects and processes specimens, including skin and bodily fluid samples, from patients in a hospital or private medical diagnostic laboratory. Blood work technicians work under a laboratory technologist's supervision using procedures that help medical professionals diagnose diseases, plan treatments, and ascertain their effectiveness. Medical laboratory technician and laboratory dental technician is the alternative title for laboratory technician jobs.
Quick Facts for Laboratory Technician
Industry

Technology

Average Salary in India

₹40000

Suitable for

Male, Female, Others

Individuals can take up a career as laboratory technicians, it is not gender-specific. Men, women, and others can choose a career as laboratory technicians. It doesn't matter which gender he/she belongs to when it comes to becoming a laboratory technician. Being a laboratory technician is one of the most desired professions where an individual's gender is insignificant.

Any special needs

Yes

Individuals with physical disabilities are appropriate to opt for a career as laboratory technicians. The career as a laboratory assistant demands frequent movement, eye to detail, consciousness and good communication skills. Lab experts are required to be mentally and physically fit. They need to perform several tasks that should be carried out efficiently, missing out on the smallest detail may spoil the whole study or experiment.
What is the role of Laboratory Technician?
Individuals who opt for a career as laboratory technicians are skilled workers that work with complex systems or perform highly technical mechanical or diagnostic tests in medical or scientific laboratories. Depending on the field, technicians may work independently or under the direction of a professional. Lab technicians might collect samples, study and perform tests on body fluids, teeth, chemical compounds, biological specimens, or other fields of science. Individuals who opt for a career as laboratory technicians use various types of machinery, lab equipment, and complex computer programs to perform their tests. Lab techs also record their data or findings for study and scrutiny by doctors and physicians. Lab technician career need sterile environments, so lab techs must maintain a clean environment. Examples of lab technicians include laboratory dental technician, medical and clinical lab technicians, ophthalmic lab technicians, and dental lab technicians. Here we will be providing you with how to be lab technician and what is lab technician.
Equipment checks
Adjusting, calibrating, and ensuring that laboratory instruments and equipment are effectively functioning. Make sure that the laboratory is well-stocked and resources with sufficient supplies. After the work's done, clean the equipment as well the area. Laboratory equipment is used for conducting scientific research and experiments.
Experimenting and analyzing
Different people are assigned different work such as conducting experiments, gathering data, and carrying out the basic investigations assigned to the first group. Individuals who opt for a career as laboratory technicians prepare and conduct chemical and biological analyses, among others, as directed by the laboratory supervisor assigned to the second group, using specialized laboratory equipment and machinery when conducting experiments, taking and examining samples, and running scientific procedures assigned to the third group.
Assistance
Laboratory assistance ensures that all procedures are going well, from sample taking and testing to examining outcomes and experiments. Individuals who opt for a career as laboratory technicians ensure that all equipment is maintained properly and perform sample receipt functions as per laboratory protocols.
Conducting tests
Testing procedures and practices to ensure the veracity of resulting information. Maintaining detailed and accurate records of research findings; writing reports, reviews, and summaries: entering test results into a database, ensuring that all information is both current and accurate. Individuals who opt for a career as laboratory technicians use microscopes, laboratory machines, and computers to conduct tests.
Ensuring safety
Ensuring health, safety, and security procedures are followed, as well as the company's standards. Individuals who opt for a career as laboratory technicians make sure that all the equipment is maintained and cleaned properly. Take all the safety precautions before going to the laboratory such as eye protection, masks, hand gloves, and lab coats.
Types of a Laboratory Technician
We have provided below a description of types of laboratory technicians. Aspiring individuals may read the lab technician job description below and decide to further pursue a lab assistant career.
Medical Laboratory Technologist: Perform complex tests that help other healthcare professionals such as physicians detect, diagnose, and treat diseases. Complex tests and procedures are carried out by medical laboratory technologists that help physicians identify, diagnose, and treat diseases. Depending on where they work, medical laboratory technologists may conduct a variety of tests or specialise in one field. medical laboratory technologist job vacancy is growing rapidly in India.
Cardiovascular Technologists and Technician: Run tests on patient pulmonary and cardiovascular systems. They enrol patients by entering the anticipated date of service; checking medical records. Supports doctors in the diagnosis and treatment of cardiac and peripheral vascular disorders by having doctors wind the catheter across the blood vessel of a patient to the heart.
Diagnostic Medical Sonographer: Diagnostic medical sonographer's primary role is to conduct accurate ultrasound tests of a specific region of the body, based on the order of a doctor. Ultrasound scans of the heart and cardiovascular system are conducted by diagnostic medical sonographers to diagnose arterial, vein or heart blockage. Lab technician career is all about creating ultrasonic recordings of patient-internal organs.
Respiratory Therapy Technician: A respiratory therapy technician in the field of respiratory medicine is an entry-level specialist. The respiratory therapy technician job description includes working for people with conditions like influenza, asthma, and chronic bronchitis under the supervision of a respiratory therapist. When a medical procedure has been developed, the respiratory technician works closely with a patient to ensure that medications are appropriately obtained, maintains a record of the therapy of the patient, and reviews the response of the patient to care.
What is the workplace/work environment of Laboratory Technician like?
Individuals who opt for a career as a laboratory technician work in the laboratory with their microscope and other instruments. He could be a general technician or a specialist in particular subjects like chemistry, microbiology and more. There is scope for both kinds because it's ultimately helping physicians and specialists treat their patients accurately. Most of the testing laboratories are located either in the hospitals or nearby. These days a lot of diagnostic centres are cropping up across various parts of the city, creating umpteen job opportunities for lab technicians, particularly in metros.
Does Laboratory Technician require travelling?
Not Likely
A laboratory technician job does not involve travelling since their work is generally lab-based. But, it also depends on the organisation that lab assistants are working for. They may have to travel from one lab to another in order to fix equipment as and when required.
Employment Shifts
Full Time
Laboratory technician jobs are full-time based. They may be called in order to work for extra hours depending on the requirement of the recruiter.
Employment Nature
Permanent
Most laboratory technicians work full time, though their shifts may extend past the usual eight hours. Individuals who opt for a career as laboratory technicians may also have to be on call at night and during weekends and holidays depending on the requirement of the recruiter.
Work Place
Office
The nature of the employment of a laboratory technician is permanent. Laboratory technician jobs in government/government organisations or private institutions but the job is mainly permanent in nature.
Presence in Geographical Area
Semi-urban, Urban
Individuals who opt for a career as laboratory technicians mainly work in urban or semi-urban locations. It depends on where the lab is located. Laboratory technicians rarely work in a rural set-up since they hardly have any labs in rural locations. Therefore, they work in urban or semi-urban locations.
Time Pressure
Not Likely
The work pressure for Laboratory technicians is considered moderate. Laboratory technicians usually work indoors in labs conducting technical checks and preparing equipment for a particular project field. They are usually required to work at least 40 hours per week. Individuals who opt for a career as laboratory technicians may sometimes work irregular hours to monitor experiments that can't be completed during regular working hours.
Overtime Details
Individuals who opt for a career as laboratory technicians are usually required to work at least 40 hours per week. Sometimes, when the work pressure is more and they are required to accomplish a project in less time, their working hours may extend to 45-50 hours per week. They may also be required to work in a day, evening, or night shifts if working in production.
Weekly Hours of Work
Min 40 Hours
A laboratory technician works for a minimum of 8 hours every day. The work hours depend on which shift their duty falls in. The working hours may be extended depending on the requirement and the length/duration of the tests or experiments. Individuals who opt for a career as laboratory technicians can also be called to work on a holiday or a weekend if the need arises.
How to become a Laboratory Technician?
What are the skills and qualities required to become a/an Laboratory Technician?
When it comes to how to become a laboratory technician, the first thing that they should know about requirements to become a laboratory technician. Some of the essential laboratory technician skills we have mentioned below.
Self-reliant: It's important to have self-reliance for multiple purposes. The most noticeable is that relying on others for assistance, implies there will also be times when it's not convenient. Self-reliance is essential too, as it can effectively make judgments by itself. A laboratory assistant is expected to be independent. They should be able to carry the various tasks that they are responsible for independently.
Attention to Detail: Attention to detail means having the ability to effectively allocate your behavioural resources needed to accomplish tasks in terms of comprehensiveness and precision. Attention to detail enables us to communicate efficiently to focus on improving productivity, effectiveness, and performance in the working environment. The job of a laboratory technician expects them to be able to give attention to even the minute details of work.
Communication Skills: Communication in the workplace is essential to businesses because it helps businesses to be constructive and operate more efficiently. Workers could notice an increase in performance, efficiency, and engagement if they can interact within an organisation. Since a laboratory technician is supposed to carry out various tests/experiments as well as keep various records it is necessary that they have a good command over their oratory as well as their written skills.
Teamwork: Team-work creates an environment that encourages dedication and companionship. These close-knit social interactions provide organizational productivity and integrate them to work harder, cooperate, and encourage each other. Individuals who possess various skills, strengths, ability to communicate, attitudes and behaviours. A laboratory technician may work with a team of people. In that case, they need to have the spirit of a team player.
Analytical Skills: Analytical skills depend on the ability to analyze and interpret relevant data, solve problems, and making choices. Workers that have these abilities could even fix complex issues of a company as well as improve performance and effectiveness. Analytical skills may exactly look like technical skills however in professional life people use those skills. A laboratory assistant is supposed to write the analysis of various tests he/she carries out.
Time Management: Time management is essential to get higher productivity in the organization. Time management is key to reducing stress in the workplace. Developing a better and devoted work environment is very important. Time management is important for the effective and effective management of organizations, projects, and all business operations. They should be able to manage their time wisely.
Compassion: Compassion in action is compassion and understanding and caring. Humans can face tough times with ingenuity and perseverance by being accessible to others. Emotional intelligence helps everyone to respond to others. This helps others to get things accomplished and to live with the pressures and the challenges of management. Empathy is needed when working closely with patients who may be suffering from pain or emotional stress.
Dexterity: Dexterity is the willingness to comprehend and control things by trying to make organized hand gestures. Advanced manual dexterity includes the capacity to plan and perform specific tasks with cognitive skills. For an individual to experience and gain knowledge about his or her surroundings of the workplace, these skills are essential. Lab techs work with their hands and will need the dexterity to work with small vials, test tubes, and delicate lab equipment.
Physical Strength: Physical strength is required to conduct excellently in several of jobs nowadays. Even then, there are always a lot of significant professions that involve a considerable level of strength to be eligible to perform at the highest level, in terms of cognitive abilities. Labour technicians work on their feet for long days, occasionally knocking things over a workstation for long periods of time.
Technical Skills: There are numerous reasons why technical skills are particularly important. Individuals could really assist to work more effectively, increase confidence, and make one a more valuable candidate. Besides that, workers with technical knowledge often become more productive in a highly competitive and dynamic position. Labour technicians, therefore, need to understand the fundamental laboratory machinery and computer programmes which are used for experimentation.
Which certifications and internships can be helpful in becoming Laboratory Technician?
We have mentioned below certifications that individuals may opt who want to establish a career in the field as Laboratory Technicians.
Internship Availability
Yes
Laboratory technician jobs help a student in his career in terms of gaining knowledge about the field, or making contacts or at times one can also be absorbed in an organisation to work on a full-time basis. When it comes to this field internships are very important since they give hands-on experience. Individuals who opt for a career as laboratory technicians value pre-entry experience in a laboratory, as it not only demonstrates experience with lab procedures as well as shows commitment and interest in the field. Lab technician employment is growing rapidly in these days. If your degree doesn't include a year in industry, try to gain some part-time or voluntary work in a laboratory or scientific setting. You could approach employers to see if it would be possible to work-shadow someone in biology technician jobs and lab technologist jobs. In this current scenario of COVOID-19, laboratory career is growing rapidly.
Career Path Progression for Laboratory Technician
One can progress in the lab assistant career over time and acquire senior roles. We have provided a list of laboratory technician career progression job roles.
Assistant Technician: An assistant technician, is a support professional in a professional facility, for example, a healthcare facility. They work in both office administration and clinical services. In the office, these types of laboratory technician jobs include scheduling appointments and handling insurance forms.
Technician: A technician is someone who has knowledge and training in a technical process. Technicians are not always associated with technology. If a painter or a musician is trained in various artistic, or musical techniques, he or she can also be called a technician.
Senior/Lead technician: A lead technician performs various tasks, depending on the company and industry. He sets up, tests and adjusts a company's production machinery and equipment. He also engages in maintenance work on such machinery.
Team Leader Technician: The technical team leader is responsible for developing and installing software for their organization's computer systems, as well as troubleshooting technical problems for the successful execution of projects.
Laboratory Manager: A laboratory manager assists with and supervises the maintenance of the lab and equipment. These types of laboratory technician jobs include inspection, cleaning, calibration, testing and repair of lab equipment; and organization and cleaning of the lab, including preparation and storage rooms.
Laboratory Technician Jobs and Salaries
Laboratory manager
Monthly Salaries
Average Salary

40000

Junior Level Salary

30000

Senior Level Salary

90000
Job Description
The laboratory managers group their organisational knowledge and expertise of safety and laboratory processes to ensure efficient process of laboratories. Administration responsibilities commonly involve staff work schedules, rearrangement of supplies, and maintaining safety requirements.
Salary Description
The salary of this industry depends on knowledge and experience. The entry-level salary could be up five lakhs per year and eventually, it could be above twelve lakhs per year depending on the skill of the Laboratory manager.
What is the job outlook for Laboratory Technician?
Individuals who opt for a career as laboratory technicians have a vital role to play because the treatment that the doctors do on the patients is based solely on the test results. Other than lab technicians, work areas also include conducting research but after adequate training by expert researchers. Lab technician jobs in govt. sector are considered to be positive at the moment.
Between 2010 and 2020, a laboratory technician's employment has increased at a rate of 11 per cent, leading to an estimated 19,200 new positions. The job market scenario for a laboratory technician is quite bright in the times to come. As more research labs are being conducted from the government sector as well as the private sector. Lab technician employment is growing rapidly in these days. You could approach employers to see if it would be possible to work-shadow someone in biology technician jobs and lab technologist jobs. People are investing in the creation of more hospitals in the country. Therefore, it will lead to an increase in demand for a laboratory technician as they are considered as the backbone of any hospital lab or a science lab. Not only that, according to a study several specialists are going to have their own clinics instead of working for a hospital, so this would further increase employment opportunities for an individual who wishes to be a laboratory technician. In this current scenario of COVOID-19, laboratory career is growing rapidly.
Frequently Asked Questions for Laboratory Technician
Que. What is the difference between a Medical Laboratory Technician and a Laboratory Technologist?
Ans.
Medical laboratory technician and laboratory technician are related occupations that are easily confused. However, educational preparation and duties differ considerably for these two jobs. Technologists must earn a bachelor's degree and therefore have a more extensive training and theoretical knowledge base than technicians, who need only an associate degree.
Technicians collect, process, and analyse specimens. They perform lab procedures and maintain instruments. In addition to these procedures, technologists execute sophisticated analyses—evaluating and interpreting results, conducting research, developing new methods, and supervising technicians.
Que. What are the Workplace Challenges of a laboratory technician?
Ans.
Lab technicians come into contact with infectious specimens and toxic chemicals, so they must take the proper precautions, including wearing protective clothing and eyewear, to decrease their risk of exposure to these dangerous substances. They spend a lot of time on their feet. Accuracy and attention to detail are extremely important in this work, so those who lack these strengths should pursue a different career path.
Que. How do you keep up with training for safety in the laboratory setting?
Ans.
This is important to ask because it demonstrates the lab assistant's commitment to maintaining a safe work environment. The ideal candidate keeps up to date on material safety data sheets (MSDSs) and best practices for safety. The candidate should know how to conduct safety drills and be able to explain the safety devices and procedures in place in their laboratory.
Que. What safety procedures does a laboratory technician use when working with hazardous samples such as bodily fluids?
Ans.
This is an essential question to ask, especially if your laboratory uses samples collected from humans or if it uses any pathogenic material that could cause human illness. The ideal lab assistant knows how to safely handle the specimens and protect both the specimens and themselves from contamination, infection or other types of harm. Knowledge of proper safety procedures is essential to maintaining a safe environment.
Que. How do laboratory technicians make sure that all research notes are accurately recorded while you work on an experiment?
Ans.
You should ask this question because every step of a scientific experiment in the lab must be repeatable in order to be published in a scholarly journal. The answer to this question tells you how organized the lab assistant is while doing their work. Their answer also demonstrates that they know the importance of accurate note taking while they conduct their research.
Que. Which types of laboratory tests do laboratory assistants perform on a routine basis, and are there any tests that one may find particularly challenging to do?
Ans.
You should ask a lab assistant this question because their answer demonstrates their ability to do the tests that are routinely performed in your laboratory. You may prefer a candidate who is already familiar with how to do many of the procedures required for the job so that less training is required.
Que. Name some of the colleges for laboratory technician.
Ans.
Some of the colleges for laboratory technicians are:
You might also be interested in
Questions related to Laboratory Technician
Showing 3 out of 3 Questions
63 Views
Diploma in medical lab technology Or Diploma in X-Ray technology! Which Course is easy to learn for both of us?
Hello,
Diploma in lab technology is always better to make a good career. Though the ultimate decision should based on your own choice of interest.
Career opportunities for lab technology :-
Medical Laboratory Technician
Clinical Laboratory Technician
Clinical Laboratory Technologist
Medical Laboratory Technologist
Average salary is around 10k to 4 Lakhs per annum.
Career opportunities for x ray technology :-
X-Ray Technician
Physiotherapist
Radiation Protection Specialist
Average salary is around 7k to 10k initially.
Hope for the best.
Thank you.
853 Views
Which field is good for female - MLT Or RIT?
HI Aspirant,
Nowdays there is no job as such that is good for male or good for female.Nowdays jobs comes for both male and female.However BSC in MLT is quite a good career choice.Candidates can work as Medical Laboratory Technician, Clinical Laboratory Technician, Phlebotomist, Clinical Laboratory Technologist, Medical Laboratory Technologist, Lab Technologist, Biochemist, Medical Phlebotomist etc. Job opportunities are quite good in this line.
Hope it helps!!
944 Views
contribution of Robert Koch. .
Dear student,

Robert koch was a German physician and microbiologist .

He discovered the anthrax disease cycle, and the bacteria responsible for tuberculosis, and cholera.

He is therefore well known for his contribution in Discovery of bacteriology Koch's postulates of germ theory Isolation of anthrax, tuberculosis and cholera.
The question have been saved in answer later, you can access it from your profile anytime.
Access now
Report Question
Select your reason of reporting