Who is a Perfusionist?
A good perfusionist treats the disease, the great perfusionist treats the patient who has a disease ~ William Osler
A perfusionist, also known as clinical perfusion scientist. He or she is a healthcare professional responsible for operating the cardiopulmonary bypass machine during cardiac surgery and other such surgeries that require a cardiopulmonary bypass to manage the patients' physiological status. A perfusion career provides you the opportunity to be the member of cardiovascular surgical team. In this role, you will help them in maintaining the blood flow to the body's tissues and also regulate the levels of oxygen and carbon dioxide in the blood. Perfusionists are required to handle a number of responsibilities while coordinating with the team members which includes cardiac surgeons, anesthesiologists, and residents. A career as perfusionist comes with responsibilities for conducting the extracorporeal circulation as well as he or she ensures the management of physiologic functions by monitoring the necessary variables.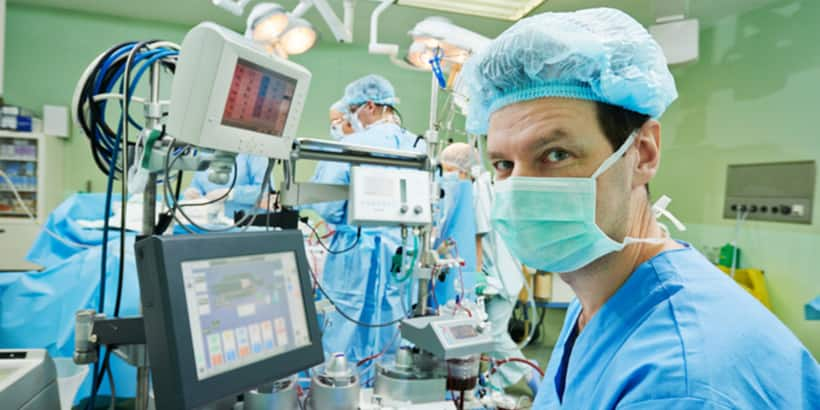 Perfusionist in a Nutshell
Perfusionists are highly skilled professionals and critical members of the heart surgical team. A perfusionist is primarily responsible for working in cardiovascular surgery, but they also participate in blood conservation. They are also required to provide long-term support for respiratory failure, help in the treatment of cancerous tumors, and organ transplants. A career as a perfusionist comes with duties in rotational shifts. He or she works in a hospital setting on a rotating schedule and remain on call for emergency situations. Perfusionists are also responsible for providing consultation to the Physician in selecting the appropriate equipment and techniques to be considered in the application.
Quick Facts for Perfusionist
Industry

Healthcare

Suitable for

Male, Female

Anyone can choose to become a perfusionist. The profession is gender-neutral. Anyone with the perfect training to operate heart-lung machines during heart-open surgery can opt for a career as Perfusionist.

Any special needs

No

A career as a perfusionist requires the person to be detail-oriented and considerate because operating on a person's body is a matter of extreme patience and seriousness. Hence, people who are physically well can only perform the duties and responsibilities of a perfusionist.
Table of Contents for Perfusionist
What is the role of Perfusionist?
A career as perfusionist comes with a variety of responsibilities such as operating the heart-lung machine, which is an artificial blood pump that launches oxygenated blood to the patient's tissues while the surgeon operates on the heart. Perfusionists are responsible for managing the physiological and metabolic demands of the patient while the cardiac surgeon operates on the heart. A Perfusionist career requires to have a thorough knowledge and understanding of the equipment available for the use of extracorporeal circulation function and are responsible for the consultation of the surgeon for selecting the accurate equipment and techniques to be used.
Management
The perfusionists are responsible for managing various things such as ensuring the perfusion-related services are provided within the hospital at all times. They are also responsible for the smooth, efficient, and cost-effective running of the perfusion running. They are also required to maximize flexibility, teamwork, and innovative working practices. Perfusionists must ensure that efficient use of perfusion resources are applied.
Supervision
The perfusionists are required to ensure that the needs of the patient are placed at the center of care delivery. They are also required to make sure that there are systems in place that implies the provision of care takes place in a suitable and safe environment. Additionally, the perfusionists are responsible for ensuring the proper working of the equipment to be used in the cardiovascular and cardiopulmonary operations.
Staff management
As a perfusionist, they are responsible for working in partnership with the support staff to ensure that care, treatment, and service needs are met. They are also required to ensure that the operating team comes up with the most effective and standard approach to the delivery of excellent service.
Maintenance work
The perfusionists act as clinical experts within the hospital, which includes the dissemination of specialist skills and knowledge to all disciplines within the hospital. They are also required to deal with carers and direct patient contact, in difficult and stressful situations. The perfusionists maintain and promote effective communication within all the members of the multidisciplinary team and all hospital departments.
Research work
In certain situations, when required, the perfusionists are required to undertake a local audit and research, ensuring the findings are disseminated appropriately and recommendations are implemented. They also support departmental research as required and utilize the information to ensure the clinical practice is research-based. They also plan and obtain ethical approval whenever necessary.
Equipment use
The perfusionists are responsible for operating the cardiopulmonary bypass machine during cardiac surgery and other such surgeries that require a cardiopulmonary bypass to manage the patients' physiological status. The perfusionist conducts the extracorporeal circulation as well as they are responsible for ensuring the management of physiologic functions by monitoring the necessary variables.
Types of a Perfusionist
Radiology Technicians: Radiology Technicians are the professionals who work as an assistant to the radiologists and help them in diagnosing and treating patients using diagnostic imaging examinations like X-rays, CT scans, and MRI scans. They also prepare patients and equipment for radiology procedures, performing tests, and maintaining the equipment is also one of their job duties.
Registered Nurse: Registered nurses are the professionals who work in hospitals, physician's offices, home healthcare services. Their job duties include providing patient care, coordinating, and educating patients and the public about various healthcare conditions.
Cytotechnologist: Cytotechnologists are professionals who study cells and cellular anomalies. They use microscopes to examine slides of human cells for any abnormalities regarding cells. Their job is to prepare and analyze samples, such as Papanicolaou (PAP) smear body fluids and fine needle aspirants (FNAs), to detect abnormal conditions.
Respiratory Therapist: Respiratory therapist is a medical professional who provides healthcare for the lungs. Respiratory therapists have advanced knowledge of high-tech equipment, such as mechanical ventilation.
What is the workplace/work environment of Perfusionist like?
Perfusionists are required to work in operating rooms in hospitals and surgical centers during heart and lung surgery, and they also work in ICUs. A career as a Perfusionist comes with team work. He or she is a sole member of the surgical team. Perfusionists are expected to be up to date with the patient's medical history and current health status. Before beginning the surgery, the perfusionist and the surgeon determine which operational equipment and techniques are to be used. This section contains in-depth details about the work environment of the perfusionist.
Does Perfusionist require travelling?
Not Likely
A career as a perfusionist requires little or no traveling. Since, Perfusionists are required to perform work responsibilities in one healthcare area and hence, generally spend 90 per cent of their time in the OR suite for cardiac cases. In other cases, they find their responsibilities extending to areas such as the cardiovascular intensive care unit (CIVIC) and catheterisation laboratory.
Employment Shifts
Full Time, Part Time
Depending on the requirement or the demand, a career as perfusionist may provide full-time or part-time employment opportunities. However, in most cases, a perfusionist is hired on a full-time basis.
Employment Nature
Permanent
Perfusionists are hired by the employers on a permanent basis. Hence, the nature of work for a career as a perfusionist is permanent. Medical centers or third-party perfusion companies hire these professionals for permanent role.
Work Place
hospitals
Perfusionists are mainly required to work in operating rooms in hospitals and surgical centers during heart and lung surgery, along with this, they also work in ICUs.
Presence in Geographical Area
Semi-urban, Urban
Tier-1 cities such as New Delhi, Gurgaon, Chennai, Kolkata, Hyderabad, Bengaluru, Pune are a big hub for world-class healthcare treatments. Such metropolitan cities provide alluring opportunities for a career as Perfusionist. Perfusionists in Chennai, Tamil Nadu earn an average of 10.6 per cent more than the national average.
Time Pressure
Likely
Time pressure is high in the career as Perfusionist. Typically, perfusionists are required to work a regular 40-hour per week, but they also might be required to be present on call on some nights, weekends, and holidays. Depending on the operation, call responsibilities can get rigorous. In certain facilities that perform a large number of cardiovascular and cardiopulmonary surgeries, perfusionists may work in shifts to ensure that a trained perfusionist is available 24 hours a day.
Overtime Details
A career as a perfusionist comes with varying working hours as he or she must answer the call of surgical and medical emergencies when needed. Many perfusionists are also required to assist in philanthropic cardiac surgery missions. They might work overtime if the surgery stretches to be too long.
Weekly Hours of Work
Min 45 Hours
Usually, a career as a perfusionist comes with a regular schedule of working eight hours per day starting from 9 AM to 6 PM. However, depending on the requirements and the surgery schedules, the perfusionists might be required to work extra hours
How to become a Perfusionist?
What are the skills and qualities required to become a/an Perfusionist?
Patience: Perfusionists face critical situations where they are required to stay calm and make decisions that might be an important factor in a patient's future. The perfusionists are one of the most essential members of the surgery team. The work they do helps in keeping critically ill and medically unstable people alive. Situations like these required them to stay calm and level-headed.
Physical Strength: In order to have superior stamina and mental focus, perfusionists are required to stay fit and keep themselves healthy. Their profession requires them to stay alert and during operations that could last as long as 6-8 hours or more which isn't possible without mental stamina and irresistible focus.
Communication Skills: The ability to communicate effectively is one of the most necessary skills required by perfusionists in order to perform their job duties. The team working for an operation must be closely knitted which can be achieved through strong communication, communicating effectively becomes important in a high-stake team environment.
Science Skills: Nothing can be achieved without deep understanding and interest in the subject. In order to become a perfusionist along with excelling in the career, it is important for the candidates to have a deep interest in science and technology. A good academic background is a non-negotiable requirement in the profession that can be achieved through knowledge and a deep interest in science and technology.
Attention to Detail: Perfusionists are required to make important decisions during operations. Hence, they are required to pay meticulous attention to detail to produce highly accurate work even when under pressure. Paying attention to small details is essential during the operation.
Critical Skills: Management of cardiovascular operations requires sharp critical thinking skills which involve using logic and reasoning to identify the strengths and weaknesses of alternative solutions, conclusions, or approaches to problems. Hence, perfusionists are required to exhibit strong critical thinking and analytical skills which can be used in tough situations.
Learning Skills: Learning skills are one of the important skills required to become a perfusionist which involves learning tasks like conducting tests and inspections of equipment, services, or processes to evaluate quality or performance, adjusting actions in relation to others' actions, determining the kind of tools and equipment needed to do a job, controlling operations of equipment or systems, and selecting and using training/instructional methods and procedures appropriate for the situation when learning or teaching new things.
Popular Online Medicine Courses and Certifications
Which certifications and internships can be helpful in becoming Perfusionist?
Internship Availability
Yes
Internships are a great way to learn and develop technical expertise in the industry and have a comprehensive understanding of all the factors responsible for cardiac surgery. In order to get these internships, students are required to follow the eligibility criteria specified by each health organization. Students with excellent medical records and practical understanding are the first choice of healthcare organizations. Also, students in their final year of study programme are eligible for the internship. Students learn various industrial critics and operations performed in the medical houses outside the surgery room. They are introduced with various technical and critical equipment with relevance to their applications in cardiovascular and cardiopulmonary surgery.
Also read - Career as operation theatre technician
Career Path Progression for Perfusionist
There are several job roles with various titles in a career hierarchy. There are specialised Perfusionist such as Cardiopulmonary Perfusionist, Cardiovascular Perfusionist, and Cardiac Perfusionist. With the experience in the career you progress from being a junior perfusionist to a senior perfusionist. We have described the roles that comes with various titles in the perfusionist career.
Junior Perfusionist: Junior perfusionists are the professionals who work under the supervision of senior perfusionists. Their job duties include setting up and operating heart surgery equipment during surgical procedures. They are also required to adjust and monitor equipment functioning to ensure the patient is safe. Additionally, they are required to operate heart/lung machines needed for complete or partial cardiopulmonary bypass or in cases of respiratory failure. Junior perfusionists also perform procedures utilizing the intra-aortic balloon pump, cell saver, ventricular assist devices and other equipment.
Senior Perfusionist: Senior perfusionists work as a lead supervisor and are required to handle the juniors working under them. They are required to participate in an integrity effort by trying to identify potential issues and working internally to manage resolution. They update and create trend star tables, databases, and offline backup. Managing accessibility by moving files in Trendstar for regional users, participating in trendstar upgrade procedures and assists with testing and auditing, and recognizing unique capabilities of each reporting system (SQL, DataWarehouse, Care Science) to determine best reporting sources are some of the job duties of a perfusionist. They are also required to maintain detailed documentation of information requests, query criteria and data distribution, generate, prepare, and update production reports monthly, quarterly, and annually.
Medical Supervisor: The medical assistant supervisor is responsible for providing supervision and leadership to ensure outstanding patient care in the primary care/medical home model environment. A medical supervisor provides leadership and support to the care team by effective utilisation of health information technology, timely administrative decision-making, care loop completion, and documentation enabling other members to practice at the top of their scope of practice. They function under the direct supervision of the clinical director. When performing clinical tasks during patient care functions under the authority of the physician or licensed independent practitioner. T
Cardiopulmonary Perfusionist: A cardiopulmonary perfusionist provides support in conducting error free heart surgery. An open surgery requires the application of highly technical tools that involve modern medical technology. It includes other procedures such as coronary artery, bypass grafting, cardiac valve repair or replacement, correction of congenital defects and several other procedures. A cardiopulmonary perfusionist works with a team of heart surgeon, an anesthesiologist, nurses and other technicians.
Cardiac Perfusionist: A cardiac perfusionist is also known as perfusion technologist. He or she is a certified clinical perfusionist. A cardiac perfusionist training period duration is two years. He or she provides support to team of medical professionals in performing cardiac surgery. A bachelor's perfusionist degree is the minimum academic requirement for this role.
What is the job outlook for Perfusionist?
Cardiovascular disease is most prone to aged people, so more patients are required to be treated with open-heart surgery. Perfusion is also being gradually incorporated into more types of surgeries which involve the correction of congenital heart defects, treatment of heart disease, chemotherapy treatments and emergency trauma cases. With each and every medical organization, comes the big medical staff that is the topmost requirement of these medical firms. Studying these factors, it wouldn't be wrong to say that the job market scenario for a career as a Perfusionist is quite excelling and is expected to increase exponentially in the coming years. In the future, surgical technology professionals are expected to experience a 15 per cent job growth between 2014-2024, and cardiovascular technology professionals are expected to experience 22 per cent job growth between 2014-2024. Both of these rates are much faster than average job growth. Demand for perfusionists exists due to the aging Indian population, who are prone to experience high rates of cardiovascular diseases and may increase the future volume of cardiac surgeries, which results in an exponential increase in the need for perfusionists.
Student Also Liked:
Frequently Asked Questions for Perfusionist
Que. What is a perfusionist salary?
Ans.
For an entry-level perfusionist, with less than one year of experience, the average total pay is somewhere between Rs. 3.5 lakh per annum which includes bonuses, tips, and overtime pay. After gaining experience for two to three years, the average salary for perfusionists goes as high as Rs. 5 lakhs per annum. The highest pay for an experienced perfusionist with six to eight years of experience is Rs. eight lakhs per annum.
Que. What does a perfusionists do?
Ans.
A perfusionist performs a variety of jobs such as operating the heart-lung machine, which is an artificial blood pump that launches oxygenated blood to the patient's tissues while the surgeon operates on the heart. The perfusionists are responsible for managing the physiological and metabolic demands of the patient while the cardiac surgeon operates on the heart.
Que. What are the various perfusion technology courses?
Ans.
B.Sc. Perfusion Technology
B.Sc in Cardio Pulmonary Perfusion Care Technology
P.G. Diploma in Cardiac Pulmonary Perfusion Technology
Diploma in Perfusion Cardiac Surgery Technician
Post Graduate Diploma in Perfusion Technology
Diploma in Perfusion Technology
You might also be interested in
Questions related to Perfusionist
Showing 2 out of 2 Questions
573 Views
what course can i do for after msc cardiac perfusionist Or can i join mbbs
Hello student ,
MSc in cardiac profusion is 2yearsl long professional pg degree course after studying which can enable you to perform who is undergoing cardiac surgeries. Now if you want to do doctorate degree any search field related to this you obviously can go for that. You also can join in clinics hospitals nursing homes and all all as a cardiac perfusionist.
Also you can join in MBBS anytime. If you want to be a doctor you easily can give the Neet examination which is held each and every year by National testing agency . As for now there is  no upper limit for Neet examination . Do you easily can give Neet examination any time and can get into tu MBBS courses. You can go to this link below to know more about Neet
https://medicine.careers360.com/articles/neet/amp
Go to this link below if you want in knockout course for Neet examination with lots of features like best videos guidance personalized reports and all
601 Views
cardiac perfusionist had a stethoscope?
See in your curriculum you may need a stethoscope for the basic understanding required for measuring BP etc. But at your workplace you will never need one. Your work will be intricate and sophisticated and most of the times you will be working in Operation Theaters. So yeah! you will have a stethoscope to buy but you will not need it to use in your professional career.
To know more about the career of perfusionist visit the link provided below:
https://www.careers360.com/careers/perfusionist
I hope this answer helps. All the very best for your future endeavors!
The question have been saved in answer later, you can access it from your profile anytime.
Access now
Report Question
Select your reason of reporting