Career Options after B.Tech CSE, Job Opportunities, Salary
Computer Science and Engineering or CSE is a specialisation in the B.tech course which amalgamates computer science and computer engineering helping a student in the study of the theoretical foundations of information and computation and practical techniques for their implementation and application in computer systems.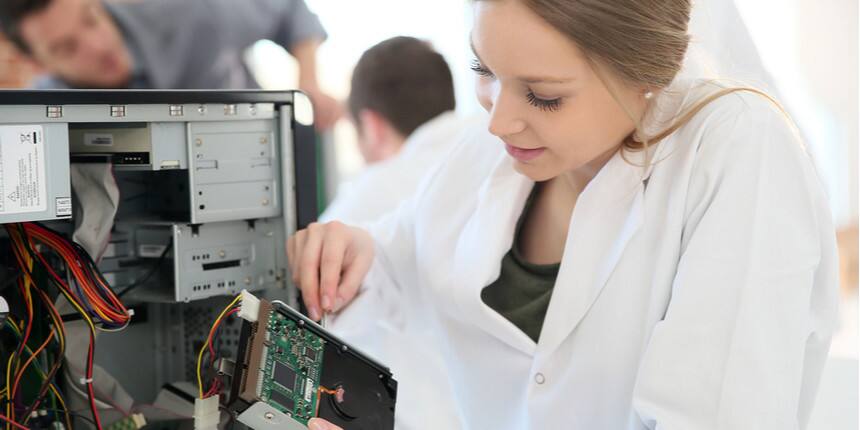 Top Career options after B.Tech CSE
As far as the scope for jobs in computer science and engineering is concerned, there is no limit to them. These days almost everything is dependent on technology for their regular functions. For a number of a daily process, functioning without technology will be impossible, so there is a huge demand for graduates of computer science engineering. From government sectors to private companies, hire CSE graduates and provide good work opportunities. Whether it is creating a software or maintaining it or there is a need for B.Tech graduates in CSE.
What makes B. Tech CSE a great career option?
There are several private players who solely depend on technology for their functioning. These companies require computer science engineers for ensuring that their daily work runs smoothly. Not only is there a demand, but CSE graduates are some of the highest paid professionals in India. So it is a win-win situation, not only there is a demand, but the remuneration is also great.
Taking up a course and successfully completing it is not only the main focus of an aspiring candidate, but the main aim behind it is also to get a good future career (job options and importantly remuneration). Knowing all the career options available is also important for students. Jotted down are the various career options after completing a B.tech course with computer science and technology.
In the table below we have explained the popular career options which the students can take up after getting their Bachelor of Technology Degree.
| | |
| --- | --- |
| Software Engineer | Database Administrator |
| Computer Hardware Engineer | Computer Systems Analyst |
| Computer Network Architect | Web Developer |
| Information Security Analyst | Computer Programmer |
| Computer and System Information Manager | Project Manager |
Below we have given information on the career options after B.Tech CSE:
Software Engineer: This is one of the most common careers that a student can opt after their degree in Computer science and engineering. Software developer's basic job is to create software programs that allow users to perform a defined task on various gadgets like computers, laptops, and mobiles. Software and applications are created by them which are compatible in any and every device to make it easier to handle and also very portable. It is essential for a student to be fluent in computer languages and possess the technical creativity required to solve software related problems in an innovative manner.
Database Administrator: This is a career choice suitable for the students as many organizations are looking for professionals like these. The job role of Database Administrators is being watchful over the performance of the company databases and the quality control so that confidential data can be safe and secured optimally. They also play an important role in supervising the modifications that need to be done in the existing software. In short, we can say that they are the security wall of a company. Working as a Database Administrator is one the most rewarding career options after B.Tech CSE.
Computer Hardware Engineer: The job of computer hardware engineers includes developing, designing, and testing of the different computer hardware components like routers, circuit boards, and memory devices. The job requires a combination of technical expertise and creativity in order to perform challenging tasks which include the monotonous comprehensive testing of the systems. So most of the companies are looking for skilled computer hardware engineers to get all the systems working in a proper and updated manner.
Computer Systems Analyst: Those who are looking for great career options after B.Tech CSE, becoming a computer system analyst can be a great choice. The work of a computer systems analyst is to do complete in-depth research about the computer systems of an organization and recommend the required changes to be made. In order to remain updated, they have to do research on the cutting edge systems that vary frequently. Renowned companies like Dell and Microsoft require computer systems analysts in order to increase the efficiency of the systems in the organization for a smooth workflow.
Computer Network Architect: Almost all companies require a computer network architect, and there is a great requirement for them. Due to this factor, a computer network architect is one the most rewarding career options after B.Tech CSE.
Computer network architect finds out the needs of data sharing and communications in an organisation. They work on local area networks, wide area networks, extranets, and intranets. The major responsibilities of computer network architects include designing, implementing and maintaining the networking and data communication systems. They have to compute the products and services available in the online market. And then test each and every system before implementing them.
Web Developer: This is one of the most interesting career options for the students that have a degree in the field of computer science engineering. Web developer's job is to design and develop a certain website with the help of page layouts, website styling, and page features, making the experience of the customer a better one. Web developers are always in touch with the project managers and the designers to create the final product keeping in mind the predetermined budget, design, and scope.
Information Security Analyst: The job of the Information Security analyst is to provide protection to information on the websites and networks from harmful sources(hackers) and prevent other potential security breaches. Their job is not only to find the cause of the breach but also to develop the security systems in a new way to ensure that it does not occur again. They need to be aware of the new trends of cybersecurity as it makes it easier for them to anticipate a problem.
Computer Programmer: Becoming a computer programme is one the most popular career options after B.Tech CSE. After the successful completion of computer science engineering, this is considered as one of the sought after careers. The job of a computer programmer includes creating and implementing software programs to develop technology in such a way that it is user-friendly to the non-technical people. They require a very strong analytical approach in order to create the code for automatic complex processes.
Computer and System Information Manager: A computer and system information manager or CIS manager can have different names along with various responsibilities. For example, Cheif Information Officer (CIO), Cheif Technology Officer(CTO) and if we take a closer look at their job role a CIO is the one who looks after the entire technological strategy, whereas the CTO evaluates new technologies to check how it can be beneficial to the organization.
Project Manager: A project manager's job role is to coordinate with the programming team as well as the analyst and collaborate their work to complete projects as per the client's requirements. In order to succeed in this career, a project manager needs to detect technical problems and should possess problem-solving capabilities to enhance the productivity of the company or a client.
The job careers in the field of computer science and engineers are not limited to the above-mentioned job profiles. There are a lot of areas where computer science and engineers have proved their worthiness. The student can also opt for the below-mentioned job careers in order to make a bright career.
| | |
| --- | --- |
| PCB Designer | Authors (programming books) |
| Professors | Content Developer |
| Technician (Tech support) | Computer Science Blogger |
| Web Designer | E-Commerce Specialist |
| Academic Research Editor | Data warehouse analyst |
The scope and growth of computer science and engineering are likely to increase at a rapid pace in the upcoming future. It is one of the best career options after B.Tech CSE, that students can choose.
A candidate who is interested in making a career after completing his/her computer science engineering degree has a number of options to choose from. There is also growth in this field, hence, it will be a good career choice. The job prospects as well as the job market scenario look like an upward trend.
The above-mentioned points should not be the only deciding factors. Students should take into consideration the fact that is it really what they wish for and are they willing to go the distance and put in the hard work accordingly, or does the course appeal to them? These are some of the other factors that students should consider while choosing this specialisation.